Underdog Vainio Wins Three-Way Sula Open Playoff
Underdog Vainio Wins Three-Way Sula Open Playoff
Tattar dominates again, is undefeated in 2019
Wednesday, June 12, 2019 - 00:41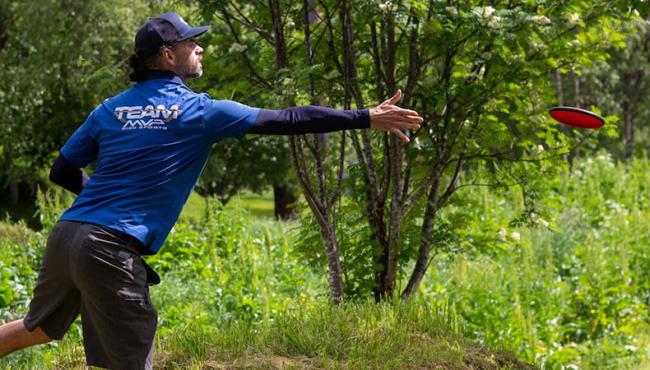 According to PDGA Europe Tour Manager Matěj Verl, the end of the Sula Open in Langevåg, Norway, the fourth EuroTour event of the season, was "absolutely incredible."
"I have never seen such a battle," he said. "There could be a whole book written about what happened here."
While we're still working on lining up a publisher, there's no doubt that there was more than enough action at the highly scenic and challenging Vasset DiscGolfPark, where all three rounds of Sula took place, to pique any disc golf fan's interest.
On the Open side, the Norwegian Knut Håland entered the final round with a three-stroke lead, only to have Finn Juhani Vainio, Norwegian Øyvind Jarnes, and Estonian Silver Lätt all overtake him by just one stroke on their way to a three-way playoff for the title. Vainio, Jarnes, and Lätt all finished with 18-under par 174s, and the 974-rated Vainio took home the win after just one extra hole against his higher-rated competitors.
The winner of the last EuroTour event in Denmark, Håkon Kveseth, jumped from 21st to 9th in the final round by shredding his way to a 1081-rated bogey-free 14-under par 50.
In the Open Women's division, Estonian Kristin Tattar used her final round to turn a lead of 11 strokes into 27 to remain undefeated in 2019. Tattar averaged 970-rated golf and finished with a 2-over par 194 total.
Filling out the Open Women's podium were Estonian Anneli Tõugjas in second with a 29-over par 221 and Finn Hannele Määttä in third at 31-over. Dramatically, Määttä had fought back from a nine-stroke deficit and was tied with Tõugjas with one hole to go. But on 18, Tõugjas walked away with a par to Määttä's disappointing double bogey.
Three Roads to a Playoff
Before the beginning of the final round, Jarnes, Vainio, and Lätt were respectively three, four, and six strokes off the lead. While Jarnes said he "did not plan anything special for the final" and Vainio's game plan was so set that he "believe[d] [he] threw the exact same disc and line on every round this year" as in his sixth place finish at Sula in 2018, Lätt—who was on the chase card—admitted to changing things up.
"I wanted to play more aggressively than I did in the first two rounds, and play more backhand off the tee," said Lätt, who is known for his powerful, accurate forehands.
Lätt also found that his fairway driver was working out better than his distance drivers, so when he approached the OB-riddled, 300-meter (984-foot), par-5 hole 11, he clubbed down to a speed seven Explorer rather than his distance driver. Instead of carding an 11 as he had done the round before, he walked away with a par.
Such changes in strategy paid off for Lätt, whose 1042-rated 9-under par 55 final round was his best of the tournament.
For Vainio, his plan to stay consistent also worked out. His 7-under par 57 final exactly matched his second round, with both rounds being rated just under 1030.
Though Vainio was on his card, Jarnes was caught a little off guard when he got some news with two holes left to play.
"I was not aware of how close the race for the title was before my caddie told me on hole 17," Jarnes said. "Before that I had been focused on beating Knut [Håland]."
This information came just after Jarnes took a bogey on 16, keeping him tied with Håland for the lead but allowing the gap between himself and Lätt and Vainio—who took pars—to diminish to just one stroke.
"I knew that if I got a birdie on the last two holes, I still had a chance to win," Jarnes said. "On hole 17, I played the low forehand out over the water and it hit the one tree trunk you have to miss and rolled back into the water. I managed to save par with a seven-meter putt."
Håland also parred 17 while Vainio birdied, tying him with the Jarnes and Håland. One card ahead, Lätt had not only birdied 17, but also 18, giving him the outright lead by one stroke. Jarnes and Håland, and Vainio all needed birdies to take part in a playoff, but only Vainio and Jarnes accomplished that feat.
Despite a nail-biting lead-up, the conclusion to the playoff was clear after the three competitors took their tee shots. They played hole one of the tournament layout, a 132-meter (433-foot) par 3 that plays downhill with an extremely narrow fairway near the basket lined on both sides with fences that double as OB lines. A common play on the hole is to throw a roller with hopes of a birdie look but assurance that the fences will keep you in bounds.
First on the tee, Lätt thought he'd need a birdie to stay in the competition. Not trusting his roller game for that, he opted for a forehand even though he noticed "a really tough right to left wind" for the shot. He landed OB, all but assuring that he was out of the race for the win.
Jarnes was up next. He said his roller was "too high" and put him in a tough position to even get up and down for par. Though he put his upshot to nine meters, his comeback putt "didn't even hit the basket."
For Vainio, going last was a gift.
"I have to be humble about the playoff," Vainio said. "…For me it was a walk in the park. Lay-up and take the three."
That easy par earned Vainio the victory, only the third PDGA-sanctioned win of his career and his first at an A-tier event. Still, Vainio played it cool when asked if his relatively modest 974 rating and few wins had made him think victory was a long shot before the tournament.
"Rating is just an average and it doesn't mean much to me," Vainio said. "I had prepared myself by practicing a lot, and I knew before the event that winning was possible."
Tattar Marches On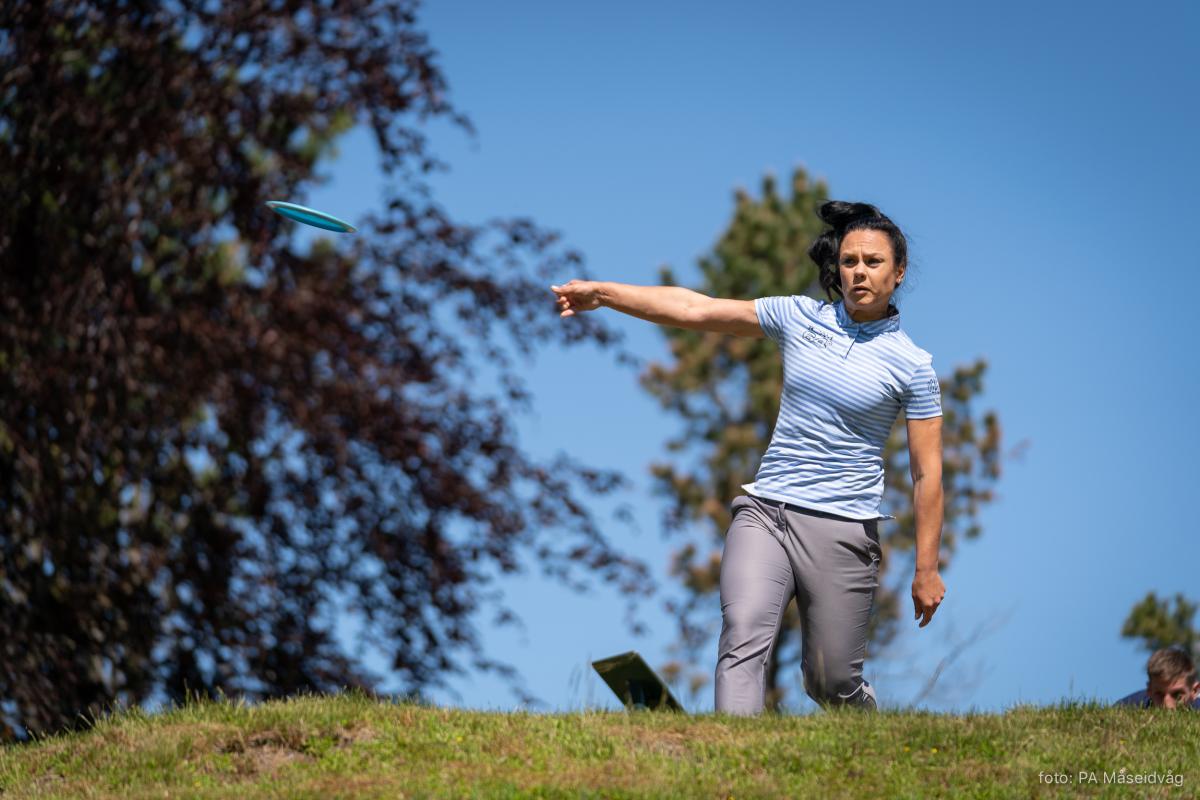 Anyone following our coverage of the 2019 EuroTour will know that Tattar has been unstoppable. She has won the Open Women's division at all four EuroTour events this year by an average of just over 22 strokes. While that's astounding enough in itself, it may be even more impressive to consider that, despite these huge leads, Tattar hasn't lost the fire to continue to push herself.
"I definitely feel pretty good," Tattar said. "Not because of winning, but because I've been playing 950 to 980-plus rated rounds this year. I feel confident in my game and that's the most important thing. Hopefully, I can keep it up and feel good about my shots because if I feel good about what I do on the course, then it doesn't even matter where I place in a tournament."
Tattar's final round at Sula backs up her words, too. Many players going into a final with an 11-stroke lead might turn on cruise control. Tattar, however, was a little frustrated because she had been "secretly hoping to play under par all rounds" and hadn't managed that feat in either of her first two goes.
So, instead of taking it easy, Tattar used the third round to correct some of her mistakes and put up a 988-rated 2-under par 194—a score better than all but nine players in the 67-person Open field.
Tattar is next in action at the second-largest disc golf event in the world this year, Tyyni in Finland, on the last weekend of June. There she will be the highest-rated Open Women's competitor and a formidable barrier to any other woman looking to take the top prize.