Round 2 Suspended in Iowa; Exciting Finale on Tap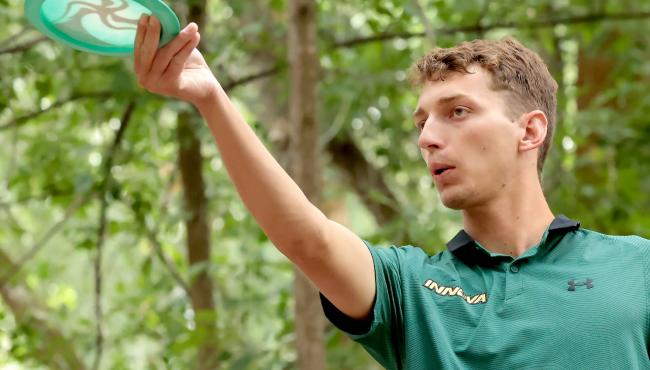 Saturday's 2nd round of the Des Moines Challenge presented by Discraft was met with similar weather that Friday's round began with. Pouring rain and scattered lightning storms chased the players off the course midway through the day, leaving a handful of MPO cards to finish their second round on Sunday morning, before teeing off in the afternoon for their final round.
The FPO will play their second and final round on Sunday afternoon.
Paige Pierce, Missy Gannon and Kristin Tattar are tied at 3-under par with one round complete.
Calvin Heimburg and Gavin Rathbun both were in the midst of playing spectacular rounds, getting 9 of 11 birdies on the 11 holes they both played. The pair are currently tied at the top of the leaderboard.
The hot round of the day for players who managed to finish their rounds belonged to Seth Talbott (T6) who shot -10 to bring his total score to -11. Other players like Chris Clemons (T3), Paul Ulibarri (T9) and Brodie Smith (T14) shot -9 during their complete rounds.
The lead card only got to finish 7 holes on Saturday before the storm came in, but so far Paul McBeth has shot -2, while Silas Schultz, Zacheriath Johnson, and Ben Callway have only shot -1. They will have to pick up the pace tomorrow morning if they hope to make moves and come out on top at the end of Sunday's final round.
MPO Round 2 Notes
Heimburg and Rathbun are both leading the division with an 82% birdie rate
James Conrad and Rathbun are the only 2 players to be 100% from C2 putting
Talbott leads in most strokes gained Tee to Green at 7.76, Paul Ulibarri is next at 6.82
36 MPO players will need to finish their second round early on Sunday morning
Round 2 continued coverage will begin at 9:00 AM CT and Final Round coverage for MPO will begin at 4:00 PM CT. Catch the action live on the Disc Golf Network and stay tuned for production updates.