Pierce Out Front, Three-way Tie Atop MPO at DGLO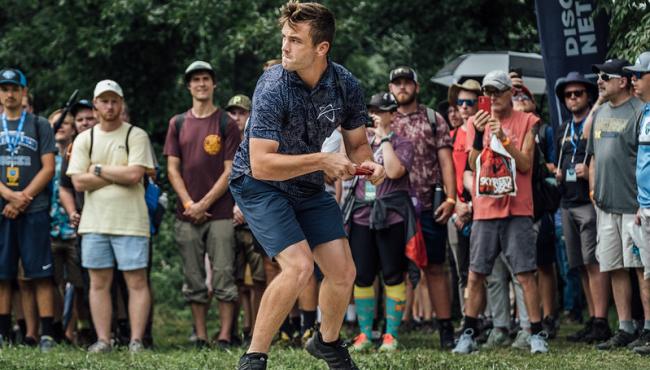 (Recap via Disc Golf Pro Tour)
It was clear and sunny skies for the second round of the Discraft Great Lakes Open, and many players in both pro divisions took advantage of it.
In the MPO division, a pair of -11 down rounds belonged to Kevin Jones (-17) and Kyle Klein (-17), who both jumped up 10 spots on the leaderboard into a 1st place tie with Eagle McMahon (-17) who shot -9 with some impressive long throws including a 400-ft standstill forehand from the road on Hole 17. For Jones and Klein, clean play and early and often scoring proved to be successful as they both carded no bogeys or OB strokes during the second round. While Jones started off hot by birdieing 8 of the front 9 holes, Klein finished out strong by getting 6 of the last 10.
Adam Hammes (-16) played a solid round, coming one stroke short of tieing Jones and Klein with a -10, and jumping up 7 spots to end in 4th. Other players like Luke Taylor (-12) and Calvin Heimburg (-12) both lept up the leaderboard with a -9 and -8 round, respectively.
While some players moved up, players like James Conrad (-13), Paul McBeth (-12), and Garrett Gurthie (-10) all played somewhat lackluster rounds compared to their first-round performance.
With one last round coming tomorrow, it is sure to be an exciting day at the Great Lakes Open as it appears to still be anyone's day. Players have proven that it is possible to shoot -11, others have shown that it is possible to follow up a fantastic round with a rough one. The leaders only have a few strokes over the chase card, and Ricky Wysocki (-15), Emerson Keith (-15), Corey Ellis (-15), and Simon Lizotte (-13) have what it takes to shoot a hot round and end up with a win in Michigan. And with players like Conrad, Heimburg, and McBeth just behind them, players probably aren't feeling too safe with any lead they have at the end of Saturday's round.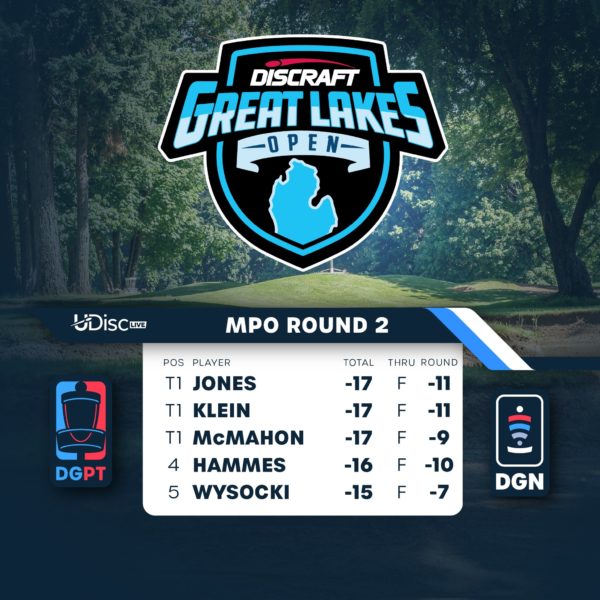 Final Round Lead Card – Kevin Jones (-17) | Kyle Klein (-17) | Eagle McMahon (-17) | Adam Hammes (-16)
Round 2 MPO Notes:
Eagle McMahon (-17) was the only MPO player in the top 5 to card a bogey during the second round, all others shot only birdies and pars
Kevin Jones' (-17) birdies on Holes 1 – 5 was the longest birdie streak of the day, with five in a row. He and Klein led the day with 11 birdies each
Jones and Klein (-17) lead the division in birdie conversions with 61%
21 MPO players were 100% from C1X, but Mason Ford (-9) led with 67% of C2 putting
Tattar Chases Pierce
In the FPO division, it was an up and down battle between the top 3 leaders, Paige Pierce (-13), Kristin Tattar (-11) and Catrina Allen (-8). Despite a flurry of lead changes, Pierce came out on top after almost eagling Hole 17, pulling out a birdie while Tattar and Allen bogeyed.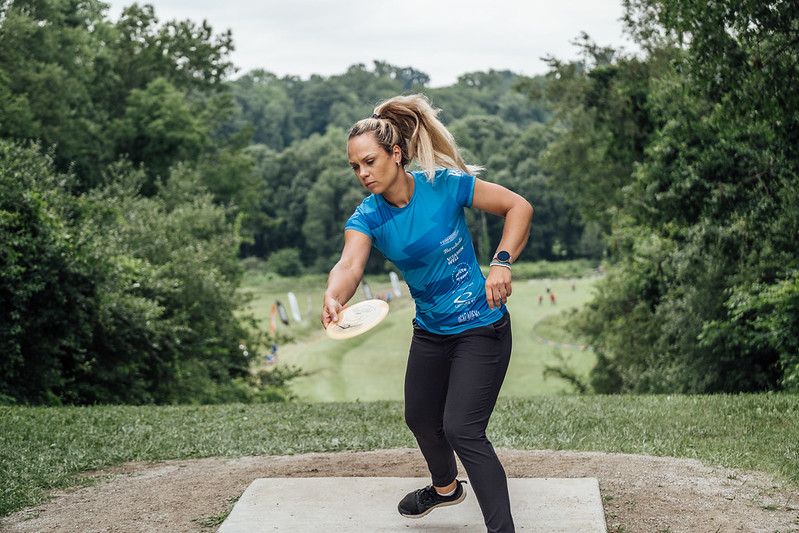 Tattar played solid through the course all day, shooting another eagle on Hole 3 and, despite a double-bogey on Hole 5, managed to score a few more birdies to shoot a -6 round. Unlike in round one, Paige took a 6 on Hole 3 instead of the eagle, but offset that with 4 birdies in the first 6 holes. Though she did cool down a bit during the mid-stretch, her early work on the course was good enough to hold onto first place. Allen had a slew of rough luck with roll-aways, including a pair of band and cage bounces that brought her disc further and further away on Hole 11, and again on Hole 14. With a couple of other bogeys, Allen managed to slice her way through the tough Toboggan course and card 7 birdies and an eagle on Hole 3 to finish with a -3 round.
The big story of the day was Hailey King's (-5) dominance, matching Pierce's -8 round from the day prior. Shooting bogey-free and an FPO-leading 8 birdies, King propelled herself up 19 spots up the leaderboard into 5th place and onto the chase card for Sunday's final round. She was also 3 for 3 on scrambles and 50% from C2 putting, hitting 2 of 4 long putts on her way to shooting the hot round.
Sarah Hokom (-6) will be joining Pierce, Tattar, and Allen on the lead card after a -5 round, and with Juliana Korver (-1) shooting +2 on the day. While Pierce and Tattar have a few strokes lead over the rest of the field, If King can replicate her dominance again tomorrow, we could watch her hoist the trophy at the end of the day.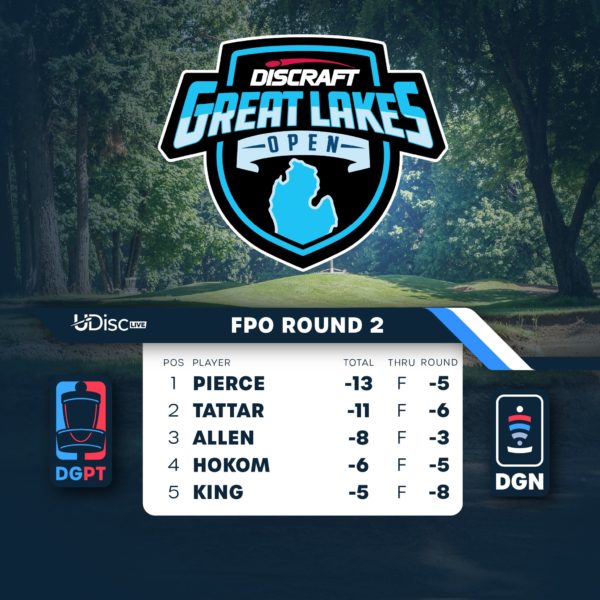 Final Round Lead Card – Paige Pierce (-13) | Kristin Tattar (-11) | Catrina Allen (-8) | Sarah Hokom (-6)
Round 2 FPO Notes:
There were 3 eagles on the day; Kristin Tattar and Catrina Allen were able to get a 3 on Hole 3, Heather Young carded a 2 on Hole 13 with a long putt
Hailey King (-5) was the only FPO player without a single above par stroke, and also lead in birdie percentage with 44%
Alexis Mandujano (+5) and Ragna Bygde (+1) were the only players who were 100% from C1X in Round 2
King lead with most strokes gained tee to green with 7.63
A. Mandujano also leads with 5.10 strokes gained putting
Tune in tomorrow for the Final Round action on the Disc Golf Network at 1:00 ET, follow the live scoring at UDisc Live, and check out all of the post-production of Round 2 from JomezPro, Gatekeeper Media, and GK Productions.