Pierce Opens Three-Shot Lead; Conrad, Keith Lead Tight MPO Field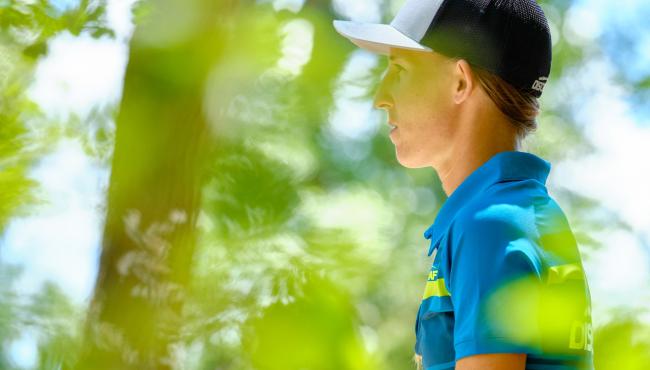 (Recap via Disc Golf Pro Tour)
Round 1 of the Discraft Great Lakes Open had as many ups and downs as the Toboggan course itself.
Rain came through the early rounds for the MPO division, making some days a little more wet than others. As the feature MPO cards and FPO players came through, however, we had clear skies and just some damp landing zones.
In the early rounds of the day, players like Gannon Buhr, Reid Frescura, and Kyle Klein seemed to be on top of the leaderboard and playing the hot rounds of the day, all finishing at -6. Unfortunately for some of the early rounds, the rain did play a factor and started to come down during the back 9, which most likely affected some of their scores.
However, once the feature cards got onto the course, the rain had stopped and they were able to play their game on a slightly damp course. Players like Garrett Gurthie (-7) and Silver Latt (-7) started the day off hot with a streak of birdies. The later cards came out and showed that they could beat these hot rounds, as Emerson Keith was the first person to shoot below -6 on the day, on his way to a -9 round. A lot of clean, bogey-free rounds followed, and after an exciting day of disc golf, we found James Conrad and Emerson Keith tied at the top of the leaderboard at -9. Eagle McMahon, despite his early birdie train, struggled to score in the mid-stretch of the course and cooled off his hot round.
MPO Round 1 Notes
Emerson Keith (-9) lead with a 56% birdie conversion rate
26 MPO players were 100% from C1X putting, while Reid Frescura (-6) and Raven Newsom (-3) lead in C2 Putting at 67%
James Conrad (-9) lead with most strokes gained Tee to Green at 6.84
Frescura and Kevin Jones (-6) lead on the putting green with 3.87 and 3.55 strokes gained putting
71 of 125 players played Round 1 without an OB stroke
In the FPO division, players were off to a much rockier start, with much of the field taking bogeys on Hole 1, while Paige Pierce and Catrina Allen were able to shoot -2 through the first 3 holes; Pierce with an Eagle on 3 and Allen with a pair of birdies on 2 and 3.  Kristin Tattar erased her two bogey start with an Eagle on 3 and another birdie on 4.
Tiger Borth started off with birdieing 4 of the first 6 holes, but slowed down and hit a rough patch over the length of the course to finish even for the round. For most of the FPO division, it was a day of birdies and bogeys and just not being able to score early and often enough to make a push to the top of the leaderboard.
However, for Pierce, Allen, and Tattar, the course opened up with a slew of birdies and pars with some amazing drives, upshots and putts. Pierce finished the day in first place, with a 3-stroke lead over both Allen and Tattar, who found themselves with a 2-stroke lead over Juliana Korver.
FPO Round 1 Notes
Paige Pierce (-8) and Kristin Tattar (-5) were the only FPO players to card an Eagle (both on Hole 3)
Only 4 players, Stacie Hass (+1), Deann Carey (-2), Sarah Hokom (-1), and Sarah Demar (+4) were 100% from C1X
Callie McMorran (-3) was the lone FPO competitor without a Bogey or worse
Tattar lead with 7.30 strokes gained Tee to Green, with Pierce in 2nd at 6.18 and Catrina Allen (-5) at 4.23
Turn in tomorrow for the Round 2 action on the Disc Golf Network at 1:00 p.m. ET, follow the live scoring at UDisc Live, and check out all of the post-production of Round 1 from JomezPro, Gatekeeper Media, and GK Productions.