Pierce Goes Bogey-Free To Take Early Lead at Hall of Fame Classic
Pierce Goes Bogey-Free To Take Early Lead at Hall of Fame Classic
Saturday, October 12, 2019 - 09:52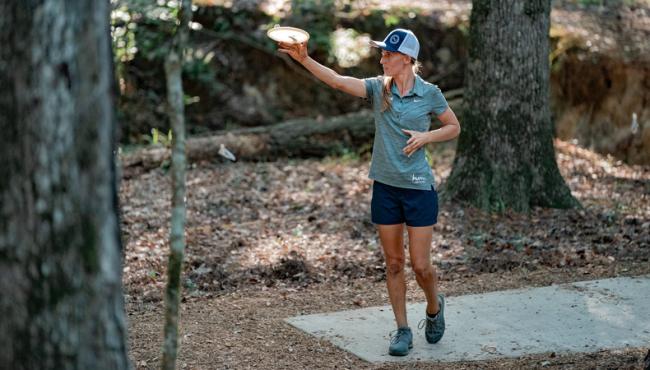 "It was, I think, my best round of the year," said Paige Pierce after finishing the opening round of the 2019 Ed Headrick Disc Golf Hall of Fame Classic presented by REC TEC Grills with a 4-under par bogey-free 63. "I don't know what the stats are gonna tell you, but the disc went where I wanted it to on every shot but two."
As far as stats go, Pierce's 63 this afternoon earned an unofficial rating of 1019, a rating that she has bested three different times thus far in 2019. She's leading in several of the UDisc stats, but not all of them. For many, the "that was my best round" feeling isn't about numbers, it's simply about how it felt.
Joined by Sarah Hokom, Catrina Allen, and Elaine King, their card combined for 12 Open Women World Championship titles, dozens of PDGA Major victories, and countless NT and A-Tier wins. They've spent the last decade (or three decades if you're Elaine King) dominating the sport together. Having so much talent packed onto one card isn't a surreal experience at all. It's just what they're used to.
"We were kinda reminiscing about how back in 2012 we had this same card," said Pierce. "2013. 2014. 2015. Every time I come to the Jackson I find myself playing with Elaine King and she's a hall of famer, five-time world champ, and it's a good feeling to be keeping pace right there with her."
"I do feel honored to be a part of so many world titles," said Hokom, who finished in second place for the day, three off the lead. "In general, everyone is just so experienced on the card. They're not really shanking shots and bouncing off trees and missing shorties. They know how to play golf and they know how to behave on a card. It was just really easy and comfortable."
Hokom and Pierce were tied for the lead throughout a majority of the round. Hokom's only mistakes came from a few errant tee shots that left her without many options to save par. 
"If you have a bad shot out here, it's usually not something where you're gonna save par, you're probably really trying to save bogey," said Hokom.
"Every time I bogeyed it was because I didn't get off the tee. So just cleaning up those tee shots, those three tee shots basically. The lines are so tight that it's really easy for that to happen and I expect to miss a couple of those tee shots. I'm not really disappointed in that at all. Of course, I'd love to throw every single shot perfectly but that's kind of unrealistic. Only three times I messed up off the tee and I wasn't able to scramble to save them and that's, you know, that's golf. I feel fine about that."
When the day came to an end, the third-place spot belonged to Jessica Weese who finished with a fairly clean 1-over par 64. Like Hokom, she too minimized her bogeys, turning in just three of them for the day. A few strokes behind Weese is a three-way tie for fourth place at 5-over par between King, Allen, and recent birthday gal Hailey King.
Follow the scores and stats on UDiscLive.com for round two, right back at the International Disc Golf Center on the WR Jackson Memorial course!