Parenthood Chronicles
Parenthood Chronicles
How the Shues Juggle Life, Golf with New Addition to the Family
Thursday, November 18, 2021 - 14:57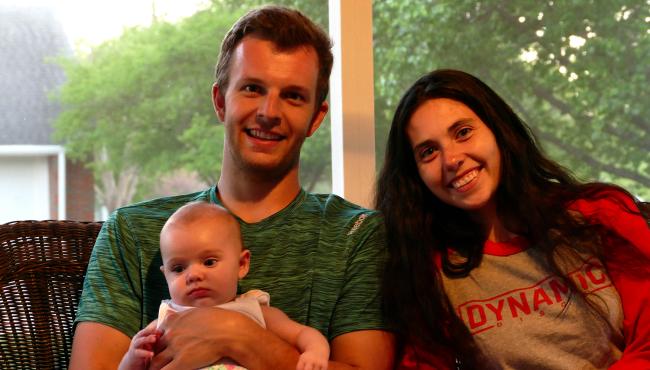 (This story first appeared in the Fall 2021 issue of DiscGolfer Magazine)
You know that feeling when you throw a great shot? You see the full flight of the disc, time seems to slow down as you watch the turn and glide.
Imagine that feeling magnified to an almost infinite level. That's the feeling you get when you welcome your child into the world and see them for the first time. It's euphoric and transcendent beyond any birdie or ace you can imagine.
For new parents Paige and Grady Shue, the current goal is to experience both the exhilaration of parenthood coupled with the joy of flight.
In the Bag(s)
They say it is important to go with what you know, whether that means throwing the disc you know is right for the shot, or making any important decision, it is vital to try to stay in your comfort zone and "play your game," so to speak.
When it comes to packing a bag, whether it be a disc golf bag for the course or a diaper bag for the day, Paige and Grady try to remember the basics.
"Being prepared is important in either circumstance," Paige notes. "Extra bottles, extra towels, extra clothes, and extra snacks can make up either bag. You just need to be prepared for what the course or the baby might give you when you're out."
Paige also mentions that toys are important regardless of which bag you're packing. "I like to pack a deck of cards or something in my disc golf bag for backups," Paige said.
Evidently keeping your mind at ease and your body nourished is important regardless of age or environment; babies and World Champs agree.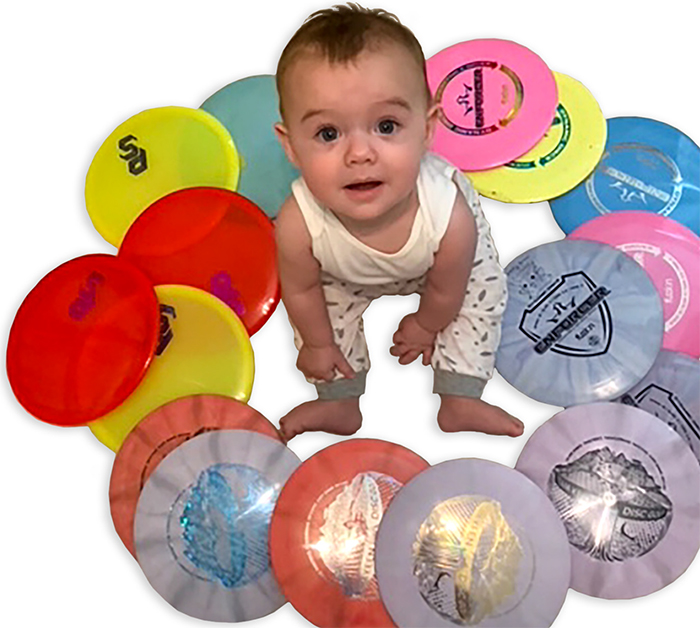 Practice
Any new parent will tell you that balancing time for yourself and your interests is one of the biggest challenges you will face when your family grows. Dwindling time on the golf course is a trope that has been recycled for ages among all golfers, and it's easy to see why. Caring for a baby is extremely difficult out on the course. But teamwork seems to be the key for the Shues.
"Generally, one of us will stay home while the other goes out to practice," Paige said. "Or maybe if the course and weather allow for it, I might carry Savannah while Grady throws and vice versa."
"And sometimes it's hard because we are both competitors, but that also allows for understanding and balance. We both want to practice and stay sharp but we are understanding of each other and the importance of our family as a whole. It's tough, but we're both working together at it."
When asked how that works out at a tournament, the Shues pointed to their experience at the Dynamic Discs Open, a PDGA National Tour event in which they both competed.
Grady shared some insight on how it played out. "The week worked out better than we even hoped. Because of the difference in our tee times, we had enough time between our rounds to allow me to get back to house to swap duties. For the most part, I was able to get to Savannah in time to allow for Paige to get to the course and warm up."
"It was still challenging though," Paige added. "It was hard not to focus on the baby and think about when we are going to get home to care for her. Luckily we made it happen because we share competitive goals and had more family around to help out."
Managing time and balancing duties is an everyday challenge. Grady and Paige both mention that it isn't very easy to find the time to practice. Grady says, "With Savannah being so young, finding time to practice is difficult. And it requires a lot of help from Paige and our local family." Paige echoes that sentiment saying, "It can be tough finding time to get out on the course, but we do our best. We certainly get even more use out of the basket in the backyard these days."
It takes a village to raise a child and it takes balance and understanding to stay on top of your game at the same time.
Check out the Fall 2021 Issue of DiscGolfer Magazine»
A Positive Mindset
There are other parallels between disc golf and parenting that these young pros are finding as they navigate disc golf and parenthood. Namely, Paige points to a positive mental attitude as an important trait, both on the course and in the nursery, saying, "You need to be positive if you want to be really successful."
"Being positive with the baby is also important. It's important to watch how you behave and react in front of your card mates and your child." She continued by comparing how one's behavior can influence others. "If you are on the course and have a bad attitude or get angry, it can bring the card down. And it's the same thing with the baby, you don't want to be a negative example, and have that be an example your baby sees and learns."
When asked what takes more concentration, staring down a 40-foot with the tournament on the line, or dealing with a fussy baby in the middle of the night, the Shues easily agree on which takes a bigger mental toll. Grady chimed in saying, "Definitely the putt. After a while you can sort of run on auto pilot in the middle of the night." Paige repeated Grady's response, "I would totally agree. The baby might need more patience, but you don't need to block out distractions. You can almost feed or change a baby and be half-asleep, but you need to be locked in on that putt."
Perhaps there is a correlation between good putting and good parenting? More studies are needed.
The Family Experience
The Shue's aren't afraid to get their daughter into disc golf. Savannah has a PDGA number, "It's kind of a flex to have a low PDGA number, so that's why she got one right away," Paige jokes. The Baby Shue as already made several trips out to the course. "She was around two months old the first time we took her out on the course," Paige and Grady said. It's clear to see that disc golf is starting off as a family affair.
"We would love for her to get into disc golf but we won't push too hard," Paige comments. "We want her to know this is a big part of our lives."
Just getting into the sport can sometimes present barriers, especially for women coming to the course for the first time, and that can go doubly for new mothers. But Paige admits that for women and new mothers, there are more and more comfortable opportunities to get out there and throw. Paige has some advice for those women that want to get into disc golf, "Number one, find a local lady's league. The bonding comes so naturally as you all grow together and improve. You get a built-in support system and form great friendships. And for something more informal, just bring out your friends, family, coworkers. Build that inviting environment yourself."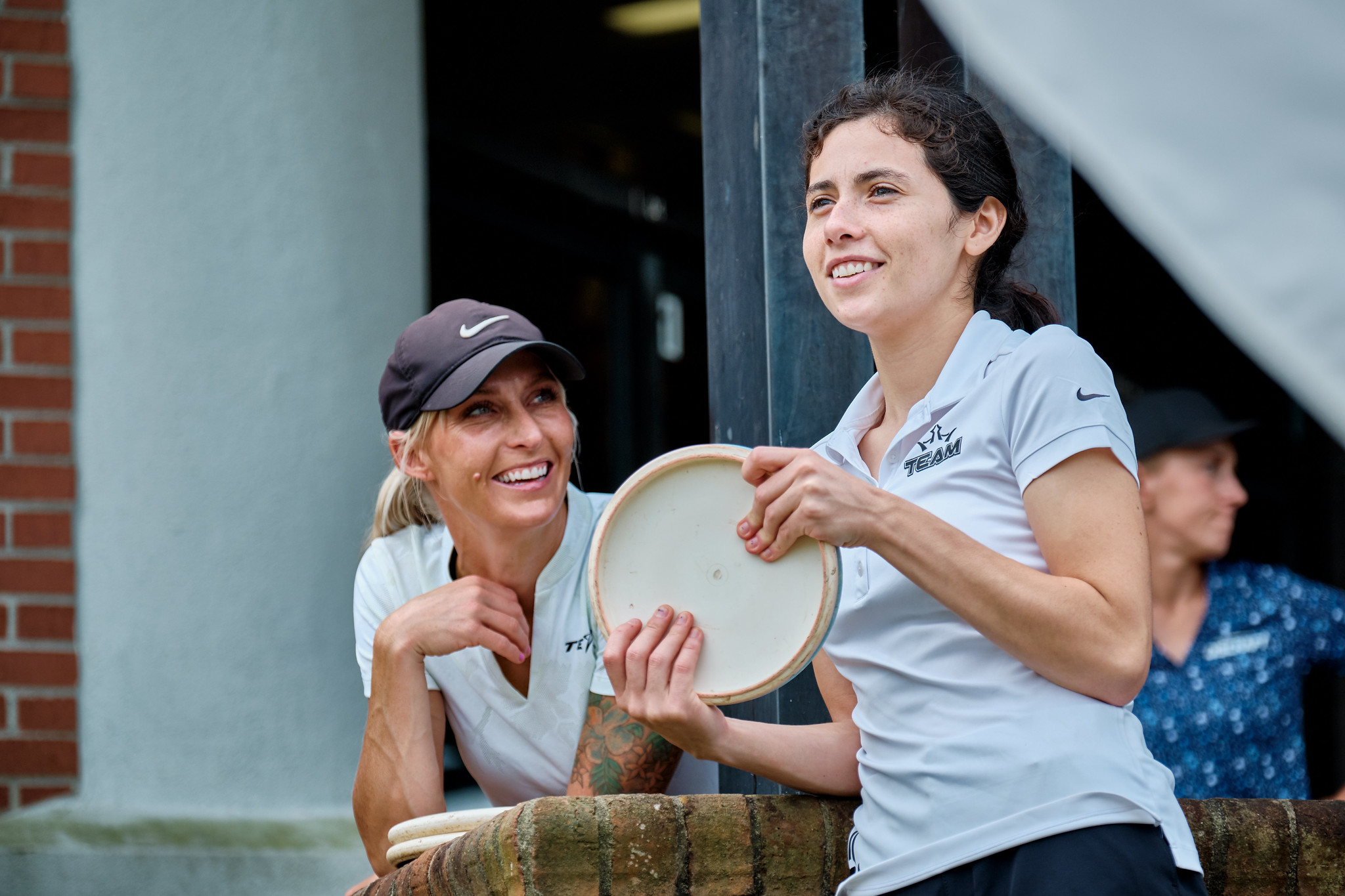 Hanging Out and Having Fun
And for mothers that want to return to the game, "Bring out the kids! Just have patience and know that disc golf for kids is mostly about being outside and being with their parents. Disc golf is 90% just hanging out with people and your kids are going to love hanging out with you in a fun environment."
Grady adds his advice for fathers, "If your partner is staying home with the baby, you need to recognize that gift they are giving you and make that time up somewhere. Change the extra diapers, stay up a little later, do that midnight feeding, whatever you can do to show you're thankful."
Parenthood, disc golf, and simply navigating life itself all come with their own highs and lows, challenges and successes, but Paige wraps it all up together saying, "It's all a blessing. Whether you're playing disc golf for fun, for your health, for competition; you can get a lot out of it. No matter what you're doing, you just need to remember to have fun."