One Round To Rule Them All
 One Round To Rule Them All
Only Saturday's Morning Round Remains Before Cuts to the Finals at Junior Worlds
Saturday, July 14, 2018 - 08:52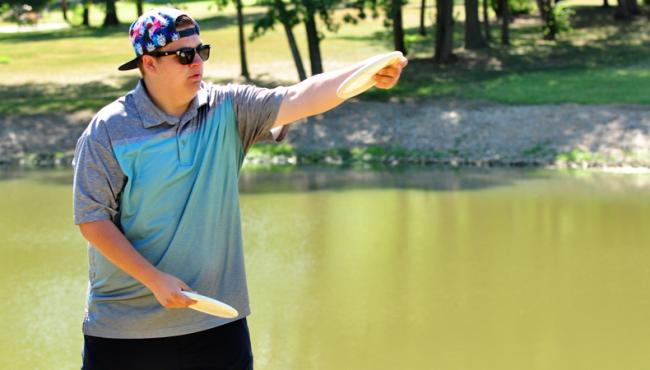 With most divisions 90 holes and three days deep, the 2018 Junior Disc Golf World Championships presented by Dynamic Discs is now approaching its final hours. The nearly 200 junior competitors have put their blood, sweat, tears, and sweat again…and then even more sweat into the past few days here in Emporia, Kansas and for the many players that are hovering around the cut line, the last full round on Saturday morning serves as one last chance to earn themselves a spot for the Final 9 rounds at Emporia Country Club later in the afternoon.
With a field size that is smaller than its Am Worlds counterpart, there's simply no need to cut the field for a semifinal round. Of the 11 divisions competing at Junior Worlds, nine of them will advance the top four players for the Final 9s, while the 6 & Under boys and girls will each automatically advance their two players to combine for a foursome.
While the top four in the Junior Girls divisions are virtually set in stone, nearly every other division has at least a couple of competitors that will face a nail-biting round this morning. The Junior 10 & Under division has two players tied for 5th place just one stroke behind 4th with the 7th place competitor just one behind them. The 12 & Under division has a 5th place spot that is just two away from 4th with the 6th place player right on his heels as well.
Meanwhile, in the two largest divisions, 15 & Under and 18 & Under, things couldn't really get much closer. Emporia's own Isaiah Esquivel (13 years old) and Kentucky's Zach Arlinghaus (15 years old) have pulled slightly ahead of the rest of the field after duking it out at Jones East and Jones West yesterday, leaving  8-10 in contention for their spots in the finals.
While the 15 & Under competitors are trying their luck at Jones West, the 18 & Under division will be taking it down to the wire at Jones East. The Jones East round yesterday morning saw some big changes in the leaderboard, most of which was driven by the chase card's Jason Hardin Jr. As if starting his round at three under par through four wasn't already good enough, he followed it up with an uphill 325' skip ace on hole six and then went absolutely BANANAS.

"It [hole-in-one on six] definitely helped set the vibe for the round, but it wasn't until I had looked at live scoring and saw that I was in 1st place that I really slowed down and played more serious," said Hardin recalling what was going through his mind on Friday morning.
Hardin's epic round continued, grabbing another birdie on seven, and then eight, and nine, and then his drive smashed chains on hole 10 for another ace…that unfortunately, chained out, but still snagged a tap-in birdie regardless. He would go on to finish the round at 11 under par with one ace, 10 birdies, and one bogey. He had already taken the lead by the time he hit the hole-in-one, and then never looked back. His afternoon round of seven under par at Jones West was bested by only one other person, and Hardin will go into the morning round leading by six, alone at the top.
There margin between 2nd place and 8th place in the Junior 18 & Under division is just ten strokes. Playing aggressive will be key to advance to the finals, but only when it's done at the right time and only if it is executed perfectly.
Follow the intense showdowns this morning via live scores and updates on pdgalive.com and stay tuned for some epic battles at Emporia Country Club this afternoon as the 2018 PDGA Junior Disc Golf World Championships presented by Dynamic Discs come to an end!