NBDG Media to Cover 2021 PDGA Euro Tour
NBDG Media to Cover 2021 PDGA Euro Tour
Finnish production company signs on for all seven Tour events.
Thursday, January 7, 2021 - 01:47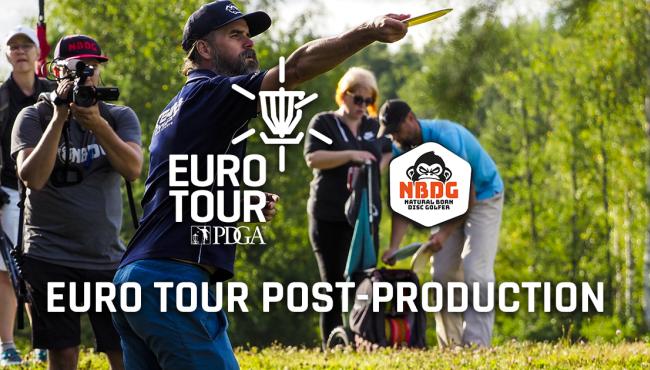 Following a year in which the COVID-19 pandemic forced the postponement or cancellation of many elite disc golf events throughout the world, 2021 promises to be a season of revival.
This will be nowhere truer than on the 2021 PDGA Euro Tour, which kicks-off April 30 with the Kokkedal Open in Denmark.
Today the Euro Tour is announcing a new partnership with Natural Born Disc Golfer Media (NBDG) to cover all rounds of the 2021 Tour with next-day shot-by-shot coverage of the MPO feature/lead card, which will be released on NBDG's YouTube channel and free to watch for all viewers.
The coverage will include professional graphics, English commentary, cutting-edge post-production features and a minimum of two cameras in addition to drone flyovers. It will be the first time that a dedicated media company will be filming all of the Euro Tour events, a sign of the PDGA's commitment to raising the profile of the Euro Tour to match its U.S.-based counterparts in the National Tour and the Disc Golf Pro Tour.
NBDG was founded in 2020 by Juha Kyto and cut its teeth covering the Prodigy Pro Tour, Finnish Nationals and several other events in Finland.
"We are thrilled for this opportunity of working closely together with PDGA and all Euro Tour events and TD's," Kyto said. "With twenty thousand subscribers and over two million views on YouTube, we covered the biggest and most-followed events in Finland and we think this has put us in a good position for the future."
With this great start already under their belt, Kyto is motivated to follow-up even bigger and better in 2021. He sees the long hours and travel weeks from event to event as part of the responsibility of capturing what promises to be an historic season for European disc golf.
PDGA Europe Tour Manager, Matěj Verl, has been one of the key figures pushing the growth of the sport across the continent and is forging ahead in 2021 despite the setbacks caused by the pandemic.
"Having professional coverage of the Euro Tour was already a priority for 2020," Verl said. "We had agreements with local companies to come and film all Euro Tour events in 2020, but in 2021, we managed to find a deal with NBDG, so that the whole Tour will be filmed by one company, which is another huge step forward. NBDG will bring the whole package in a consistent manner across the whole season.
"We have some great players in Europe, but many of them have not gotten the recognition that they deserve. Some of them managed to go to the USA to play bigger tournaments and a few of them have been filmed on lead cards, but now they do not need to fly across the pond to find an opportunity to be noticed. A lot of people will be following this coverage, so this is a chance for European players to really show what they are up to."
Disc golf fans can get a preview of the coverage to come by checking out NBDG's YouTube channel or visit them on the web at  https://nbdg.fi/