Much Ado About Ferro
Much Ado About Ferro
Swiss Resident Wins EuroTour's Quarry Park Open
Tuesday, June 18, 2019 - 14:37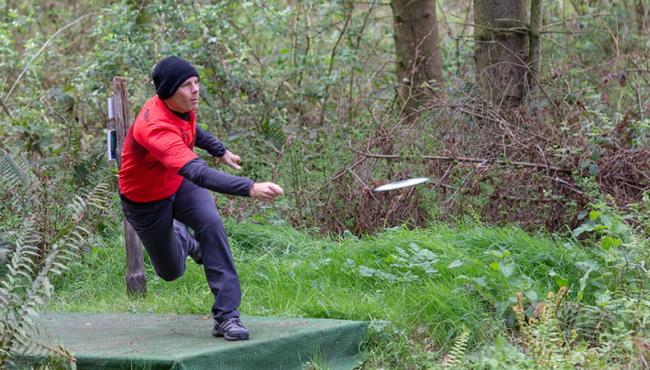 Established in 1994, Quarry Park is one of the oldest disc golf courses in England. A private venue owned by Derek Robins, it is a place that last weekend's Quarry Park Open (EuroTour #5) winner Tony Ferro said "is filled with just about everything a disc golf course could have: open shots, wooded holes, elevation changes, and water hazards."
Like the course, Ferro—a native of the U.S. who now lives in Switzerland—had everything he needed to be great on Saturday and Sunday.
The 1004-rated Ferro averaged 1030-rated golf over three rounds, giving him a comfortable six-stroke lead headed into the nine-hole final. His margin was over the 989-rated Icelander Blær Örn Ásgeirsson, whose 1011-rated play in the tournament's first three rounds had earned him a six-stroke cushion over third place. Though Ásgeirsson gained two strokes on Ferro in the final, it did nothing to change their positions: Ferro won with a 20-under par 171, and Ásgeirsson took second with a 16-under par 175.
The real drama in the Open field occurred in the battle for third place. Tied for fifth after three rounds, Belgian Maxime Tanghe and Finn Tapani Aulu had to compete in a playoff to decide who would round out the five-player final card. Tanghe won that playoff on the first hole, proceeded to play the hot round in the finals (3-under par 26), and ended up snagging the last spot on the podium. His final score was a 10-under par 181.
In Open Women, there were only three competitors (four others opted to play in Advanced Women). Norwegian Hanna Hugosson won decisively with a 27-over par 218, while the other two competitors behind her had a much closer battle, with local Sian Lee's 43-over par 234 edging out Icelander Kolbrun Mist Palsdottir by just one stroke.
Putting Performances Separated The Top Two
When asked to pinpoint the biggest difference in how they played, both Ferro and Ásgeirsson harkened to their performances on the green.
"I really focused on putting the week before the tournament and luckily had a couple of windy days to get me really locked in on the putting stroke," Ferro recalled. "It showed because Blaer [Ásgeirsson] told me I was about 90% inside the circle for rounds two and three."
Ásgeirsson, however, struggled on the green, costing him at least the four strokes that separated him and Ferro in the end.
"I was throwing very well and getting in position for a lot of birdies but was often unable to convert due to a very bad circle 1 performance," he said.
"Blaer just wasn't putting like he could have," Ferro concurred.
Still, Ásgeirsson got a bit of redemption at the very end of the competition.
"My most memorable moment is definitely when I nailed an uphill, 15-meter [49-foot] putt to finish off my tournament in front of the crowd," Ásgeirsson said.
Ferro Feels Ambitious
Along with a huge focus on physical training this year, a mental boost earned from another recent victory also helped Ferro feel secure in his abilities before his win at Quarry Park.
"The weekend before Quarry Park, I played the 2019 Spring Clang in Bern with my oldest son and took the victory there as well," Ferro said. "I feel like that really helped boost my confidence coming into this event."
With his Quarry Park win, Ferro is now just 12 points behind second place in the EuroTour standings. He said he is feeling great as he goes into a relatively long break before taking on his next challenge: The Beast course at the European Open. Despite a track with a reputation that matches its fearsome name and a registration list consisting of the world's top disc golfers, Ferro is hoping to build on his recent success to achieve something special.
"I have about a one-month break before my next event, which I actually prefer at this point," he said, explaining that the time off will allow him to help his kids with school before summer vacation begins. "I will be keeping up the practice regime and will start working out a bit more intensively to prepare for the European Open. My goal is to get one of the five USDGC spots. It's a long shot with such an awesome field of players, but I know that I can play high-level disc golf right with them. So, if I play as solid as I have been, my goal is achievable."
The European Open is July 18-21 in Nokia, Finland, and the EuroTour continues this weekend at the Iceland Summer Solstice tournament.