Montgomery Launches Chase Card Triumph At Shortened Waco
Montgomery Launches Chase Card Triumph At Shortened Waco
Salonen outduels fellow Finn Blomroos for FPO victory
Sunday, March 15, 2020 - 16:35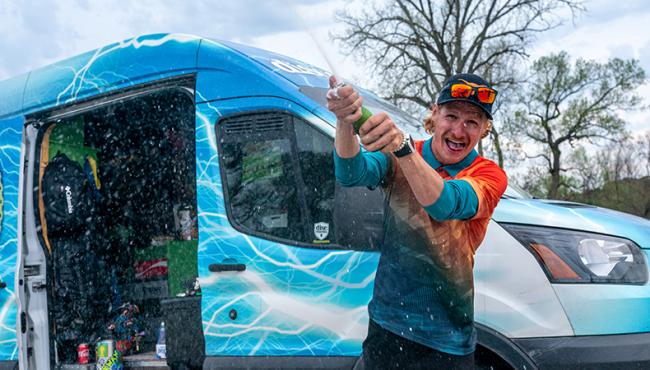 WACO, Texas – On a day full of uncertainty, Colten Montgomery had a plan and stuck with it until the very end.
Montgomery fired off the hot round of 51 to springboard from the chase card to the top of the podium in the shortened Waco Annual Charity Open, the second stop of the season on the Disc Golf Pro Tour, on Friday. The morning started with the announcement that spectators would be prohibited from attending the second round of the event. Soon after, it was announced that the third round of the event would be canceled and Friday would serve as the final round.
Another announcement would soon come from the PDGA that all Majors, Elite Series and Euro Tour events would be suspended through the end of April in response to the spreading COVID-19 virus.
"Finding out the news that the third round was being canceled and, more or less, part of our season was being canceled or suspended, I just went out with the mindset of leaving it all out there," said Montgomery, who entered Friday in a logjam of seven players at 7-under, four shots back of first-round leader Paul McBeth.
"I had a lot of friends reach out and telling me to go get the win," Montgomery said. "Being four strokes behind Paul and knowing his history on this course, I didn't put it out of the question but I knew it would be a hefty task."
Montgomery started 4-under par through his first five holes with his lone bogey of the day coming on the snaking hole 4.
His back nine was simply electric.
Montgomery fired off a 9-under down the stretch, highlighted by an eagle on 13 with a 49-foot throw-in and another on 15. He led the tournament in circle 1X with a perfect 100 percent. He was second in fairway hits at 89 percent.
"I putted really well and had one bogey on 4 so I got that out of the way really quick," he said. "The putt felt really good and then I was able to go 6-under through four holes (on 13 through 16). Hole 17 has been a nemesis of mine – last year I took a 7, so it was nice coming out with a par."
Unaware of the scores -- his phone turned off from the start, something he said he normally doesn't do -- he stepped up to 18 and stared it down.
"I walked up to 18 and saw the guys looking at scores and wondered if I should look but I told myself to stay true and finish, to attack the course and not the people I'm playing against," Montgomery said. "I didn't know the scores throughout the entire round until I picked up my putter out of the basket on 18."
He picked it up with a birdie 2 to close out the day, one of three 2s on the day along with Drew Gibson and Gregg Barsby. The finish, with a new par and placement this year, checked in with an average of .9 over par -- the hardest on the track.
Meanwhile, McBeth three-putted the 3rd, his first of what would be two bogeys on the round and tournament, and had back-to-back two-putts on 10 and 11 in a run of five straight pars. McBeth finished at 56 percent in circle 1X in round two and 75 percent overall.
The defending champion was walking up 17 as Montgomery cashed his birdie on 18. After McBeth's upshot flared outside the circle to the OB wall, his birdie attempt, which would've tied things up, hit the cage.
Meanwhile, Montgomery went immediately to the practice area to stay loose. McBeth's tee shot on 18 went wide right and the throw-in attempt sailed left, lifting Montgomery to a career win.
"I made a post on Instagram this morning that I wanted to go out there, enjoy the round and leave it all out there," he said. "I did exactly that."
Montgomery is next scheduled to play in The Open at Belton, an A-Tier, but after that, while the schedule is uncertain, his plan of attack is not.
"It is unfortunate that the season is postponed for now, momentum-wise for me, but it's understandable," he said. "This offseason, I worked extremely hard, harder than I ever have and I think the work is showing.
"We're going to take a little break but that's not going to stop my practice," he continued. "I'm still going to be out there grinding and be ready to go when we get back."
McBeth and Cale Leiveska rounded out the podium in Waco, ahead of James Conrad in fourth and five players in fifth, highlighted by a big jump from Barsby at 25 spots, who tied for the second-hottest round of the day at 10-under with Austin Hannum.
Salonen stays steady for first win of season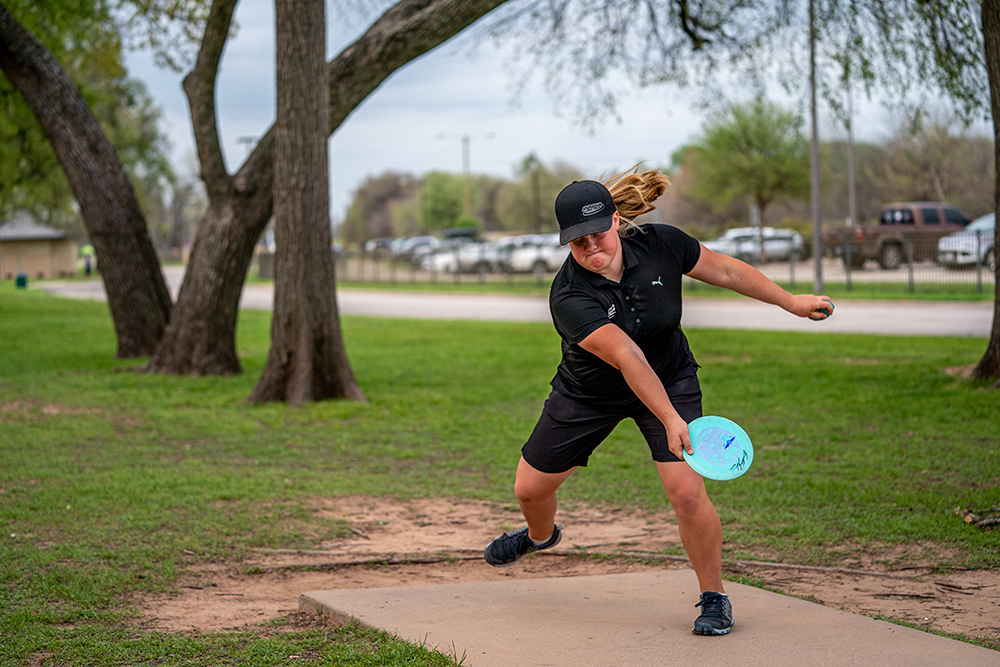 Top 5 finishes have highlighted the start of the 2020 season for the rising Finnish star Eveliina Salonen. Add a top finish to that list.
Salonen led in birdie percentage, was second in both circle one in regulation and circle 1X putts to finish with a pair of 2-under rounds to grab her first win of the season and second DGPT victory.
"It feels so good and I am so happy," Salonen told the Disc Golf Network's Mahmoud Bahrani.
Salonen finished as the lone player in FPO under par at 4-under, four strokes ahead of Henna Blomroos for a one-two Finnish finish.
The two friends battled throughout.
"(It changes it) a little bit because we know each other so good and it was exciting play," Salonen said. "When she's putting long putts, I feat that she is going to make it."
After a 4-down start to the second round,  Blomroos got two shots on 10 after a three-putt from Salonen. It was a two-stroke swing the other way on 13.
Salonen sprinkled in birdies amongst a few bogeys on the back nine, including back-to-back 3s on the par-4s of 16 and 17.
"I knew that she got two strokes so I tried to focus on the last holes because I knew I could make birdie," Salonen said.
Blomroos challenged with a 4-under front nine as well but a triple bogey on 12 and a bogey on 13, where Salonen birdied, would be the difference.
Sarah Hokom and Catrina Allen jumped five and four spots, respectively, to tie for third at 5-over.
Salonen and Blomroos were slated to play in Belton but instead will return home.
"Our first plan was to play but now we're going back home on Monday and we're coming for U.S. Women's and Worlds," she said.
They're both going back with hardware.
"We showed that we could do it and beat the Americans so it's a big thing," Salonen said