McBeth, Pierce Continue DDO Dominance
McBeth, Pierce Continue DDO Dominance
World champs extend leads heading into Sunday's final
Saturday, June 27, 2020 - 21:20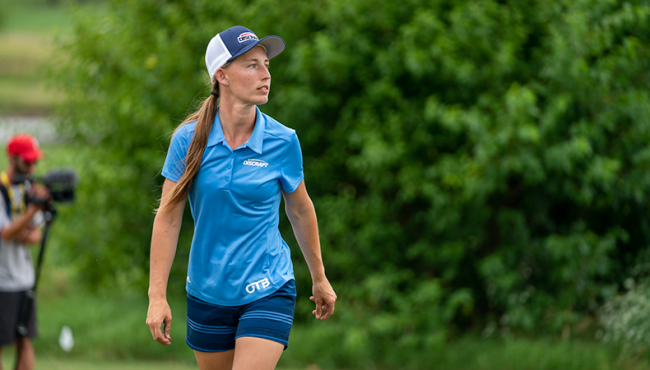 You know how the adage goes: "It's better to be lucky than good."
Well, on a day when Paul McBeth continued to be very, very good, he also closed out his second round of the Dynamic Discs Open as the beneficiary of some fortune.
The five-time PDGA World Champion outdid his opening round performance with a 12-under par 53 Saturday at the Emporia Country Club, bringing his two-day total at the Disc Golf Pro Tour's season restart to a 23-under par 107. That showing helped him extend his lead to a handful of shots, as Emerson Keith (-18) and Kevin Jones (-17) fired off 10-under par 55s as they aimed to keep pace. Ricky Wysocki's 9-under par performance has him tied with Jones, keeping moving day's lead card intact for Sunday's final.
Paige Pierce continued her dominance in the Open Women's division, carding a 6-under par 61 that puts her 36-hole total at a 13-under par 121. She's a dozen throws clear of the field's other Paige – Shue – after the Emporia local's 3-under par finish brought her total to a 1-under par 133. Missy Gannon also tossed a 3-under to move up one spot and into third place at even-par, and Catrina Allen jumped back onto the final round lead card with a 2-under par performance.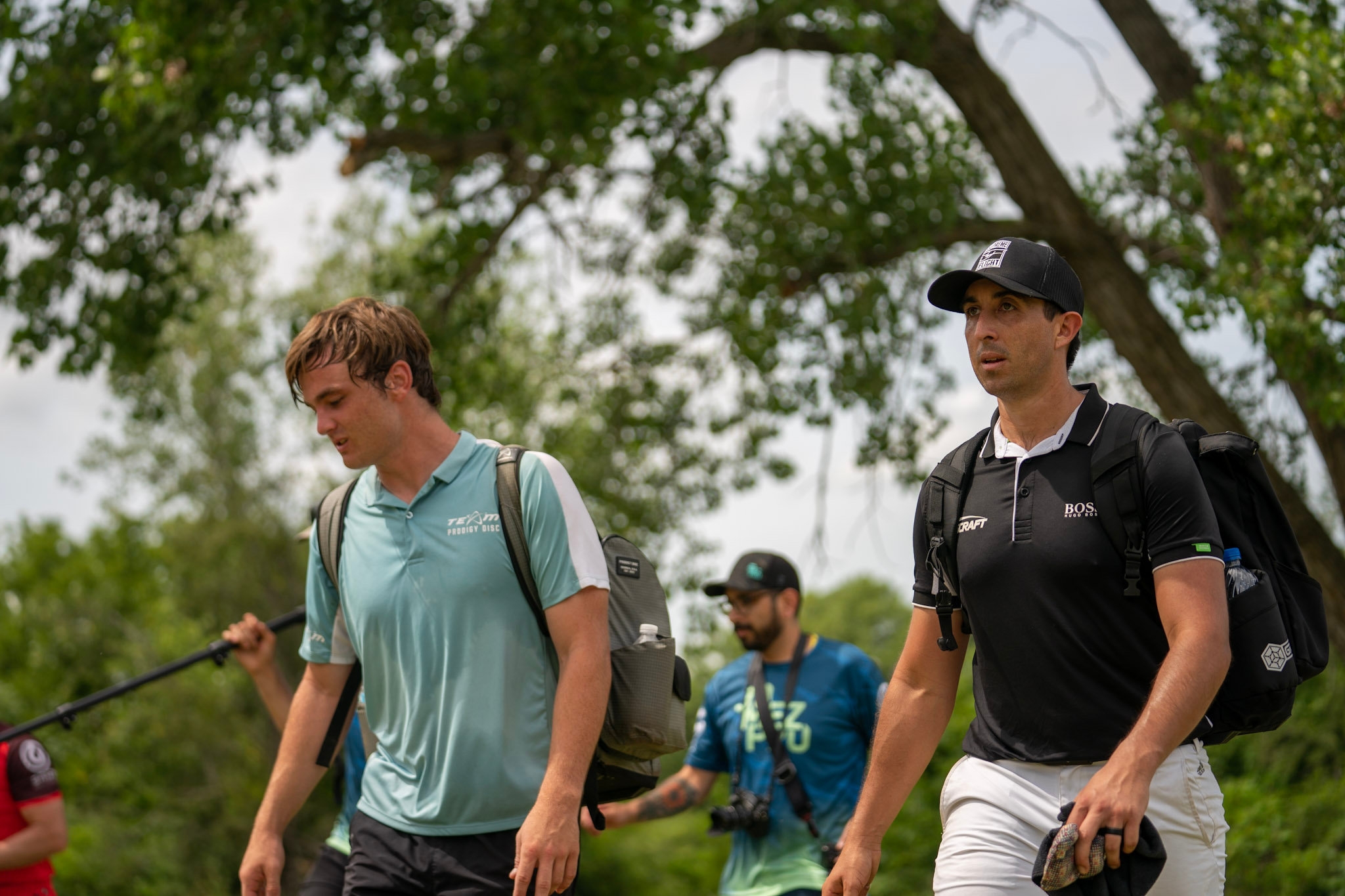 As if McBeth's scores don't tell enough of the story, there's also this: He's the only player in the 101-competitor Open field who has gone both bogey-free and O.B.-free through 36 holes. 
Still, the Southern California native was his own worst critic after the round, as he lamented closing the day with three straight pars.
"Finish was kinda stale – three pars in a row, wasn't a really a fan of it," McBeth said. "It was kinda frustrating. I wanted to keep pushing because it might come down to those three holes tomorrow.
"I think the frustration will help going into tomorrow," he concluded.
Though McBeth still clocked in with a 1084-rated showing, he said he wasn't feeling confident on the putting green. His circle 1x showing of 78% featured two-putts on both 1 and 18 and dropped his tournament total to 82% to put him 21st in the field.
"All day, honestly, I didn't feel good with my putt at all," he said. "...I just willed them all in there...If i was putting like yesterday it probably would have been a 16 (under) today."
That miss on 18 came after his second shot was straying OB but struck a spotter and caromed back in bounds. "Was given a gift there," McBeth said.
On the other hand, putting kept Keith and Jones in the race, with the former notching a perfect sheet on the green and Jones coming in with an 85% success rate. 
Still, Jones knew he was going to need something Herculean to chase down McBeth on Sunday.
"Today I birdied six holes in a row and I didn't gain a stroke on him," Jones said. "So it's awesome – honestly, it's really cool the level that we're playing at. I just need to birdie nine in a row."
Pierce opened her day with a turkey, aided by a 100-foot jump putt on the 576-foot 2nd. Though the OB bug bit four times from holes 8 through 18, she was able to stave off damage and keep the rest of the field from gaining strokes. Instead, it's looking like Sunday will be a mere formality as she aims for her second Disc Golf Pro Tour victory of the year. 
Pierce, herself a five-time PDGA World Champion, leads the FPO field in fairway hits (80%), parked shots (17%), circle 1 in regulation (64%) circle 2 in regulation (78%) and birdie percentage (47%). 
Shue birdied two of the last three holes to claw a couple strokes back from Pierce. Her ability to keep it between the lines has been an asset, as she sports the best OB rate (.083) in the division.
"I wouldn't say I played more aggressive, but I was executing a few more shots than I did yesterday," Shue said. "...I'm pretty stoked with how the round finished up."
Calvin Heimburg recovered from a double-bogey-bogey opening stretch to finish with an 8-under par round to move into fifth place. Both Drew Gibson and Grady Shue made big moves to crack the top 10, while Brodie Smith – just one day after notching a career-best 1018-rated showing – withdrew after feeling the effects of Lyme disease.
Rebecca Cox rounds out the FPO top five after some putting woes dropped her one slot on the leaderboard. Kona Panis, who started the day strong on the lead card with a 50-footer for birdie, logged a disastrous 10 on hole 9 and fell into a tie for sixth place with Cynthia Ricciotti.
The final round broadcast begins at 1:35 p.m. CT Sunday on the Disc Golf Network and will be simulcast on the DGPT YouTube channel.