Lizotte Lays Down Strong SFO Start
Lizotte Lays Down Strong SFO Start
McBeth, McMahon, Doss round out Saturday's lead card
Friday, May 25, 2018 - 09:49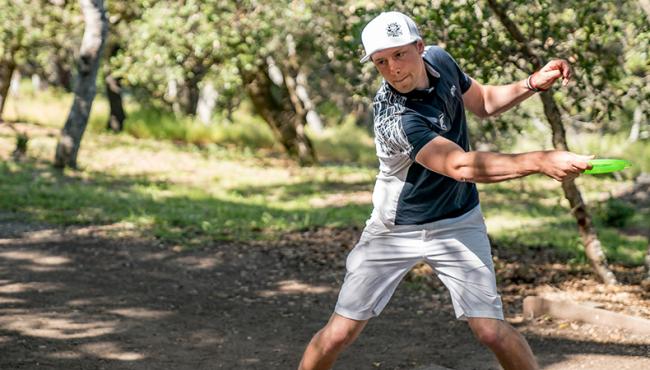 After a 28th-place finish at last week's Santa Cruz Masters Cup that registered as his worst on the PDGA National Tour since 2015, Simon Lizotte only needed four days and some open fairways to rediscover his form.
The former world distance record holder took advantage of Gleneagles Golf Course's nearly 10,000 feet of airspace en route to a 1063-rated 8-under par 54 Friday at the San Francisco Open, a showing that gave him an early lead at the three-day tournament. Paul McBeth kept his momentum from his final round in Santa Cruz rolling, firing off a 7-under par 55 to land in second place, while Eagle McMahon scrapped through some mid-round adversity on the feature card to emerge in third place at 6-over. He shares that spot with James Conrad, Colten Montgomery, Nate Sexton, and Nate Doss, with the latter Nate earning the final spot on Saturday's lead card due to his lower PDGA number.
Five players – including 2009 PDGA World Champion Avery Jenkins, who counted Gleneagles as his 1,000th career course earlier this week – are tied for eighth place with 5-under par 57s.
Though Lizotte's distance certainly came in handy at the 9,998-foot converted ball golf course, it was his ability to scramble for par that kept him in the game early. Then, after his lone bogey on 483-foot 7th – the hole played as the most difficult on the course at 0.66 strokes over par and did not yield a single birdie to the 122-player field – the air show began. He landed inside the 10-meter circle for easy birdie looks on the consecutive par 4s of holes 8 and 9, then parked his third shot on the 1,188-foot 10th for a tap-in birdie 4. He kept a clean sheet on the rest of the back nine and saved par with a 75-foot throw in from the drop zone after landing out-of-bounds when aiming for 16's island green.
McBeth was also able to feast on Gleneagles' midsection, rattling off six consecutive birdies from holes 8 through 13 with two connections from 40 feet. He was also deadly from inside the 10-meter circle, hitting 100 percent of his putts to share the lead in the field.
For McMahon, his hot stretch came out of the gates. He carded five birdies on the first six holes, but his pace cooled considerably when he hit hole 9. After his downhill smash on the 747-foot par 4 put him with an eagle look from 50 feet, he blew past the basket then missed the comebacker off the top band to settle for par. His drive on hole 10 just trickled out of the left-side out-of-bounds markers, and on his third shot he was swallowed by the course's two-meter rule. Still, he limited any more damage with a 50-foot bogey save before rattling off three more birdies.
Elsewhere on the leaderboard, Masters Cup Champion Ricky Wysocki battled through a blister on his throwing hand during his time on the feature card and ended up in that eighth place logjam at 5-under par. He offset some inaccuracy off the tee by connecting on all of his attempts from outside the circle. Masters Cup runner-up Josh Anthon, meanwhile, rode a 100 percent scramble rate to his own 57.
The Open lead card takes another run at Gleneagles Saturday afternoon at 2:45 p.m. PT, with live coverage on the Disc Golf Pro Tour's YouTube channel and real-time scoring and statistics available at UDisc Live.