Leaders Distance Themselves from the Pack
Leaders Distance Themselves from the Pack
2022 European Open - Round 2 Recap
Friday, July 22, 2022 - 18:01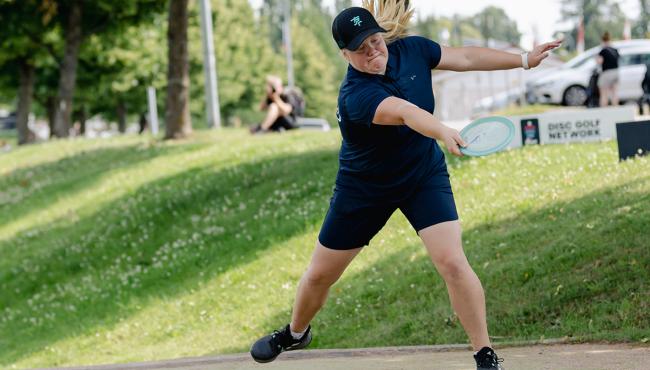 Day two of the 2022 European Open is in the books, and there was seemingly as many storylines to follow as there were rays of sunshine beaming down on the packed spectator's gallery.
Salonen Soars
Coming into round two, Kat Mertsch was hanging onto her first career Major lead, separating herself from three different nationalities represented on the lead card, all tied up a single stroke behind her pace-setting opening day performance. Those being Catrina Allen (US), Keiti Tate (EST) and Heidi Laine (FI).
Mertsch held strong against the forces of Finland for the front 9, coming round the turn without ceding a single stroke to a determined Eveliina Salonen. But her resolve faltered in the second circle of hole 13 when faced with having to split a tree into a downhill green with the pin perched on the precipice of certain death. Kat skyed that par putt straight into the abyss and with the comebacker hitting nothing but cage, her round ground to a screeching halt. A barrage of bogeys haunted her for the rest of the back 9, resulting in a drop down the leaderboard to third place where she sits tied with another cool Cat (Allen).
Evellina Salonen does not like shooting over par and showed up for round two with a distinctly negative mindset. After rolling through the first seven holes with a shiny white sheet, courtesy of a couple missed birdie putts from C1x, her putter lit up hotter than the European heat wave to card consecutive birdies from deep on holes 10 and 11. With the sole exception of missing the island on 16 for her only bogey of the round, Salonen kept up this breakneck pace until the green of hole 18, where she tapped in a birdie putt for the hot round of the tournament at four-under par; a score that would have put her tied for twelfth in the MPO division in round one.
This performance was not only good for an unofficial 1027 round rating, but also puts Salonen 8 strokes clear of Paige Pierce who came in with the second hottest round of the day, a 983-rated plus two.
"The Beast" is an unpredictable animal known for multiple stroke swings, especially during spells of inclement weather like those being forecast for the coming weekend. But with Eveliina´s putter finding the chains with seemingly unprecedented regularity, you´ve got to like her chances versus a field that falls far behind the pace she sets from tee to green.
Granted, we're only halfway through the event and Pierce is wont to show up at Majors like no other, but when the most talented driver of the disc the division has ever seen has yet to find the OB and is leading the field in Circle 2 putts made, the tournament is no longer Paige´s to win, but Eveliina´s to lose.
"I'm just very proud of myself after that round," Salonen reflected after finishing on the 18th green.  "I hope to stay focused and do it again tomorrow."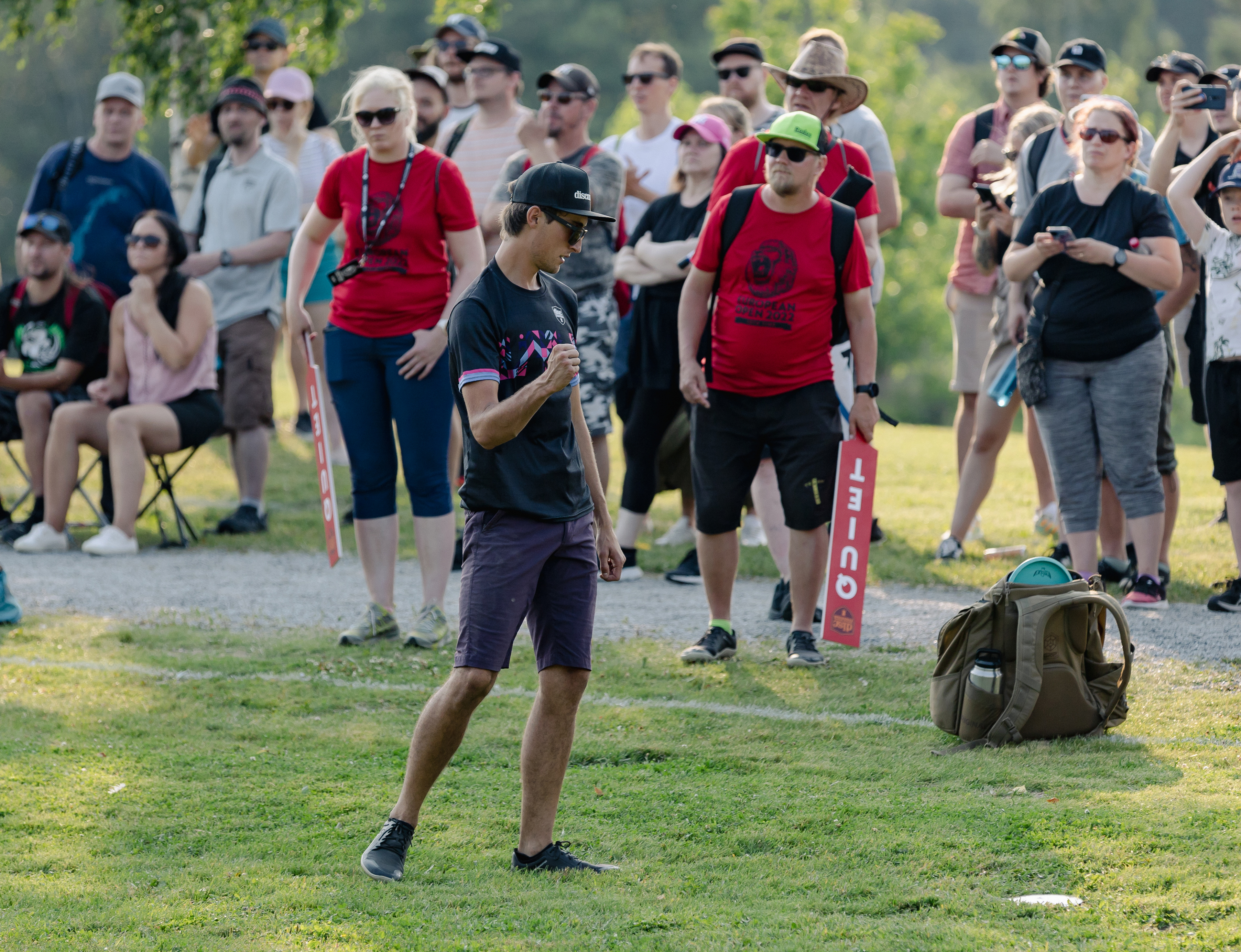 McBeth and McMahon Put on a McShowcase
The round two MPO  lead card was stacked to the brim with champions, characters, and represented every PDGA Worlds title earned since 2017.
These four players proved their pedigree right off of the first tee with a star frame, but this was also where their parity ended.
Stepping on to the box of hole 2, Eagle McMahon proceeded to assert his dominance with his non-dominant hand, firing a ludicrous left hand, backhand, drive into Circle 2 and draining an 18-meter statement putt to stoke the hostilities.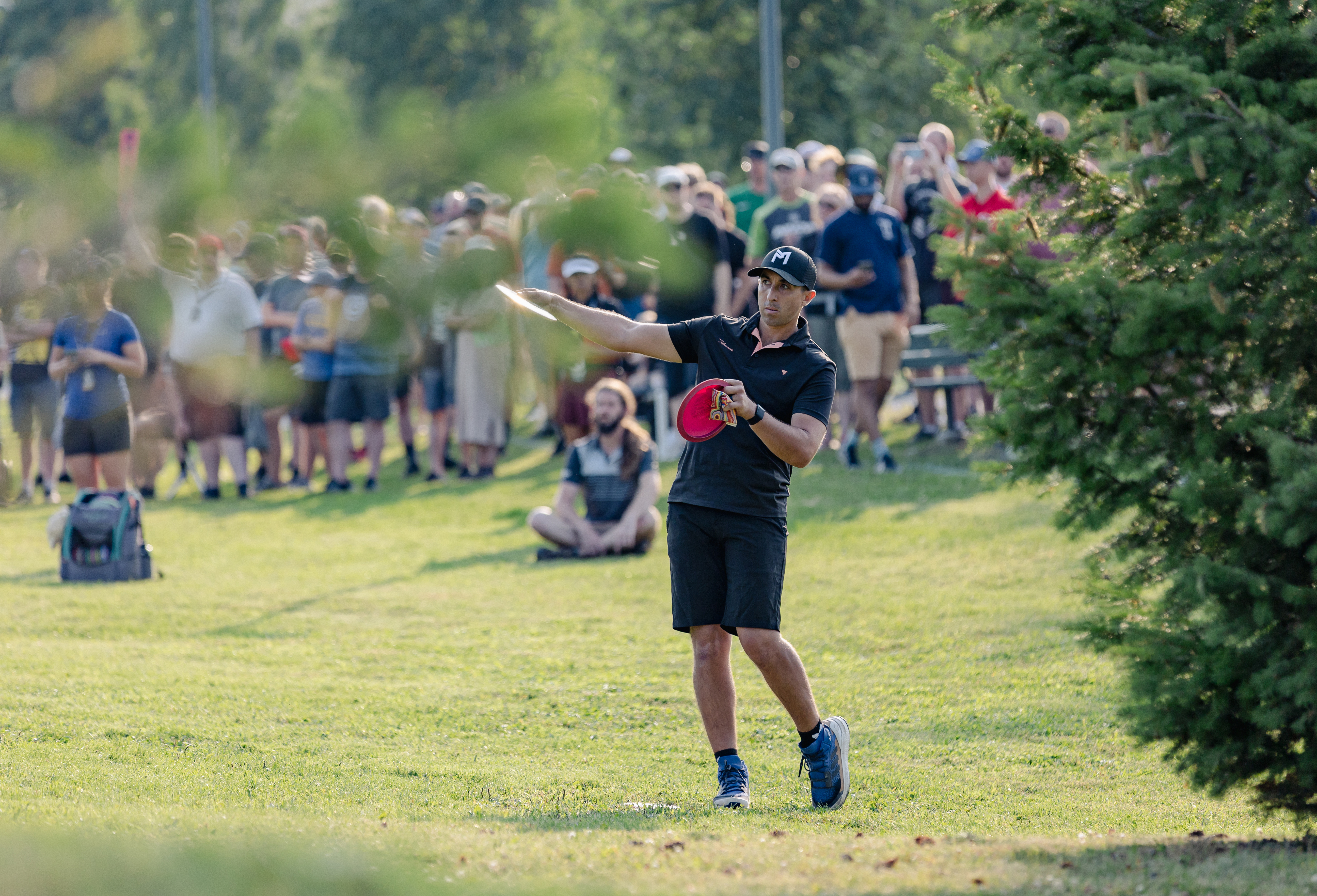 Paul McBeth followed suit with a more conventional, or dare I say, pedestrian, birdie, while his fellow PDGA World Champions Gregg Barsby and James Conrad found their way off of the fairway and into the rearview mirror.
Trading blows and birdie spurts, Eagle built a three-stroke lead early, going 7-down to Paul´s 5-down on the front 9. The opposite was true on the latter 9, where McBeth carded 7 birdies to McMahon´s 5, both not missing from the circle on the day; neither one so much as getting a whiff of the vaunted ropes, and ultimately sharing a hot round of a 1082 rated, bogey free, -12.
Balancing out Eagle´s no-forehand performance was Texas native and young upstart Chandler Kramer who, armed with nothing but a sidearm, burst onto the scene last week in Sula, seemingly out of nowhere. With no major sponsors to his name and a PDGA career younger than Covid-19, Kramer hit "The Beast" for a double digit payout, one of only three on the day, to leapfrog a slew of household names into third place and a lead card start tomorrow.
Joining them on the lead card is reigning European Champion, Niklas Anttila, who rose eight spots up in the standings with a scorecard that fell a single bogey short of double digits, and one shot clear of fellow Finnish star, Lauri Lehtinen. Other notable Finns with a chance to finish strong are regular Top-10 finishers Väinö "Umlaut King" Mäkelä , who slipped slightly down to 10th today, but will undoubtedly ascend again tomorrow, and Jesse Nieminen, who sits in 7th.
Action returns to "The Beast" tomorrow, with live Disc Golf Network Broadcast beginning at 9 a.m.Local / 2 a.m. Eastern.
Comments
Chandler Kramer has major sponsors, Lone Star Disc and Disc Barn!