Kyle Klein Earns Wire-To-Wire USADGC Title
Kyle Klein Earns Wire-To-Wire USADGC Title
Sunday, June 9, 2019 - 12:13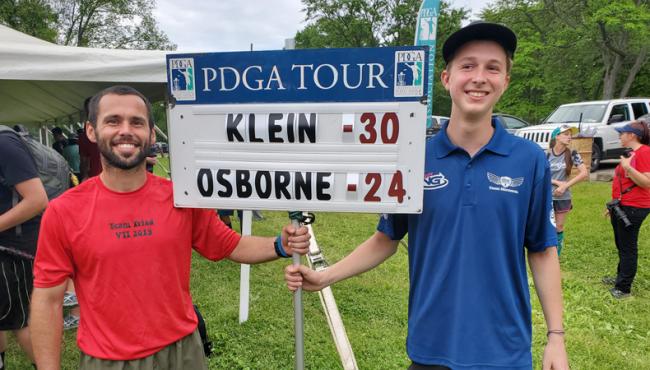 After shooting back-to-back course record rounds on The Toboggan's amateur layout in Milford, Michigan, catching Kyle Klein during the final round of the 2019 United States Amateur Disc Golf Championship proved to be an impossible task. Tennessee's Noah Osbourne put on a clinic during the front nine, carding six birdies in a row to bring himself to within five strokes of the lead, but in the end, Klein's bogey-free round of an 8-under par 55 would be more than enough to secure the victory. 
It's difficult to catch anyone that isn't making mistakes. Throughout the 54 holes he played over the weekend, he had just one in which he finished over par, a double-bogey on hole nine during his second round, the same round where he matched his record-setting round one score of 52. Klein's frustration was visible on the front nine on Sunday as Osbourne crept closer and closer, but the padding of eight strokes that he gave himself after rounds one and two kept him calm and collected. After all, if he was flustered, it was because he getting pars instead of birdies, a mentality not shared by a majority of competitors when taking on The Toboggan. 
"I'm not gonna try to hide it, I was nervous," said Klein. "I've never been in that position before where I had to hold a lead. I've been in Noah's position where I was chasing and I had nothing to lose, but being first and seeing him go 6-under through seven was a little bit scary." 
His nervousness would eventually subside after Osbourne's birdie run was ended by a bogey on hole eight, bringing the lead back to six strokes with 10 holes to go. Klein and Osbourne went shot-for-shot for the next several holes until Klein put a nail in the coffin with birdies on 14 and 16. Noah wasn't done putting on a show, however, as he carded impressive birdies on 17 and 18 to finish, including an incredible 70-foot putt through a fence from a knee in front of the crowd on 18.  
Having just turned 17 years old in May, Klein has no intention of turning pro just yet. "I don't know. I haven't made any decisions about it really," Klein said. "I'd probably say next year. That's probably the most feasible." 
We wish we could say we'll see Klein at the 2019 PDGA Amateur Disc Golf World Championships, but Klein has other obligations getting in the way. Thank you to the staff and volunteers and to Discraft for putting on what it always one of the best PDGA Majors of the year. 
Stay tuned for throw-by-throw coverage of the final round by Fortuna on YouTube.