Kveseth Conquers Kokkedal Open
Kveseth Conquers Kokkedal Open
1040-rated golf earned Norwegian pro big cushion before finals
Tuesday, May 21, 2019 - 23:54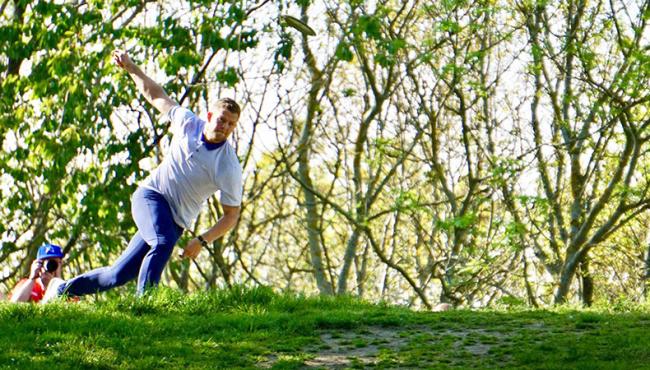 The Kokkedal Open boasted the 2019 EuroTour season's strongest Open field yet, with nine players rated above 1000 making starts, including Danish legend KJ Nybo. But it wasn't Nybo—or any member of the four-digit club, for that matter—who walked away from the event with the win.
That honor went to 996-rated Norwegian Håkon Kveseth.
Entering the nine-hole final seven strokes clear of the field, Kveseth could've cruised to a victory. Instead, he laid down a 6-under par, bogey-free final nine—one off the hot round—to take home a 37-under par 183 winning total. Fellow Norwegian Knut Valen Håland took second with a 30-under par 190, and Swedes Kristian Bengtsson and Henric Hagman tied for third with 28-under par 192s.
Kveseth Seeks Joy of Playing: "Results Are Just Bonus"
Though you may think you haven't heard of Kveseth, if you watched Central Coast Disc Golf's second-round coverage of the 2019 Wintertime Open lead card, you've seen him before. Kveseth is a two-time Norwegian National Champion javelin thrower who's also currently tied with one other player for the status of highest-rated Norwegian disc golfer.
Despite his sizable lead going into the final, Kveseth said he never felt comfortable about the Kokkedal win until it was all over.
"I lost a tournament two weeks ago going into the final seven holes with a four-stroke lead," he said. "That was kind of in my head, so I never really felt safe. But I used the things I learned that time to my advantage this time."
Kveseth credited his win to a mixture of thorough preparation—he said he played six practice rounds leading up to the tournament—and having a well-rounded game.
"I am most known for throwing far, so these courses should not be the best for me in the first place," Kveseth said. "These two courses challenge all types of skills. Technical [shots], distance with control, and a solid sidearm were all important for me last weekend."
With this success among stiff competition and his participation in big U.S. events like the Wintertime Open, Las Vegas Challenge, and Memorial Championship earlier this year, it seemed likely that Kveseth would have high hopes for the rest of this relatively young season. However, the Norwegian said he intentionally has "no goals" for the rest of the year.
"This is one of my many hobbies," Kveseth explained. "Earlier I did it because I had to, with sponsors and everything. It made me put too much pressure on myself, and I lost the joy in just playing. Now I do it because I want to, and I love it. The results are just a bonus."
Kveseth is registered for EuroTour #4, the Sula Open in Langevåg, Norway, from June 7-9, and we'll just have to wait and see if he earns another bonus there.
To Share Last Spot On Podium, Swedes Needed A Hot Round and An Ace
As the finals commenced, second place was separated from sixth by just three strokes, meaning the podium behind Kveseth wide open. Håland was tied for second going into the final and earned his solo spot in that position by playing solidly, matching Kveseth's bogey-free 6-under par.
Hagman and Bengtsson, though, were respectively at sixth and fourth as the final began, and both had to do something special to earn a share of third.
Hagman described having a comeback mindset even before the finals started. He said his entire mental game changed after a grave error on the wooded, Nybo-designed Eghorten course during the tournament's penultimate day.
"I was never on the lead card for any of the rounds, so I had to make a charge from the chase card," Hagman said. "I decided to play more offensive after my double bogey on hole 12 on Eghjorten during round three. After that I made up stroke after stroke, which felt great. It was a tight battle until the end, for sure."
With the aid of two eagles, Hagman went 13-under on his final 15 holes, and his 7-under par final nine was the best in the field.
Bengtsson also went into attack mode.
"I went into the final nine and shared fourth with a decent chance of podium finish," he said. "Pretty scorable holes, so I came out to birdie them all."
It was with that mindset that Bengtsson approached the next-to-last hole of the final nine, a hole which he had made an error on in a previous round. 
"I had put my last shot circle's edge with a resulting death putt that I didn't make," Bengtsson said. "So I told myself I wouldn't accept throwing short and left."
Keeping his promise to himself, Bengtsson put a little more power behind his disc than in his previous attempt, and, in his words, "the basket just happened to be in the way." This extremely late ace allowed him to need only a par on the final hole to stay on the podium.