Keith: 'I'm Here to Stay'
Keith: 'I'm Here to Stay'
Texas pro, McBeth gain separation after two rounds at Pro Worlds
Thursday, August 15, 2019 - 02:58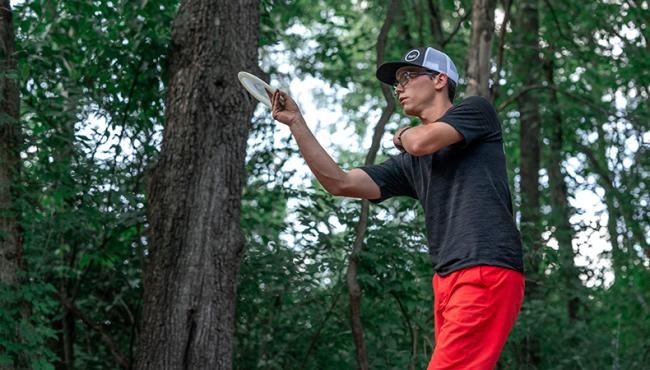 PEORIA, Ill.—The question was about if the impending deliver of his first child was going to send him home early from the 2019 PDGA Professional Disc Golf World Championships. But in reality, Emerson Keith didn't really need to answer it. He'd already done that with his play Wednesday afternoon.
"I'm in the top 10 so I'm here to stay," Keith said.
The Texas native maintained his standing atop the Pro Worlds leaderboard with a 10-under par 54 on the wooded Northwood Gold layout to put his two-day tally at a 22-under par 105, but a hunter lurks in the form of a four-time PDGA World Champion.
Paul McBeth's 1087-rated 11-under par hot round kept him one stroke behind Keith with a 21-under par 106 total, and the duo has breathing room for their continuing battle. Anthony Barela and Chris Clemons are tied for third place after their 8-under par and 6-under par showings, respectively, on Wednesday, but their overall score of 15-under means it's going to take some serious scoring over the next three days to make a play for the title. They make up the third round's lead card, as James Conrad dropped to the top of the chase after a 5-under par performance.
Keith was nearly flawless off the tee at Northwood, mixing in powerful backhand drives, a long-range roller on hole 8, and a deft sidearm that set him apart from the field on the par-3 14th. He's currently second in the field in fairway hits (82%) and leads in circle 1 in regulation (72%), circle 2 in regulation (81%) and birdie percentage (67%).
Aside from his shot-making ability, it was his composure on Wednesday that was most noticeable. Sure, he occasionally took a seat on the ground to collect himself after a missed putt, but he rarely seemed rattled to be playing alongside McBeth.
"I honestly only felt pressure for the first two holes," Keith said. "After that I told myself, I said, 'You've proved that you can be here, you need to prove that you can continue to stay here.' So I forgot about everybody else and played my own game."
McBeth said he was impressed by Keith's mettle.
"Emerson didn't make any mistakes. He didn't give away any strokes," McBeth said. "…No mistakes out of him and I think it's good. I think it's great that it's us battling up there right now. I think third's a little bit of a ways back now, so well see how things turn out tomorrow at Eureka."
While the pair were separated by only a stroke during the round, there was a marked difference on the green. Keith left several putts that were off-center and fell off the side of the chains, while McBeth was dialed in. He has hit 96% of his circle 1x bids through two rounds and peppered in connections from 27, 38, and 49 feet on his run of four birdies that closed the day.
McBeth has had his ups and downs inside the circle this season, but he attributed the current upswing to finding a comfortable stance.
"I think the upper body mechanics are really well," McBeth said. "I think I finally got that speed on it that I need that's getting every putt that I have to the basket. I'm not really leaving any short form anywhere."
Keith was unbothered by his 69% circle 1x showing Wednesday, especially after a perfect putting performance on Tuesday.
"Sometimes you're not 100% on," Keith said. "Luckily enough today I was able to be close enough for a lot of those birdies to get the putter in the basket."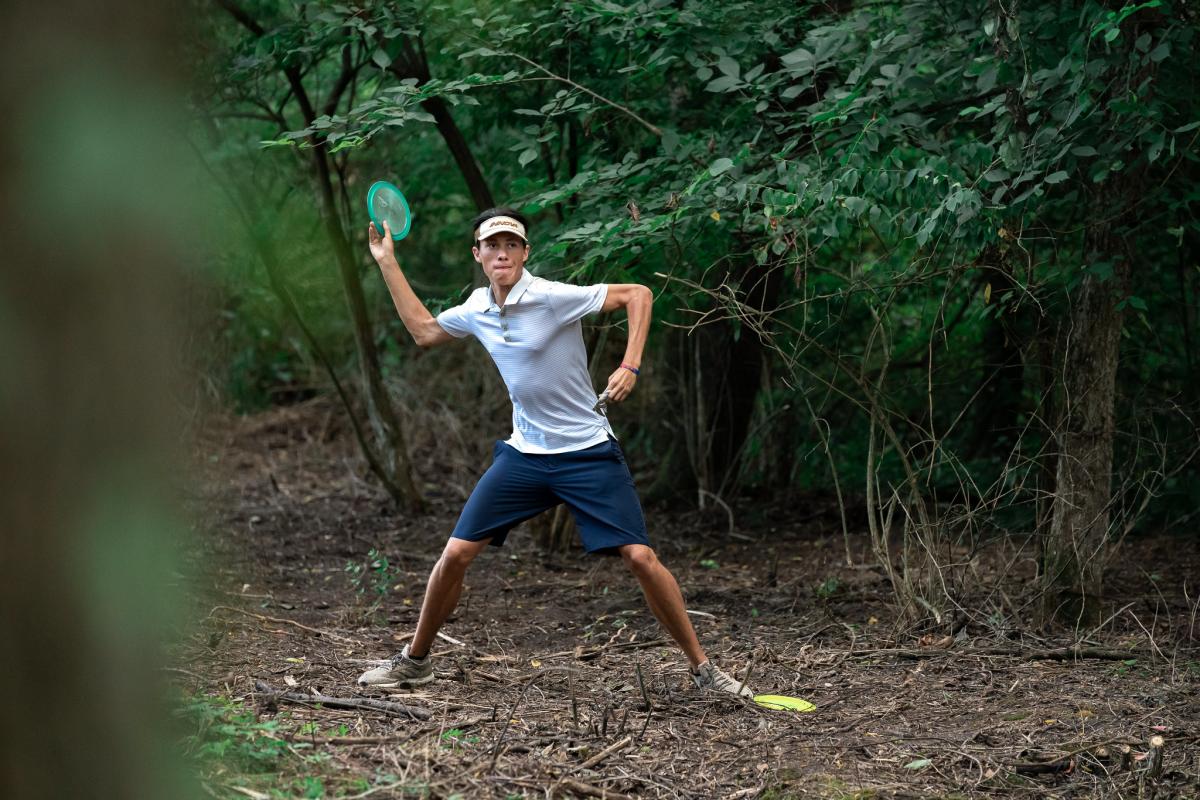 Conrad had some high highs, hitting the cage off the tee on the 321-foot 9th before carding only the second birdie of the tournament on the 1,050-foot, par-5 12th.  His crowd-pleasing roller to scramble for a par save on the 1,040-foot 16th stood out, but several errant tee shots through the course's midsection left him with little left to do other than pitch out to the fairway. He went down swinging, aiming for eagle on the 660-foot closing hole in a bid to remain on the lead card.
"I'm content with my round," Conrad said. "It wasn't what I was hoping for, but I was thinking the 5-to 6-down range is where I ought to at least be at on this course. It's a really difficult track, but there's still a lot of birdies to be had. Even with getting into some trouble coming out with a 5-down is respectable. I'm OK with it."
Kevin Jones struggled with his tee shots, either failing to flip them to flat or letting them drift too far right as his 55% fairway hit rate led to a 3-under par showing that dropped him into sixth place at 14-under. Philo Brathwaite and Austin Hannum are tied for seventh place with 13-under par 114s, while Chris Dickerson and Andrew Presnell sit in ninth at 12-down.
Two-time PDGA World Champion Ricky Wysocki dropped five slots and sits in a three-way tie for 14th place, while Eagle McMahon shot a 3-over par 67 that saw him plummet to tied for 39th.
In Other News…
Conrad was seen juggling and riding a unicycle—at the same time!—post-round in the Northwood parking lot.
A.J. Risley is battling a wrist injury and said he is unsure if he'll be able to finish the tournament. He was going to test it out Thursday morning before his 8:40 a.m. tee time at Eureka.
The lead card will be broadcast live on SmashboxxTV starting at 2:30 p.m. CT.