'It's Maybe Not That Small'
'It's Maybe Not That Small'
Konopiště Open's graduation to Major status emblematic of disc golf's growth in the Czech Republic
Wednesday, July 11, 2018 - 21:04
To tell the story of disc golf in the Czech Republic, you first have to do a little globetrotting.
When Přemek Novák initially discovered the sport, there wasn't even a proper course in his home country. It was 2004, and he was studying "recreology" – or what's known in the United States as kinesiology or exercise science – at Palacký University Olomouc in the Czech Republic. He learned about disc golf there – how it was an effective means to promote an active, healthy lifestyle – but the only way to play was to go find a group of local golfers who set up portable targets in a park. He went out and enjoyed himself, but couldn't find much more information in his native language on how to establish it as a proper activity.
When he and friend Michal Grepl hopped across the pond in 2005 for an extended stay in Colorado, though, the sport truly captured his heart.
"The manager of the restaurant where we were working took us to – I think it was the Fort Collins Edora Park course," Novák recalled. "He took us to the pro shop, so we bought some basic discs, and he brought us to the course, and we just loved it.
"We said, 'OK, this is something we need to build in the Czech Republic."
And that's exactly what he's done.
Fast forward to 2018, and the Czech Republic boasts more than 80 courses. And this week, Novák serves as tournament director for the sixth iteration of the Konopiště Open, which this year has graduated to become the sole PDGA Major in Europe.
Finnspiration
For as much progress as the sport has made in the Central European nation, it didn't happen overnight. In fact, when Novák returned from that Colorado holiday, he crunched some numbers and was met with a harsh reality: In 2005, putting in a quality nine-hole course in the Czech Republic would cost almost $10,000.
"At that time, it seemed to me that is too much for the city to pay for this kind of activity, so we started to do another business," Novák said. He toiled away with other projects – namely, a rollerblading business that aimed to help kids get fit – until 2010, when a former classmate called him from neighboring Slovakia. There was a park there that needed to be filled and the old friend, remembering Novák's interest in disc golf, asked for help.
"I started to dig information about it again," Novák said, "and I found DiscGolfPark in Finland."
The brainchild of Finnish disc golf maestro Jussi Meresmaa, DiscGolfPark was hard at work helping the sport proliferate in the Scandinavian nation. Novák reached out, and Meresmaa returned his email the same day. Within two months, Novák was booking a flight to Finland to see how the concept came to pass. By September, Novák was pitching DiscGolfParks to local municipalities, taking eight meetings in the first week. In June 2011, Novák and Meresmaa erected Chodov DiscGolfPark, the country's second permanent disc golf course that represented the proverbial opening of the floodgates.
For Meresmaa, the partnership flowed naturally. "I think there is quite a few common things between the Finns and Czech people," he said. "For example, both of the countries and nations, they really like to be outdoors when it's summer. Czech Republic is also pretty good at floorball, which is one of the big sports in Finland. I feel that Czech people, they share similar values when it comes to sports, so it feels like there is a good opportunity to do similar things to what we've done in Finland."
Indeed, Novák was set on channeling those Scandinavian influences, and it showed in Chodov. Aimed at families and beginners, eight of the course's nine holes clock in shorter than 100 meters in length. That didn't sit well with some of the more experienced players who were invited to the course's opening ceremony, Novák said, but he was more interested in putting down roots.
"This is the whole thing of how disc golf was growing here in the Czech Republic: We [didn't] care about the intermediate or professional players in terms of building a permanent course for them," Novák admitted. "We wanted to build a course for everybody.
"We had to put our ego, our disc golf ego, somewhere else and build a 50-meter hole," he continued. "We just followed the way of how Finns did it."
Making Waves
It didn't take long, though, for the nation's competitive players to find satisfaction. The country's first PDGA-sanctioned event, the ADD 2011 C-Tier, attracted 35 players; the Czech players with the two lowest PDGA numbers – Martin Slizek (#36019) and Lukas Filandr (#37150) – finished in second and first, respectively. There were six sanctioned tournaments in the Czech Republic that year, and that number dropped to five in 2012 before jumping back up to six in 2013.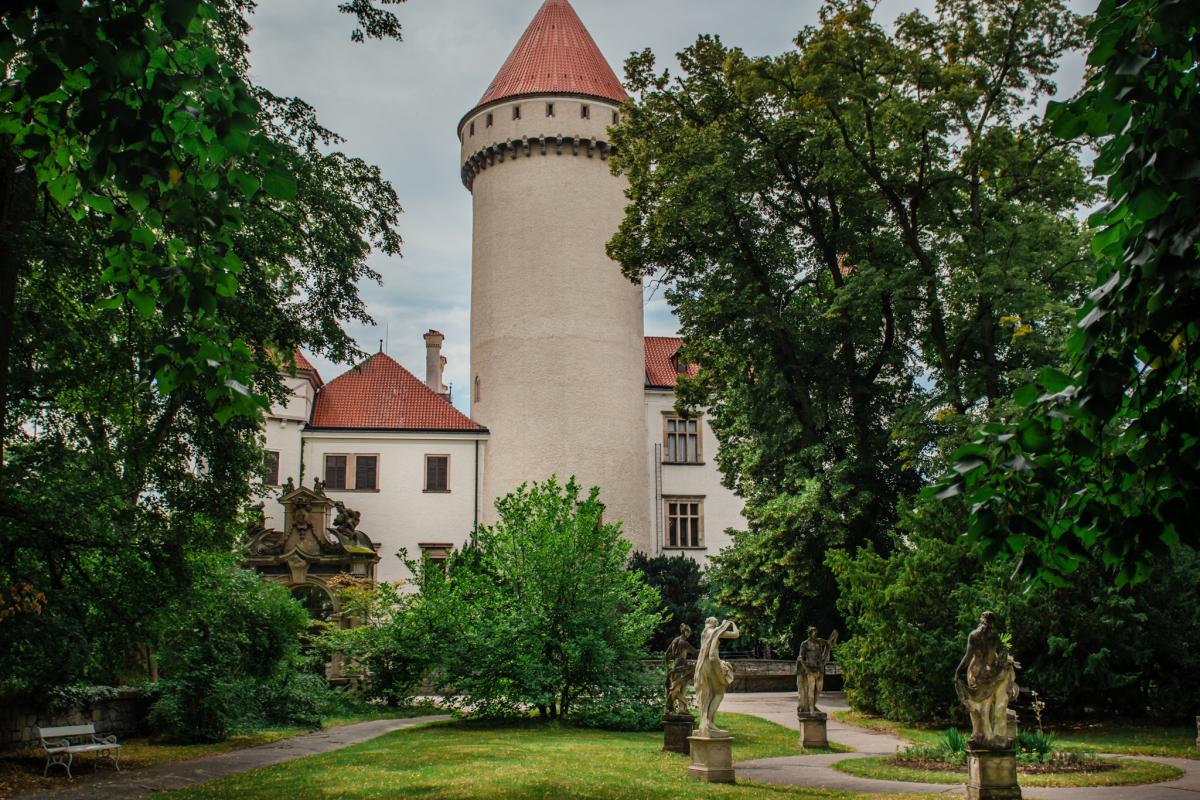 One of those six was the inaugural Konopiště Open, which – as it still does today – found players traversing rolling terrain in the shadow of the last home of Archduke Franz Ferdinand. The Austrian's iconic chateau provided a stunning backdrop for the 2,628-meter (8,622-foot), par 67 track, with 54 players christening that first event.
That number swelled to 84 when the 2014 Konopiště Open became a B-Tier, but it was the 2015 version that represented a turning point: It was added to the EuroTour circuit, and prominent European players like Seppo Paju, K.J. Nybo, and Natalie Holloköi made the trek.
"Our start also with Konopiště Open, with the Major, since the beginning was to be a big international event where we will be able to bring international disc golf stars which will attract Czech media to tell people, 'Hey, this is a real sport,'" Novák said. "It's not just a game in the park. It's a real sport."
The tournament's addition to the Disc Golf World Tour in 2016 lent it more cachet. It was elevated to A-Tier status and attracted high-profile American players Paul McBeth and Nate Sexton, and German star Simon Lizotte won the tournament with a late-round comeback. Reigning PDGA World Champion Ricky Wysocki won the Open division in 2017, while American expat Vanessa Van Dyken notched a playoff victory in Open Women's.
Now the first European Major that has been held south of Denmark, the 2018 Konopiště Open features its largest field yet, with 127 Open players and 16 Open Women's competitors tackling an enhanced, 11,000-foot track for four straight days. In addition to live scoring and post-produced coverage on YouTube, Novák and his team are taking another page out of the Finnish playbook with a 20-minute broadcast set to air on the country's national sports network in the coming weeks.
"That's the main reason why we are doing Konopiště Open," Novák said. "We want to make some waves in the media in the Czech Republic."
Future Seeds
Though he doesn't normally like to make predictions for the event, Novák said he'd like to see McBeth improve on his previous finishes at the Open – third place in 2016 and second place last year – and take home the win.
If that's not in the cards, though, he'll be rooting for the home team.
"If it's not going to be Paul, I would like to see one of our young guns from the Czech Republic beating the best ones, because they are so good," Novák said. "They practice so hard, and I think we will hear about them in the future."
One of those up-and-comers is Bohdan Bilek, an 18-year-old from Nový Jičín, a town of 26,500 people about four hours east of Benesov. The 974-rated culinary school student started playing disc golf five years ago when his sister, who was dating a disc golfer, set him up on a blind date: his first tournament.
"She just signed me up for a tournament one day, and I went to it and I played," Bilek recalled. "I think I threw some discs before, but I just thought it's some weird looking Frisbee, so…
"I'm not sure about the scores or anything, but I enjoyed it," he continued. "After it I bought some putter – I think it was a [Discmania] P2 or something – and I was thinking, 'Yeah, this is something I really want to do more.'"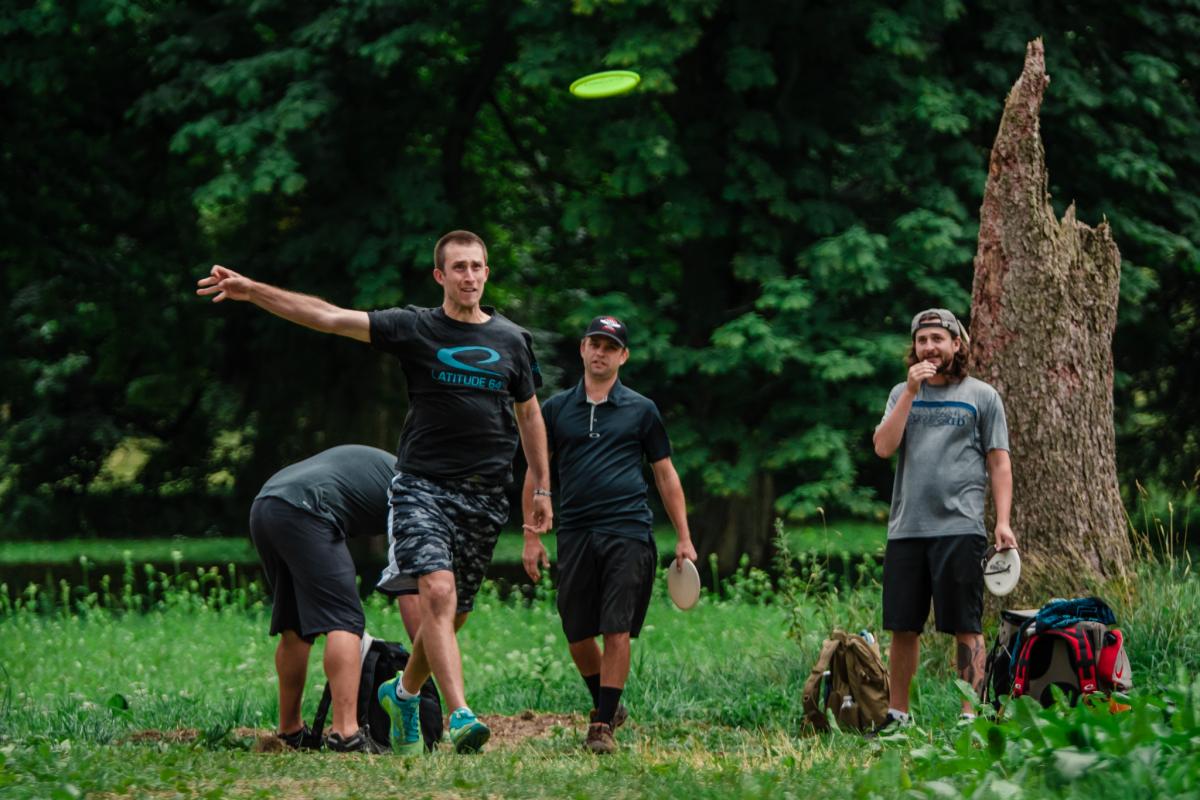 Bilek has been a beneficiary of Novák's work with DiscGolfPark. He said there are multiple courses within a half hour of his house and, more importantly, others have taken notice of the game's spread.
"When I said like to my friends five years ago that I'm playing disc golf, everybody was like, 'What is that? I've never heard about it,'" Bilek said. "Now when I say to new people I play disc golf, somebody actually knows what it is. 'Hey, it's that Frisbee thing! It's that basket with chains.' Yeah, that's what I do."
Van Dyken, who now calls Finland home and is back this year to defend her title, indeed has taken note of the sport's increased notoriety.
"Yes, it is definitely growing," she said. "Every year there is noticeably more and more spectators and fans. Since they added the Konopiště Challenger for the amateur players there are more Czech players participating in the event. They have also added a permanent course on the property which caters to beginners. I think disc golf is starting to grow here more rapidly."
Meresmaa agreed. "It's amazing to see how disc golf has evolved in the last, let's say, five years in Czech Republic," he said. "…I'm almost like a disc golf professor planting these seeds in the unknown territory and seeing what happens. Obviously, I'm not the person who is doing all the work, but we are helping local promoter Přemek and his team to see what happens."
And according to the professor's top pupil, disc golf shows no signs of slowing down. Novák said he expects the number of courses in the Czech Republic to surpass 100 this year. He estimated that there are 3,000 competitive players in the country of 10.5 million, with another 30,000 partaking recreationally.
But it was this week's preparations at the Konopiště Open that left the most recent impression that the efforts of he and his staff – six full-timers and 35 volunteers that he effusively praised – are paying off.
"The time when we know almost everybody here in disc golf is gone," Novák said. "We opened the Franz Ferdinand course for spectators [to play] yesterday, and I think around 30 or 40 people showed up to play the course, to try it, and I didn't know almost anybody…It's always surprising to me. I still have a feeling that [disc golf] is quite a small activity, quite a small sport, the scene is so small.
"It's maybe not that small."
Comments
Lovely article about disc golf evolvinng in the Czech Republic.