How to Watch the DGPT - Idlewild Open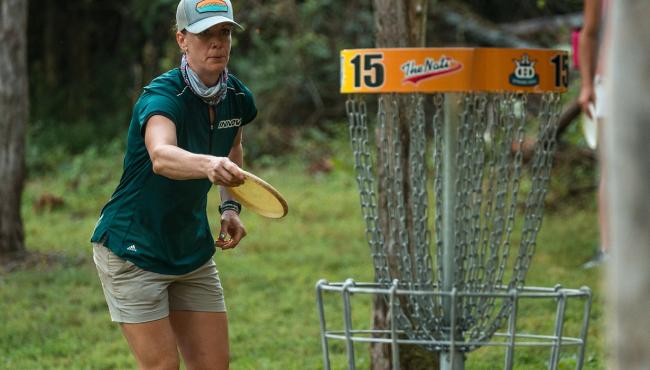 (Preview via Disc Golf Pro Tour)
With only four events left before the DGPT Championship finale in Charlotte, the tour heads to Burlington, Kentucky for the Idlewild Open presented by Dynamic Discs and The Nati Disc Golf. After a shortened tournament at the Ledgestone Insurance Open last weekend due to weather, players are eager to get back on the course and battle it out at the world famous Idlewild course.
The Idlewild Open marks the beginning of the East-coast swing which is the final chapter of each years Pro Tour so to speak. Synonymous with this part of the country is tight wooded golf and Idlewild is no exception. While the 9,063 ft (8,602 ft for FPO) par 67 beast of a course at Idlewild does offer some open shots throughout the round, players will be challenged with tight fairways ranging from short par 3's to long par 5's. Idlewild will offer a slight reprieve from the monstrous Northwood Black course from last weekend, however, players will have to follow the aim small miss small mentality headed into this weekend's event in order to climb to the top of the leaderboard.
Last year's Idlewild Open Men's Champion Eagle McMahon will look to repeat his title and with a strong 3rd place finish at last week's Ledgestone Insurance Open, he is certainly playing some of his best golf headed into this weekend's Elite Series event. Eagle has only finished outside of the top 3 once since April (8th at Texas States NT) and has had 3 DGPT wins in that timespan. To say that the young champion from Colorado is having a fantastic season would be an understatement and with a win at Idlewild, Eagle could potentially move into the lead in the DGPT standings.
On the Women's side, Paige Pierce will look to carry some momentum into Idlewild after a big win at Ledgestone. Pierce finished 4th in last year's Idlewild Open which was uncharacteristic after wins in 2017, 2018, and 2019. Despite last year's speedbump, Paige is undoubtably the favorite heading into the weekend. With a 70-point lead over Catrina Allen, Pierce has distanced herself in the DGPT Standings however, there are some tight battles farther down the leaderboard and with only a few events left this season, a good finish this weekend could be the difference maker for earning a coveted spot in the DGPT Championships in October.
Join us August 13-15th as the best players in the world battle it out in Burlington! Live coverage begins each day on the Disc Golf Network at 1:30 PM (ET) and of course, live scoring will be available all weekend courtesy of UDisc.
Here's everything else you need to know to catch the action this weekend:
Tee Time & Round Ratings
Official scores, tee times and round ratings can be found at the official event page on PDGA.com.
Live Video Coverage 
Disc Golf Network | Subscribe 
The Disc Golf Network (DGN) is the new home of live disc golf. Built by the Disc Golf Pro Tour, the DGN is a subscription streaming and on-demand platform much like Netflix or Disney+. Covering the world's best players competing in the sport's most elite tournaments, a subscription includes post-produced coverage of select disc golf tournaments as well as exclusive disc golf shows, touring pro interview series, podcasts, and other segments only available on the Disc Golf Network. The DGN offers a PDGA Member discount of 50% to all active members bringing the cost down to $4.49/month.
Friday's MPO Feature Card: Eagle McMahon, Chris Clemons, Corey Ellis, Kyle Klein
Friday's FPO Feature Card: Ellen Widboom, Paige Shue, Rebecca Cox, Paige Pierce
Live coverage begins at 1:30 p.m. ET on the Disc Golf Network. The MPO feature card tees off at 1:54 p.m. ET and the FPO feature card hits the course at 3:40 p.m. ET.
In addition to the DGN, the live broadcast for both divisions will be simulcast free on the DGPT YouTube channel for the final round only on Sunday, August 1.
Instant Scoring
With more stats than you can shake a stick at, keep an eye on UDisc Live all week for in-the-moment moves from the tournament's stacked DGPT field. 
Idlewild Open Designated as Phase 3 Event
The Idlewild Open, as well as the remaining PDGA Elite Series events for 2021, will be operating in Phase 3 of the COVID-19 Requirements and Best Practices for PDGA Elite Series Events.
Post Production Video Coverage
Open Lead Card / Round 1 MPO Feature Card: Chris Dickerson, Eric Oakley, Calvin Heimburg, Kevin Jones
Open Women's Lead Card / Round 1 FPO Feature Card: Sarah Hokom, Macie Walker, Ohn Scoggins, Missy Gannon
Gatekeeper Media | Subscribe
Open Chase Card / Round 1 MPO Feature Card: Zach Melton, James Conrad, Ricky Wysocki, David Feldberg
The Disc Golf Guy | Subscribe 
Open Chase Card / Round 1 FPO Chase Card: Erika Stinchcomb, Catrina Allen, Hailey King, Heather Young
Articles
Check back to PDGA.com daily for a recap of all of the action from the 2021 Elite Series.
Or, you can head to the Disc Golf Pro Tour's home on the internet for daily coverage, too.
PDGA & DGPT Social Media
PDGA
Disc Golf Pro Tour