How To Watch The 2020 Ledgestone Insurance Open
How To Watch The 2020 Ledgestone Insurance Open
Disc Golf Pro Tour set for four-day run in Peoria
Wednesday, August 12, 2020 - 09:54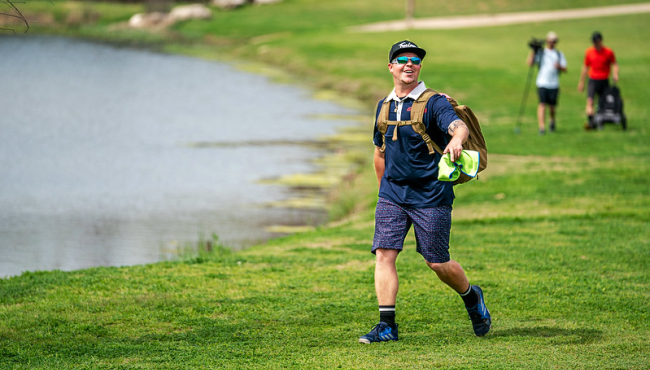 PDGA Elite Series play continues this weekend with the seventh stop of the 2020 Disc Golf Pro Tour, Discraft's Ledgestone Insurance Open presented by GripEq. The competition will take place from August 13-16th with feature and lead card coverage broadcast live on the Disc Golf Network. The coverage will begin at 9:50 a.m. ET for the FPO division and 4:05 PM ET for the MPO division.
Discraft's Ledgestone Insurance Open takes place across three courses. Due to field size and travel between the courses, it was decided to have the FPO broadcast be in the morning with the MPO broadcast in the afternoon. Currently, the plan is to only make the adjustment for this event. Viewers will be able to watch two separate streams of coverage this weekend starting Thursday at 9:45 a.m. ET. 
Post-Production coverage will be provided by JomezPro, CentralCoastDiscGolf, Gatekeeper Media and GK Pro.
Here's everything else you need to know to catch the action this weekend.
Instant Scoring
The Disc Golf Pro Tour has contracted UDisc Live for a whopping 20 events in 2020. With more stats than you can shake a stick at, keep an eye on UDisc Live all week for in-the-moment moves from the tournament's stacked DGPT field. 
Tee Time & Round Ratings
Official scores, tee times, and round ratings can be found at the official event page on PDGA.com
Live Video Coverage 
Disc Golf Network | Subscribe 
The Disc Golf Network (DGN) is the new home of live disc golf. Built by the Disc Golf Pro Tour, the DGN is a subscription streaming and on-demand platform much like Netflix or Disney+. Covering the world's best players competing in the sport's elite tournaments, a subscription includes post-produced coverage of select disc golf tournaments as well as exclusive disc golf shows, touring pro interview series, podcasts, and other segments only available on the Disc Golf Network. The DGN offers a PDGA Member discount of 50% to all active members, bringing the cost down to $4.49/month.
The first two rounds of live coverage for the Ledgestone Insurance Open will be streamed on the Disc Golf Network, with Jamie Thomas anchoring coverage and multi-time PDGA World Champions Nate Doss and Valarie Jenkins providing color commentary. The DGN will also stream some content for free on the platform, including the final round of the tournament.
Action kicks off every day at 1:35 p.m. ET. Be there.
In addition to the DGN, Sunday's final will be simulcast on the DGPT Youtube channel. Crave the banter between those watching live? Head over and chat in the comments!
Post Production Video Coverage 
Jomez Productions | Subscribe 
Open lead card 
JomezPro will be on hand at every DGPT event in 2020 to bring their eye-catching stylings to the Open feature and lead card each day, putting post-produced coverage of the world's best disc golfers in front of more than 200,000 subscribers.
Central Coast Disc Golf | Subscribe 
Open chase card 
Central Coast Disc Golf returns to Disc Golf Pro Tour coverage for Discraft's Ledgestone Insurance Open. CCDG will be filming and creating post-production coverage of a feature card Day 1, and the chase card for days two, three, and the final round.
Gatekeeper Media | Subscribe 
Open third card 
Get ready for some Rewinds! Gatekeeper Media has been plenty busy during Offseason 2.0, teaming up with pros like Simon Lizotte and Andrew Fish for intimate mic'd up videos. Now, the Philly-area crew is back on the DGPT for next-coverage of any chase action in Ilinois.
Open Women's lead card 
GK Pro will be covering nearly all of the lead women's cards for the DPGT this season. Paige Pierce popping off again? It'll be on GK Pro. 
Articles
Yep, we'll have you covered here with daily round recaps and other coverage from Ledgestone. So, if you're here already, you might as well stay.
Or, you can head to the Disc Golf Pro Tour's home on the internet for daily coverage, too. As a famous meme asks, "why not both?"
Photography
Alyssa Van Lanen Images | Follow
Now in her fifth year of touring, Alyssa Van Lanen has become the preeminent photographer when it comes time to get the right disc golf shot. From in-your-face action to candid reactions, Van Lanen will have photo galleries from each day of competition available on the DGPT Flickr page, as well as her website and social media channels.
DGPT & PDGA Social Media
Disc Golf Pro Tour
DGPT Media will be on the ground all week bringing the sights and sounds from the event. Whether it's behind the scenes shenanigans on Instagram stories or photos and interviews on Facebook, they'll be communicating across all of their platforms for the week. Plus, be sure to subscribe to the Disc Golf Network and the DGPT YouTube channel, where the live coverage will be simulcast as well!
PDGA
Be sure to tune in to the PDGA's social media channels for any updates from disc golf's governing body and extra highlights you might have missed. Got headphones? Check out recaps of each tournament on the weekly PDGA Radio podcast!
Comments
It's really great to post my comments on such a blog. I would like to appreciate the great work done by the web master and would like to tell everyone that they should post their interesting comments and should make this blog interesting.
https://wichitafallspainters.com
10th Annual Discraft Ledgestone Insurance Open is a disc golf tournament at Sunset Hills Country Club in Pekin, IL, beginning on August 13, 2020 in the https://stuccorepairlasvegasnv.com/