Hokom Pulls Away For SFO Triumph   
Hokom Pulls Away For SFO Triumph   
Pierce's 2018 winning streak comes to an end with second place finish
Tuesday, May 29, 2018 - 12:57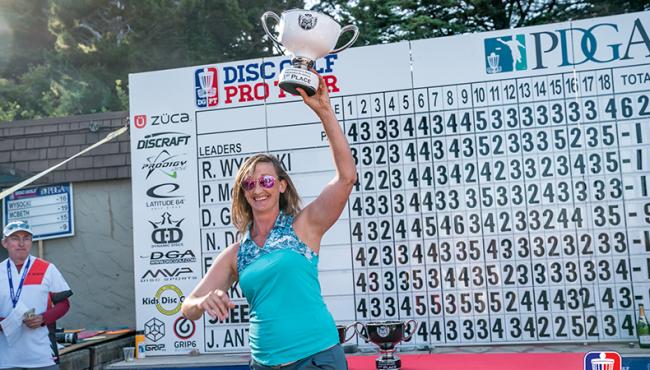 Talk about a San Francisco treat.
Sarah Hokom entered Sunday's final round at Gleneagles Golf Course with a six-shot lead and walked away with an eight-throw victory and her first win at an Elite Series event since April of 2017. Her 13-under par 185 at the San Francisco Open resulted in her second win of 2018 and snapped Paige Pierce's undefeated season in one fell swoop.
Pierce and Catrina Allen tied for second place with 5-under par 193s over three days at the 9,044-foot track, while Jessica Weese took fourth place with a 4-under par 184. Valarie Jenkins rounded out the top 5 at even-par.
Hokom has long stated that she doesn't have the arm to keep up with the likes of Allen and Pierce, but Gleneagles played to her strengths, she said. She led the field in landing in circle 1 in regulation, which paved the way for a birdie rate of 37 percent. Hokom also stopped any bleeding when her shots went awry, as she was the only player in the top 5 who didn't card anything worse than a bogey through 54 holes.
"I really thought there were only two holes that I didn't really have a birdie opportunity," Hokom said. "The course is laid out in a way that, even though I couldn't get a ton of distance off the tee, sometimes I could still get up and down to get a birdie.
"There's eagles out there, which I think there should be – Paige throws 200 feet farther than me," Hokom continued with a laugh. "I thought it was only 150 until this weekend and I had to throw two drives and hers was only 100 feet behind mine. It actually just cracks me up. It's really more of approach shots and playing links golf and being able to land a disc where you wanted to instead of throwing far, and that's how I play."
Hokom took her six-shot margin over Weese and quickly added to it with three birdies on the first five holes. Though she two-putted five times during the round, the rest of her competition had trouble keeping it between the lines as they tried to catch up. Allen, Pierce, and Weese racked up a combined seven out-of-bounds strokes while Hokom only took one, on hole 18. By that time, she was fine with taking a small risk, even if she was still jittery.
"Even though I had an eight-stroke lead going into, whatever, the last two holes, I told my caddy 'I'm nervous as all get out,'" Hokom said.
Still, she never let the stress impact her game plan, one she said was focused on "mastery" and "getting better at disc golf" instead of paying attention to her surroundings. And even though she took that same sizeable lead into the final round of the Waco Annual Charity Open this year, which she ultimately lost after struggling down the stretch, she said she didn't have any flashbacks to Texas.
"Honestly, there's been so many times that I've had a lead and not won a tournament that Waco was just one of the many – I didn't completely go back to Waco," Hokom said. "I decided that I just needed to play good golf and not worry about anything. What I learned from Waco is that I had given up down the stretch, and had I not lost my positive attitude then things maybe would have happened differently those last three holes, two holes, at least."
For Pierce, her second-place finish was marked by difficulty on the green. Her 83 percent circle 1 conversion rate was 12th in the 21-player field, and she only connected on one opportunity from beyond the arc. Pierce said after her win in Santa Cruz that she had perceived a lack of confidence among her peers, but count Hokom as one who never felt it.
"I'm just more of a realist," Hokom said. "I wouldn't say it's [a lack of] confidence. I know what I can do out there, and I know that she's gonna have way more birdie opportunities if she executes her shots. It's really down to execution, and I know that I can only do so much."
In San Francisco, it was more than so much. It was a victory in which she added to her lead – it was at one after Friday – every round.
"It certainly gives me a little more confidence that I can win tournaments and that I can have a six-shot lead and not mess it up," Hokom said. "I guess I extended it, so that's cool."