Get to Know the 2019 PDGA Board of Directors Candidates
Get to Know the 2019 PDGA Board of Directors Candidates
There are six candidates for the two open positions.
Tuesday, June 4, 2019 - 12:11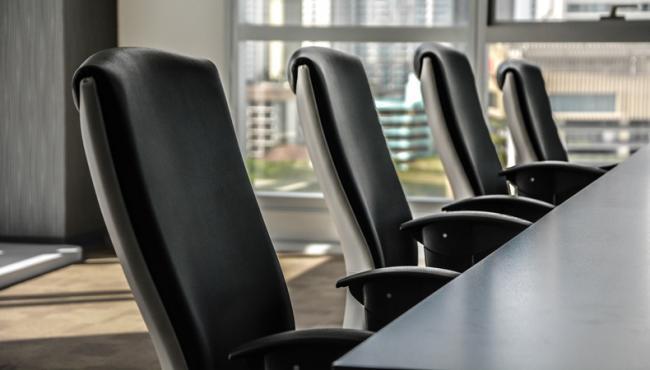 It's time to get to know the people who want to get to know you.
Six candidates have tossed their hats into the ring for the two open positions on the PDGA Board of Directors, a group that is required for non-profit status and mandated by the PDGA bylaws. In addition to semi-annual summit meetings, the board conducts monthly teleconferences with staff to accomplish its varied goals, such as setting PDGA policies; hiring and supervising of the executive director, who is responsible for headquarters, staff, and ongoing operations; financial management, including an annual budget; identification of responsible future board members; and representing the membership's visions for the future of the sport and the association.
Two at-large board member positions will be elected this year, with the pair receiving the most votes stepping in for three-year terms from September 1, 2019 to August 31, 2022. Elections take place throughout the entire month of July. For additional information, please refer to the PDGA Elections page.
Here's who wants to serve the PDGA's ever-expanding membership base, along with their statements of intention.
2019 Board Candidates
Location: New Caney, TX
Born: 1984
Gender: Male
Education: Associates, Louisville Technical Institution
Occupation: Professional Disc Golfer 
Biography: I have been playing disc golf for 28 years, touring professionally for four years. Life has given me many blessings and allowed me to try many things in my life. I'm 35 years old and live on the Northside of Houston, Texas. I am an Air Force veteran and a graphic designer in my free time. I love sports, board games, and disc golf. Music and movies are a big part of my life.
Professional Experience: PDGA board member for one appointed year, in which I helped create a touring professional players committee while also working on many new projects to benefit the PDGA and the members associated with the organization.
Disc Golf Experience: Disc golf has been my life. I have played on the Disc Golf Pro Tour and PDGA National Tour now for four years. Played in over 190 events over my time as a disc golfer. I have helped create four disc golf clubs and have been helping consult three clubs while playing full time and volunteering my time on the PDGA Board of Directors. I have nothing but love, time, and the want to succeed in every aspect of our amazing sport!
Candidate Statement: None submitted
Location: Durham, NC
Born: 1961
Gender: Female
Education: B.SC. biochemistry, Ph.D. analytical chemistry
Occupation:  Consultant, Pharmaceutical Manufacturing Quality
Professional Experience: With a Ph.D. in analytical chemistry, I have worked in academic and industrial research and in manufacturing in the pharmaceutical industry. I held positions of Research Scientist and Associate Director in R&D as Head of Quality for a manufacturing facility, and as Head of Analytical Sciences for global manufacturing in GlaxoSmithKline. During my career I managed up to 150 employees and budgets of up to $11 million. Two years ago, I elected to leave full time employment and have formed an LLC specializing in consulting for the pharmaceutical industry. I am thoroughly enjoying greater flexibility in my work life!
Disc Golf Experience: I discovered disc golf in Toronto in 1983 and first competed in 1984. My achievements include: 5x Open Women's World Champion (1991-1994, 1997); 2x US Women's Disc Golf Champion (2003, 2007); 2x Masters Women's World Champion (2009, 2017); Disc Golf Hall of Fame inductee (1997); 4x Women's Player of the Year (1990, 1993, 1994, 1997); Senior Player of the Year (2012). I have had the opportunity to play disc golf in North America, Europe and Japan and have competed in more than 500 tournaments.
One fun statistic is that I have the most PDGA wins of any player at 270 and counting.
Over the years I have volunteered my time to the disc golf community in various positions. I was on the PDGA Board of Directors from 1990-1999 in the positions of Regional Director and then as Commissioner. In 2017, I was appointed to the board and have been serving to the present day. I was a founding member and secretary (2002-2017) of the Disc Golf Foundation, a charitable organization (501c3) which brings disc golf to underserved populations. Upon request I have been serving on the PDGA Europe Board of Directors since 2017. For the past year I have been chairing the PDGA Women's Committee, and I established the PDGA Medical Committee earlier this year.
Candidate Statement: My priorities for the PDGA are to ensure members have a superior experience of disc golf through:
Implementation of new technology, especially apps for cell phones
Instantaneous results and greater range of statistics
Helping tournament directors and event organizers to adopt best practices for competitions and leagues
Supporting growth of disc golf throughout the world
Technology is driving the spectator experience of disc golf. Players want to easily record rounds, sign up for tournaments, clubs, and leagues, see results from events instantaneously and stay up to date on all the news. Tournament directors and event organizers should find it easy to run their events using just a cell phone. I support prioritizing investment in technology development and partnerships to deliver more services to PDGA members.
Disc golfers are hungry for more information on their progress, including statistics on their player rating, tournament finishes and shot execution statistics. I will support the calculation and publication of more player statistics on the PDGA website.
In order for us to have consistently positive experiences with PDGA-sanctioned clubs, leagues, and tournaments we need to continually educate players and organizers in creative ways to ensure that everyone understands the rules and adopts best practices. The PDGA staff is developing instructional videos which are a great way to illustrate key points, but we also need a more effective search engine, in-person training opportunities, and eventually different levels of certification.
All these initiatives need to keep in mind the worldwide nature of the PDGA and not rely so heavily on the English language for information. Videos and graphics should be incorporated into all our materials to facilitate understanding that bridges language. As more young people are attracted to the sport we also need to ensure age-dependent understanding of the rules of the game.
We all love more courses, however there are a huge number of courses that are not used and/or not maintained, usually due to poor design or lack of a good relationship with the parks department. Options should be explored, including collaboration with other organizations, to support clubs wishing to revamp, redesign or relocate courses.
I look forward to the opportunity to continue to serve PDGA members and will represent your concerns and priorities! Contact me on Facebook (Elaine King – Pro Disc Golf) or Instagram (@disc_golf_elaine).
Location: Utrecht, The Netherlands
Born: 1975
Gender: Female
Education: Computer science and psychology
Occupation: Self-employed
Professional Experience: Before I became self-employed full-time in 2002, I worked as a system admin for about four years, and two years as a digital video editor and studio assistant, the latter four of which while living abroad in Italy. My self-employment career took me to live music, where I either worked as a stage technician, or a tour manager, and toured the world for 17 years. At the start of 2019, I became a counselor for Transvisie, a self-help patient organization, in an attempt to pay it forward.
Disc Golf Experience: What started out in 2010 as the accidental beginnings of my competitive disc golf career – I was invited by my sister to come check out the sport she plays, during a new course opening party, and possibly even throw a few discs myself – has evolved into much more than just competing.
My competitive skills never really got past "will hopefully get a par on this hole." Instead, in a facilitating role, behind the scenes, I believe I played a much more prominent role. Most notably, I served as:
PDGA Board of Directors member (2015-2017)
PDGA Europe Tour Manager (2014-2018)
PDGA Europe Interim Administrator (2016-2018)
While in those roles, I have been involved with the running of 30-plus international events of every level imaginable, from C- Tiers to Pro Worlds. Most often I would be involved in registration and administration, scores processing, and officiating.
Joining the Dutch Open 2011 organising team, I had spent a few weeks programming an automated registration procedure for that event. Starting with that season, and that even being the season's first, the EuroTour would become the first tour series that used ratings-based  Tiered registrations for multiple divisions. Several other events used that code, and ultimately, because of the Estonian Open TD asking permission to use that code for their event, it ended up providing the backbone for what was to become Europe's leading registration and live scoring platform: Disc Golf Metrix.
Biography: I am a self-made person with a can-do attitude, not in the least documented by my nearly 20 years of experience being self-employed in two industries. I am very passionate about live music industry and disc golf. To place even more importance to being self-made, I came out as transgender in 2016, and have successfully transitioned, both socially and professionally, basically rebuilding myself from the ground up; Phoenix from the flames, if you will. And that transition has made me a more complete, in-tune, empathetic human being.
I have a pre-teen son; he lives with his mother and little sister in Germany. In my spare time, not on the disc golf course or on stage, I am a reader of fiction, a cooker of fine food, a good friend to her friends, and thrower of parties.
Candidate Statement: Many players across the globe will already know me through my disc golf accomplishments, but almost all of them are achieved off the fairway. In these nine years that I have played competitive disc golf, literally all I have to account for are one tournament ace (but, I got to high-five with Climo and Wysocki upon retrieving that disc from the basket), four wins (across three countries and two continents), and a few second- and third-place trophies from EuroTour events and countless tournament-stamped discs from all over the world. The one trophy that will probably mean most to the outside world, if at all, is my 2018 Nederlands Kampioenschap (Dutch Champs) title in Pro Masters 40+. The one that is most important to me, personally, is the Pro Women title at Jarní Špalíček 2019 - Cheb, a local C- Tier tournament in the Czech Republic.
During my tenure as chair of the Werkgroep Disc Golf (2010-15) and serving as Board of Directors member (2011-13) at the Nederlandse Frisbee Bond (Dutch Flying Disc Association), I helped change the disc golf landscape in my country by facilitating the migration from individual association membership to a member/club/association structure. That change was instrumental in allowing structural membership and events growth; and as a consequence, that resulted in the growth of the number of courses.
On an international level, things moved quickly. I started out as PDGA Country Coordinator for The Netherlands (2012), and when the other European country coordinators joined together as the PDGA Europe Committee they unanimously elected me as PDGA Tour Manager (and held that position 2014-18). That same weekend (at the 2014 European Disc Golf Championships) I had been presented the 2013 PDGA Europe Volunteer of the Year Award. I reluctantly accepted that trophy, because I felt it was prematurely handed to me, since I had only just begun giving to disc golf. So in accepting, I also asked for permission to see it as a prematurely handed out lifetime achievement award.
In June 2015 I was added to the PDGA Board of Directors to fulfil the remainder of Karolyn O'Cull's term on the board. Immediately following that, I was elected as the first European member on the PDGA Board of Directors and served on numerous PDGA committees, some of which I still serve on. Per August 1, 2017, I resigned from that position to fully focus on my work as PDGA Europe Interim Administrator (2016-2018).
Through my various job titles, I have been intimately involved with many disc golf tournaments in core staff positions across Europe and the USA, from helping local tournaments gain permanent international attraction, like Amsterdam Open (2013-15); to scores manager and/or tournament official roles at European Disc Golf Championships (2014, 2016, 2018), Finnish Championships (2016,2018) and at PDGA Major events like European Open 2017, Pro Worlds 2017, and Konopiště Open 2018; and performing a multitude of tasks behind the scenes or on-site at the majority of the EuroTour and EuroProTour events between 2015 and 2018.
As to the why of me announcing my candidacy for the 2019 PDGA Board of Directors election and not the PDGA Europe Board of Directors?
I find it important that, while PDGA Europe is starting to walk without its hand being held by the PDGA, the PDGA remains an organisation that has international and European representation and voice (i.e., a vote) from within.
And like I said about that 2013 PDGA Europe Volunteer of the Year award, I still have so much left to give to the disc golf community at-large. I feel that through my election to the PDGA Board of Directors, I may continue doing so.
Location: Oklahoma City, OK
Born: 1982
Gender: Male
Education: BS, engineering physics-electrical engineering
Occupation: Electrical engineer
Professional Experience: I have worn many hats in my life, all that have made me the man I am today and all that have prepared me for this new role in my life. From fast food management, auto tech, student, construction worker/supervisor/manager, to engineer, I have worked with people of diverse backgrounds and have learned a professional approach to managing projects to completion. I have a proven record of working throughout a variety of environments and with a vast workforce. By developing relationships and maintaining goal orientation I have become a contributing member of society with the career of which I always dreamt.
Disc Golf Experience: Heavily involved in my local community, I maintain a few major roles: liaison, tournament director, volunteer, and golfer. I represent my club in working with the regional authorities to distribute responsibility and develop regional schedules. I assist Iron Leaf Disc Golf OKC as the president. I have seen the group grow from a group of guys who barely know each other to a group of people who aid in each other's development and maintain each other's character.
I am the tournament director for our sanctioned events, which consumes the majority of my energy outside of my work. This year we have already completed 15 weeks of sanctioned league, three C- Tiers, and assisted with an A- Tier. Additionally, I volunteer my services for course maintenance, community outreach events, and being a good steward of disc golf to the greater community.
In my spare time I get a casual round in and hope to get as many putting sessions on the books as my schedule can afford. I'm an 850-rated player who can throw a putter about as far as you can drive and will take a birdie opportunity to a snowman faster than you can make it to the next box. I like to think I'm 1000-rated off 85% of the boxes.
Candidate Statement: As a member of the board I will bring the narrative of my peers in an attempt to address the perspective of amateur golfers who have become marginalized by the popular division system. Bringing a wide array of experience, I will pursue fairness, logic, and integrity as I work to improve the greater disc golf community. I would be honored to represent the community as the next member of the board of directors.
Biography: I fell in love with disc golf in 2006 while traveling around the United States for work. I carried a small bag inside my tool case from job site to job site, trusting that there would be a course near. It was the only constant as I paid off debts and saved for college. Returning home to continue my education, I found a love for the community behind the sport and the competitive events. As a fan of statistics, the ratings system enticed me and I was hungry for more sanctioned rounds to track my growth. So, I grew a bag tag league, began running tournaments, and now operate an established events services operation motivated in bringing sanctioned events at a larger frequency. In the past three years I have managed over 70 weeks of sanctioned league, seven C- Tier tournaments, one B- Tier, 15 unsanctioned events, four non-profit fundaisers, and was honored to host a ball golf course at a recent A-Tier. I have become dedicated to the community in ways I never have expected and love the sport more than I ever could have imagined.
To summarize, I must quote one of our great modern philosophers, Shawn Carter: "I never asked for nothin' I don't demand of myself. Honesty, loyalty, friends and then wealth. Death before dishonor and I tell you what else; I tighten my belt before I beg for help...I just play the hand I'm dealt, I can't say I've never knelt before god and asked for better cards at times to no avail. But I never sat back feelin' sorry for myself. If you don't give me heaven I'll have to raise hell."
Location: Little Rock, AR
Born: 1969
Gender: Male
Education: College
Occupation: Safety specialist
Professional Experience: I have been in sales and safety for the past 15 years, serving on two non-profit boards. I see serving on boards as a way to give back to the sport/communities that I love. Been playing for 30 years, active in my regional scene. Served as board elected president and current board member of Diamond State Disc Golf Association, course designer, TD, and proud designer/sponsor/builder of local nine-hole youth course.
Disc Golf Experience: I am 872-rated (current); play regional tournaments; host at Arkansas State DG Championships; as well as assist running all local tournaments and helping EDGE raffles at everyone that we can.
Candidate Statement: Hello and thanks for taking the consideration for my application. I am located in Little Rock, AR and have been playing disc golf since the early 1990s. In my careers after college, I always found much enjoyment playing disc golf, to escape the grinds of a career minded lifestyle. In those disc golf experiences, I learned that the Spirit of the Game, which is paramount to Ultimate Frisbee and self officiating, being carried over into to the disc golf community. Keeping with this spirit of the game, growing the sport of disc golf and teaching/coaching the younger generation has become a facet of my disc golf life, up into the present.
I am a former President of Diamond State Disc Golf Association, Inc, our local club. I helped bring the club back to prominence and was pivotal in bringing in the initial Board of Directors, which elected me as President. I was the first President elected for the DSDGA, by the Board of Directors. During my term, I initiated in 2018 and helped, in 2019 as a board member,  to finalize the process to have the club become a recognized 501(c)3 non-profit , helped plan, designed and installed Central Arkansas' first Junior course at Burns Park and have helped to actively maintain or assisted in the installation of 3 other courses as well, across Central Arkansas. We run the Arkansas Disc Golf Championships, Singles and Doubles, as well as other sanctioned events across Central Arkansas.
Giving back to the disc golf community is a passion of mine. I want to continue to help the players of the PDGA by coaching, training and educating as well as being a part of the bridge between the disc golf community and the non-disc golf community that we all live in. While my career of being a safety compliance officer takes me across the country, I see compliance as a two sided street. If the rules make sense, the players will understand them. Coaching and explaining the basis for the majority of rules has turned people from possible unfortunate understandings to allowing them to fully understand why the rules exist. I feel that my skill set and diplomatic tendencies will be a helpful addition to the board.
Thank you for your consideration.
Randall Palmer
 
Location: Rantoul, IL
Born: 1963
Gender: Male
Education: Some college
Occupation:  Distribution projects manager
Professional Experience: I have over 25 years in retail and restaurant customer service, 20 of those years in management. Currently the distribution projects manager for a leading bicycle equipment manufacturer. I have been with this company for 17 years. I am responsible for a department with 25 employees that assembles large freestanding displays that contain various bicycle accessories that are sold in most large retail chain stores. In this job I am involved with the design, layout, and assembling of the displays. I interact with outside suppliers, salespeople, buyers, and every department within my organization on a daily basis.
Disc Golf Experience: I have been throwing discs for most of my life. I first threw at baskets at Bradley Park in Peoria in 1986 and was hooked during my first round. Started playing in tournaments in 1991 and joined the PDGA in 1992 so I could start being a tournament director. I have run well over 100 tournaments and have been on staff for 14 world championships, 11 USWDGCs and four other Majors, usually as a course director. I was on the board for the Peoria (Illinois) Frisbee Club for many years, serving as the president for 10 years. After moving to the Champaign, Illinois, area I helped start the Champaign County Disc Golf Club and have served as the president since its founding in 2013. I was appointed as the first Illinois State Coordinator and served in that position from 2000 to 2004. I am a member of the Disc Golf Course Design Group and have designed or consulted on 28 disc golf courses in the Midwest. I have run clinics/demonstrations for many years, introducing children and adults to this sport. This summer I am working with two of my local park districts to teach disc golf in their summer camps. My local disc golf club is partnered with one of the park districts and I am teaching classes through them. Named an Innova Ambassador in 2018.
Candidate Statement: Born in 1963 to Oldman #6580 and Mom #11748. Married for 34 years to Linda Wallis #11178. One daughter, Jennifer Moody #119083. Attended college for data processing.
I have been heavily involved with the PDGA for many years, so it's time for me to run for a board position. I feel that the future of our sport is getting more youth involved. I am a supporter of the EDGE program and would love to work with Youth and Education Coordinator Des Reading to try to get disc golf into more schools. I also consider myself a "rules guru" and would like to be on the Rules Committee.