Frustrated McBeth Still Holds Lead Before Pro Worlds Final
Frustrated McBeth Still Holds Lead Before Pro Worlds Final
Keith claws back two, while Wysocki jumps to third place
Saturday, August 17, 2019 - 03:28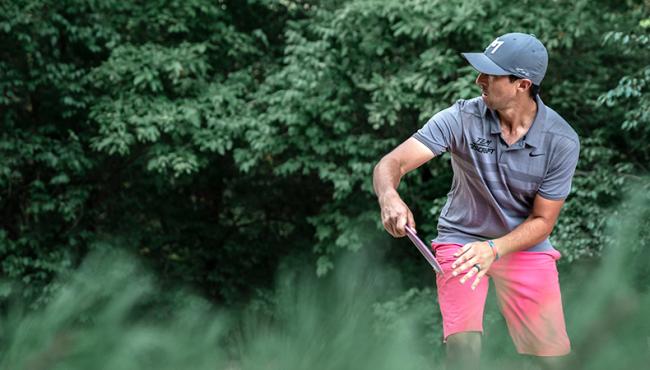 PEORIA, Ill.—After an exhausting Pro Worlds moving day where he battled Emerson Keith and the Northwood Park Gold layout, Paul McBeth couldn't help but slip in the "F" word numerous times when recapping his 4-under par 60 Friday afternoon.
"Frustration," the four-time PDGA World Champion said as he cooled down from both the heat and his own emotions. "I didn't feel like I really played as bad as my score shows at the end…It was just frustrating. Even when I had a great hole—hole 16 it got up to the basket and rolled all the way out and it was just like in a spot where I couldn't really make the putt.
"It was just extremely frustrating."
Despite the headaches, McBeth still leads heading into the final round of Pro Worlds Saturday at Lake Eureka, with his 36-under par 218 putting him in the pole position as he seeks to put a bow on his fifth career world title. Emerson Keith's day of hero shots and scrambles helped him claw back two shots from McBeth with a 6-under par 58 that brought his four-day total to a 34-under par 220, while Ricky Wysocki shot a 1086-rated 11-under par 53 to establish a new Northwood Park record and jump into third place at 30-under.
Keith, the 21-year-old Texas pro who is playing more than 40 points over his rating for the week, hung tough with McBeth through the front nine, connecting on a 90-foot jumper for deuce on hole 2 and laying out with a sidearm fairway approach on the par-4 8th that put him to tap-in birdie range. Once the lead card hit the treacherous woods of holes 12 through 15, though, both he and his veteran counterpart hit the day-four wall.
First, it was McBeth whose scoring hit the brakes. He misfired his drive on the 650-foot 13th down the left side of the fairway, and it drifted out of bounds. He put his approach to 45 feet, but his par-saving bid just splashed out of the chains. On 15, the California native's tee shot stalled out before the island green and landed in the OB creek. Once again, he failed to connect on the 45-footer to save par.
"This is the worst round that I've had since I've played here, so this is just a frustrating thing," McBeth said. "I play this course so well, this is one that I thought I would gain a lot of strokes on the competitors."
Instead, it was Keith who gained on McBeth. His forehand crush from a pinched right-side lie on the par-5 12th was a highlight that helped him take back one, and he took another on 13 that could have been a two-stroke swing had he not left his upshot short. Even though he chained out on a 25-footer for deuce on 14, he made up for it by connecting from the same range on 15 to take a pair of shots—and the lead—from McBeth.
That advantage was only momentary. Keith's drive on the 1,040-foot 16th hit a late tree along the right side of the fairway and dropped out of bounds, and his forehand shot from the drop zone clanged off the FPO pad's tee sign and sprayed deep into the brush. After that Keith army marched his way across the fairway, zig-zagging his escape attempts into the rough. He was able to finally get up near the pin after a tremendous forehand out—that same forehand had saved him strokes on 8 and 12—but he walked away with a double-bogey 7 to McBeth's par to give back the lead.
"I started paying attention to what Paul did, and it bit me," Keith admitted. "I could have pitched out like my game plan would have been and then at least saved a stroke on that hole, so I got outside my comfort zone and I shouldn't have done that, and it cost me."
Even with the difficult stretch, Keith was walking away with confidence after narrowing the gap, and he wasn't just in "happy to be here" mode before the final.
"The goal's in sight, let's do this thing," Keith said. "I'm definitely gonna come out tomorrow firing."
Wysocki has been playing with an infected ring finger after cutting it on a bush, and he said it's limiting his range of motion. Clearly, though, he wasn't letting the injury hold him back on the course.
"It's definitely there, it's definitely in my head," Wysocki said. "But I think athletes—when you're sick or something's wrong, you seem to focus more, and I think that definitely happened today and I used it to my advantage."
The two-time world champion is looking to make it three, and he knew it was time to go all-out Saturday at Eureka.
"It's gonna be attack mode," Wysocki said. "I don't know exactly how many I'm back, but I know I'm behind still. So I cant let off the gas pedal here."
This is the first time McBeth has led heading into a Pro Worlds final since 2015, the last year he won. But he wasn't focused on leading or chasing—just winning.
"I can't really worry about the strokes because I know if I shoot a good round they're gonna have to shoot an excellent round, and it's possible out there—we just saw Eagle [McMahon] shoot 14 [under] yesterday," McBeth said. "Again, if I can shoot double digits I think it'll make it really hard for someone to catch besides Emerson."
James Conrad nearly aced the 330-foot, downhill 14th with an Aviar shot as he held onto fourth place with a 29-under par total, and Chris Dickerson rounds out the top five at 28-down.