Finley Sprints To A 5-Throw Lead, McMahon Picks Up Where He Left Off
Finley Sprints To A 5-Throw Lead, McMahon Picks Up Where He Left Off
DGPT - Idlewild Open Day One Recap
Saturday, August 8, 2020 - 12:14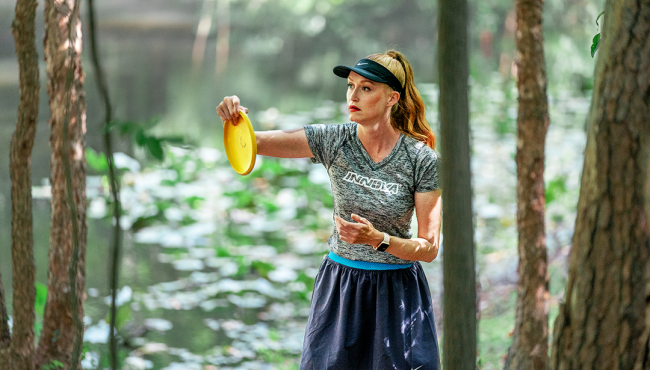 Holly Finley posted just her fifth career 1000-plus-rated round Friday to take a commanding 5-throw lead over the FPO field as the DGPT returned to the heavily-wooded Idlewild course in Burlington, Kentucky for the 2020 Idlewild Open.
Finley, who prefers the technical wooded courses, led the FPO field with 71% fairway hits and managed to get through with only a single OB stroke.
"If anybody knows me, they know I love wooded golf." she told Disc Golf Network's Terry Miller following her round. "And this is my favorite stop on tour, so I'm super stoked that I was able to do well today."
She also had a great day with the putter, posting a near-flawless 86% from C1x, and cashing-in some of her signature C2 putts, including an obstructed 38-footer that earned her one of only three birdies on the day on the challenging par-4 hole 17.
"I got there to the putt and I took a knee, and I said to myself, 'This is a really dangerous putt and you don't need to make it'," she told Miller. "But it was right there, and I had to go for it – and I did, and it went in! I gave myself goosebumps, so that was a really cool feeling."
Finely, a former USWDGC runner-up (2018), will try to improve upon her 2020 season-best 6th place finish at The Preserve Championship, and if she can hang on to her lead through two more rounds, a win at Idlewild would be the biggest of her career.
"I'm just going to remember that I have my own style, my own game plan," she said of her mindset for the rest of the weekend. "I'm not going to worry about what anyone else is doing. I'm just going to stick to what I know I'm good at, and, you know, if the putts are close enough, I'll go for them."
Trailing Finley, PDGA world number one Paige Pierce would have kept things much closer had it  not been for a disastrous hole 13 on which she took three OB strokes on her way to a quadruple bogey. Still, Pierce, along with fellow former world champion Sarah Hokom, leads the group of women who will try to chase down Finley over the next few days, and she is still within striking distance of earning another victory in a season that has seen her dominate with wins at four of five DGPT elite series tour stops.
Joining Finley, Pierce, and Hokom on the lead card will be Ellen Widboom, who is coming off a career-best 2nd place elite series finish at the Discraft's Great Lakes Open.
On the MPO side, Eagle McMahon picked up where he left off at the DGLO, scorching his way to 13-under after 17 holes before backtracking with an unfortunate double-bogey hole 18 to finish with an 11-under.
"I was a little frustrated, because I didn't get off the tee as well as I'd like and my scramble wasn't all that good," he told Miller afterwards. "But to come into the club house winning, that feels really good. Going into tomorrow and the next day, you kinda have to take what this course gives you. Go with your game plan, fully commit to your lines and just be as confident as you can be."
Unlike at the DGLO, McMahon will have a certain 5x world champion close on his trail as he tries to complete back to back DGPT elite series tour victories for the first time in his career. Paul McBeth will begin the second round just one back of McMahon, and will also be in pursuit of his second DGPT elite series tour victory of 2020. He matched McMahon with an MPO-leading 67% birdie percentage, and finished with a vintage C2 putt on hole 18 that will give him some momentum heading into Saturday.
Joining McMahon and McBeth on the lead card for round two will be former USDGC champion Jeremy Koling, along with Patrick Brown, whose performance as a Grandmaster-aged player in the MPO field is one of best the stories of the tournament so far.
"The game's not a thing of ages," Brown said following his performance on Friday. "It's all about just spinning the disc."
Live coverage of round two of the 2020 DGPT Idlewild Open begins Saturday at 11:35am ET on the Disc Golf Network.