Familiar faces on top as Pierce, McBeth lead at Jonesboro
Familiar faces on top as Pierce, McBeth lead at Jonesboro
Players take advantage of ideal scoring conditions as DGPT nears conclusion
Saturday, October 3, 2020 - 12:08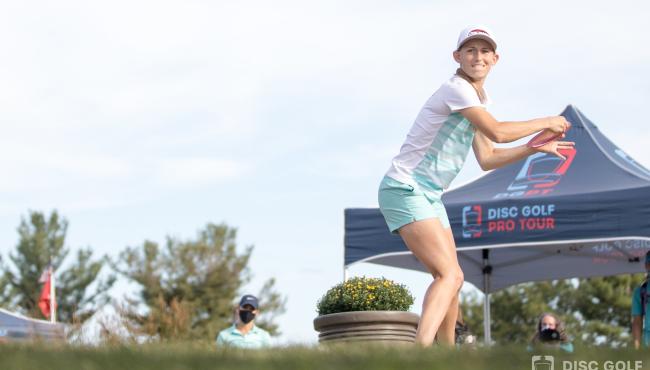 The more things change, the more they stay the same. In a year which has seen everything from the improbable to the unthinkable, one thing remains constant: Paige Pierce and Paul McBeth are really good at their jobs. Like, really good.
Pierce will enter Saturday's finale at the 2020 DGPT – Jonesboro Open with a comfortable — dare we say, 'insurmountable'—eight-stroke cushion after posting her second-straight 1000-plus-rated round of the tournament.
The wind, which had wreaked havoc up and down the leaderboard during Thursday's Round 1, was nowhere to be seen Friday, and players lined-up to take advantage.
Nearly matching Pierce, all three of her card mates—Hailey King, Catrina Allen and Jessica Weese—posted impressive 984-rated seven-under performances of their own.
King continues to prove herself as a mainstay atop the FPO field as she looks to land her fourth-consecutive top-five finish at DGPT Elite Series events. Still, she'll need an unworldly performance on Saturday—or an uncharacteristic stumble by Pierce—to nab her first career win at this level.
Things remain tighter at the top of the MPO leaderboard, as McBeth, who entered Friday's round 2 tied with Calvin Heimburg, pulled ahead to a three-shot advantage with a 1054-rated (unofficial) 10-under—one of only two double digit performances of the day.
A pair of bogeys held the five-time world champion to a modest four-down after 10 holes, but he found his top gear in time to birdie six of the final eight.
"It kind of put me in a little hole," McBeth told Disc Golf Network's Terry Miller about the 3-putt on hole 10 that led to his second bogey. "But I feel good with my round. I know there's a lot to clean up out there."
The man with the best shot to knock McBeth off his podium perch, Calvin Heimburg, carried the outright lead into the 14th hole, but a pair of late bogeys, combined with McBeth's hot streak, put a stop to his momentum.
They'll be joined on Saturday's lead card by Andrew Presnell and Paul Ulibarri, who posted the day's hot round with a 1073-rated (unofficial) 12-under.
Free coverage of Saturday's Final Round begins at 1:35pm EST on the Disc Golf Pro Tour YouTube channel.