Eskelinen Escapes Tyyni With Win Over Tattar
Eskelinen Escapes Tyyni With Win Over Tattar
First defeat of the season for Estonian star
Monday, July 1, 2019 - 14:13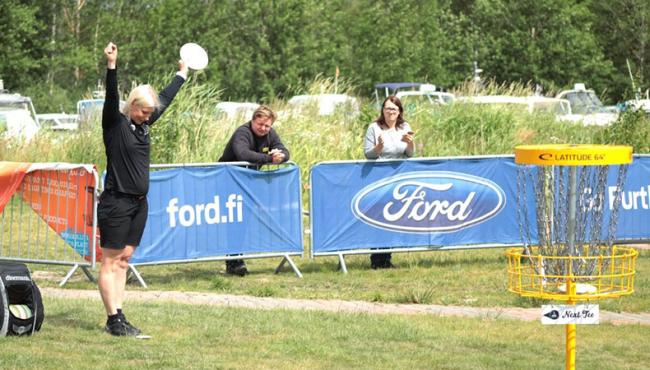 Before play began at last weekend's Tyyni near Helsinki, Finland, most people following European disc golf this year would have told you that their hands-down favorite to win the Open Women's division was Estonian Kristin Tattar. Case in point: In UDisc's Grip6 Pick6 contest, a game where you pick six players you think will be closest to the lead in their respective divisions, Tattar was picked by 70% of the almost 2,000 participants -- over 800 more than the female competitor with next-highest total.
The reasons Tattar was a favorite? She was undefeated in 2019 (including a win over other European big guns Henna Blomroos and Eveliina Salonen), had won most tournaments by double-digit margins, and had an 18-point rating advantage over her nearest competitor.
But instead of Tattar taking yet another first-place trophy back to Estonia, Finland's Jenni Eskelinen eked out a one-stroke victory that wasn't secure until her very last putt settled in the basket. Eskelinen's final total at Europe's largest event based on attendance was a 12-over par 192, while Tattar logged a 13-over par 193 and Finland's Heidi Laine slipped into third place with a 17-over par 197.
"Oh my god, what happened?"
After playing the converted ball golf course Nevas and the wooded Ford course during Tyyni's first two rounds, Eskelinen was tied not with Tattar, but instead with Norwegian Lykke Sandvik for the lead as the final round at Sibbe began. Sibbe has a healthy mixture of open and wooded shots, as well as plenty of elevation. Tattar was two strokes behind in third place and Laine—two strokes back of Tattar, four off the leaders—rounded out the four-woman lead card.
The battle among the top three had plenty of twists and turns. First, Sandvik took a lead on hole 1 that she held for the next five frames. Sandvik's double bogey and Eskelinen's bogey on hole 6, though, allowed Tattar to pull into a three-way tie for the lead with a par. She then turned it into the outright lead on the next hole.
Tattar's advantage held until a circle 1 putt on hole 10, a 70-meter (230-foot) par 3, hit cage and rolled down the bare rock the basket stood on to circle 2, allowing Eskelinen to get back into a tie for the lead with a par. Eskelinen's birdie to Tattar's bogey on 11 resulted in yet another lead change as Eskelinen moved ahead by two.
Though there were many contenders for most dramatic moment of this back-and-forth, Tattar's putt on 16 was perhaps the strongest.
At that point, Tattar was within one throw of Eskelinen. On a green with OB well within circle 1, Eskelinen had already laid up from circle 2 to assure a par. Tattar had put her drive roughly six meters (20 feet) from the basket, giving her a great opportunity for birdie. However, she air-balled the putt to the right of the basket and landed OB, turning a chance to tie into a two-stroke deficit with just two holes to play.
"I wasn't expecting her to miss that putt," Eskelinen said. "My first thought when she putted OB was, 'Oh my god, what happened?' Then I thought, 'This is going to be a very tight and exciting battle for the win.'"
Tattar was similarly bewildered.
"As soon as I released the disc, I even surprised myself. I didn't see that coming," Tattar said. "But I'd say that putt sums up my whole tournament pretty well. It wasn't the only time I went from birdie to bogey."
That miss wasn't quite the last nail in the coffin, though. Tattar got a birdie on 17 to Eskelinen's par, putting just one stroke between them going into the OB-heavy 18th. There, both Tattar and Eskelinen's drives strayed outside the lines. Eskelinen, the first of the two to play after the drives, then put her second shot into circle 2, giving Tattar a chance to possibly force a playoff with a parked upshot. But Tattar's approach also landed in circle 2.
After both players missed putts from their lies, Eskelinen calmly put in her last putt from about four meters (13 feet) to assure the win.
Reactions from the Podium
For Eskelinen, this A-tier victory was a great confidence boost during a season she said has been rough for her so far; for example, her PDGA rating fell 11 points after the June update.
"This is personally a big win for me and it means a lot," Eskelinen said. "I've had a tough season, and I haven't got my game working. This victory gives me a huge amount of encouragement and motivation to trust myself on the disc golf course."
Along with the tight scores helping her "concentrate better and more," Eskelinen credited her success to feeling comfortable on her drives. She also enjoyed the style of play on the Ford course, where the field averaged 9.56 shots over par per UDisc Live—the highest average of any course the Open Women played—but she finished only 5-over.
"I was able to play a very solid game," Eskelinen said. "The reason for that might be that I felt very comfortable throwing, especially on long drives. Also, I like wooded courses, so Ford suited my game really well."
Whereas Eskelinen felt comfortable and confident, Tattar readily admitted she didn't.
"Something just felt wrong and I didn't know how to fix it," Tattar said.
When asked what the reason was for that "wrong" feeling was, she had a clear answer.
"I'd say my poor putting was the reason for it," Tattar said. "I gave myself plenty of opportunities to get birdies, but I just couldn't get my putter in the basket."
Tattar plans to "do some putting at home" as she readies herself for the European Open, a PDGA Major taking place from July 18-21.
Finally, you may have wondered why Laine—who took third—didn't make an appearance in the recap of the action. The reason is that when the lead card teed off on their final hole, the likelihood of Laine making the podium looked very slim, and she'd be the first to admit it.
"When we got to the last hole, I was sure I couldn't be the third, but that I'd be fourth or even fifth," Laine said. Such a result wouldn't have bothered her because she had been excited simply "to make the lead card at a big event."
Laine's certainty about her position came from being three strokes behind third-place Sandvik as the lead card approached 18. However, Sandvik went OB three times on the hole and carded a sextuple bogey on the par 3. That made Laine's double bogey just enough to snag the last spot on the podium by one stroke.
"When I put my last putt into the basket, I wasn't sure which place I had just gotten because I hadn't watched the score," Laine said. "Then my friends came to congratulate me on third place. I only asked, 'Really?' Then I realized I'd reached my goal for the event, and it felt awesome."