Conrad Bounces Back, Ties Locastro To Open Preserve Championship
Conrad Bounces Back, Ties Locastro To Open Preserve Championship
Pierce holds slim margin over Gannon after day one in Minnesota
Saturday, July 4, 2020 - 00:52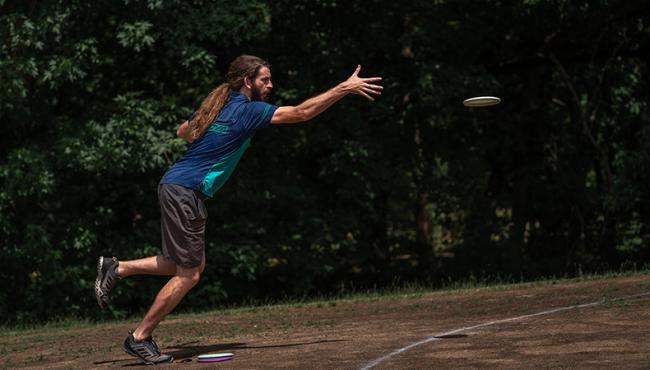 Whether it's due to offseason rust or the style of courses played in the early stretches of the pro disc golf season, James Conrad hasn't traditionally been one for fast starts. 
The Virginia pro kicked off 2017, his first true season "on tour," with a 17th place finish at the Gentlemen's Club Challenge. He dropped even further down the leaderboard in Vegas in 2018 (20th place) and 2019 (39th place), so it didn't register as a shock when he skipped Sin City in favor of The Memorial Championship in 2020 – where he kicked off the Disc Golf Pro Tour season with a pedestrian 33rd place showing.
Maybe season openers just aren't Conrad's thing. He seems to favor October, though.
So it's easy to give the reigning United States Disc Golf Champion a mulligan for his 39th place effort at last week's Dynamic Discs Open, given that it came on the heels of a second offseason, more or less.
It's even easier to let him off the hook when he responds like he did during Friday's opening round of the Preserve Championship.
Conrad carded his hottest round of the year so far, a 1075-rated 15-under par 49 that tied him with another U.S. champ, Nikko Locastro, for an early lead at the DGPT's newest tournament. From there, 13 turned out to be a lucky number, as Simon Lizotte, Calvin Heimburg, Tristan Tanner, Thomas Earhart, and Ryan Sheldon all notched 13-under par 51s to tie for third place out of the gates. Lizotte and Heimburg earned lead card spots for moving day due to their lower PDGA numbers.
In the FPO division, Paige Pierce jumped out to an early lead with a 10-under par 55 along the banks of the Mississippi River, but she doesn't have quite the cushion she enjoyed in the early goings of the DDO. That's because friend and teammate Missy Gannon put on another strong display, logging an 8-under par 57 fueled by a perfect putting performance. Kona Panis made the second-round lead card for the second week in a row after her 5-under par 60 helped her tie for fourth place with Catrina Allen.
Clearly disappointed by his showing in Kansas, Conrad quickly got back into midseason form.
"Definitely nice to bounce back after an underwhelming performance last weekend at the DDO," Conrad said. "So I wanted to come out swinging today."
And swing he did. Taking advantage of the Airborn Disc Golf Preserve's sweeping fairways and lack of out-of-bounds, Conrad slayed the fairways with a 95% success rate. He hit 83% of his putts inside circle 1 – up from a not-so-nice 69% last week – and connected on two more from beyond the arc. 
"Last week's course was fairly similar to this, but with a lot more O.B. and a lot more wind, and those definitely played a factor," Conrad said. "Last week, also, getting back into the rhythm of tournament play just took a little bit of time. I was def feeling like I was in a nice rhythm out there, felt comfortable."
He capped off his performance with an eagle on hole 18, biting off more than 900 feet in two shots before draining a putt from just inside the circle to catch Locastro, who had logged the pace-setting 49 during a late-morning round.
"I saw that he had posted that this morning. I was impressed," Conrad said of his co-leader's performance. "I was like, 'Dang, Nikko killed it out there.' Definitely gave me something to shoot for."
Instead of an eagle, Locastro did his work the conventional way, with 15 birdies – including a run of seven straight to close the round. After hitting only three circle 2 putts during the entire three-round tournament last weekend in Emporia, Locastro matched that number in round one.
"I feel like I grinded out just about every single putt on the putting green today," Locastro said. "I'm excited about going into the next round. I'm feeling good right now."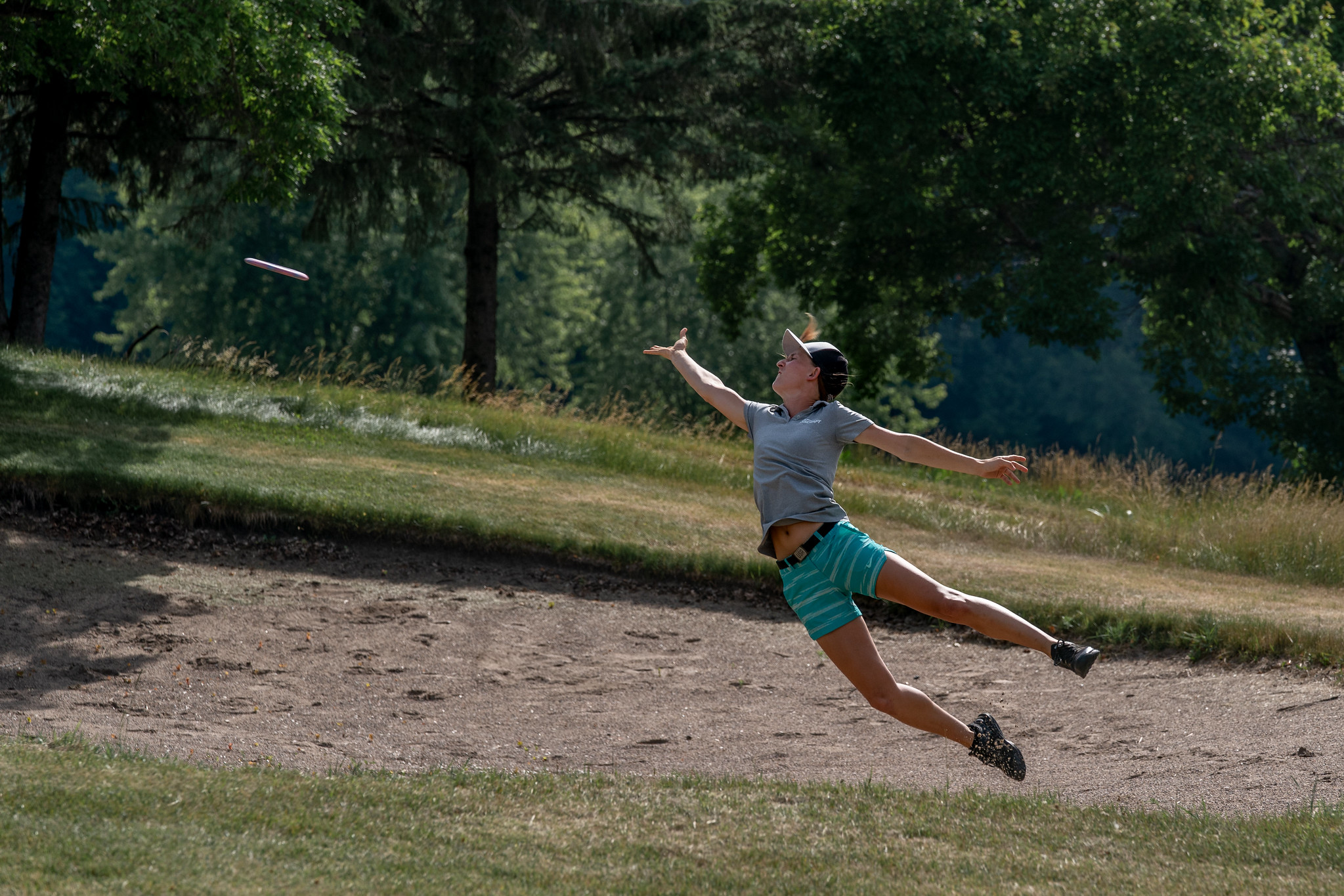 Though she didn't connect on anything from distance, close-range accuracy has been Gannon's calling card since the season restarted. The New York pro hasn't missed an attempt inside circle 1 since three-putting on hole 18 during round one of the DDO. That makes a run of 54 consecutive holes of perfect putting.
"I still had a couple of testers, 15 to 18 to 20 feet, so that definitely helped that I could make all of my circle 1 putts," Gannon said. "Everything was just kind of clicking and it felt really good to put it all together."
Gannon also said her confidence was at an "all-time high" and that a change in mindset was powering her recent play.
"I think it was more I was OK settling for certain things," she said. "Instead of settling, now I know what my scores can be and I take each hole and I'm super focused on what I'm doing….and holding myself to a higher standard than before."
She'll need to keep that level to catch Pierce, who for the second week in a row started the tournament with a 1000-plus rated round (1016 at DDO, 1010 here).
In keeping with the theme of accountability, Pierce still felt she could improve on the round.
"Lots of birdies, but a lot of shots I wish I could get back," Pierce said. "I think 10-under is nothing to complain about, for sure, but I am not satisfied completely."
Panis said she used the time in between tournaments to recover from a disastrous lead card showing during last week's second round. After entering moving day in second place, she carded a 10 on hole 9 and had to claw back to a finish the event in a seventh-place tie. 
"I'm gonna bring it up because I'm gonna kinda embrace that it happened – it happens to all of us," Panis said. "I took that 10 on that hole and it's like my brain turned off and I don't know how to putt. I think kinda getting that feeling again of, oh crap that kinda sucks...this week it was like, let's practice.
"I don't want this to happen again," she said, "and I want to be prepared next time I'm in that situation."
Sarah Hokom tossed a 2-under par 63 in her return to play and is tied for fifth place with 2018 PDGA World Champion Paige Shue. On the MPO side, Gregg Barsby, Emerson Keith, Collin Bailey, and Drew Gibson all started with 12-under par showings to round out the early top 10.
Another 18 at the Preserve is on tap for Saturday, with live coverage beginning at 1:35 p.m. CT on the Disc Golf Network.