CDGT Event Celebrates Life and Disc Golf
CDGT Event Celebrates Life and Disc Golf
Falcon's Flight 2023 a Tribute to All Things "Rudy"
Tuesday, September 12, 2023 - 10:30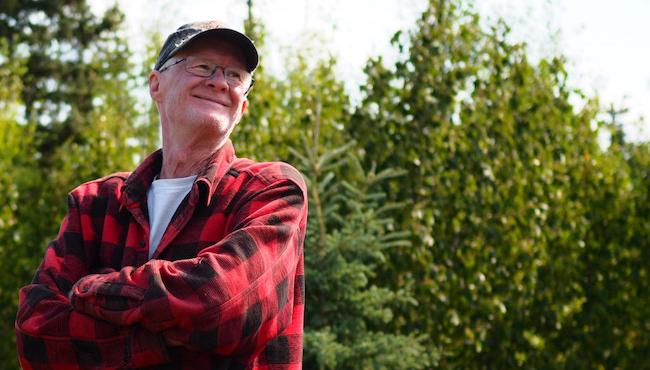 Bearberry, AB - Ron "Rudy" Falconer was a mainstay and vital member of the Alberta disc golf community for the last 20+ years of his life. Serving longer than anyone as the PDGA representative for Alberta, and creating two of Canada's most celebrated and highly-rated courses would be enough of a legacy in the sport for anyone. But legacies have a way of growing in surprising and inspiring ways. In 2022, Rudy was in hospital care for the cancer that he had been living with for several years and he was unable to be at the course for that year's version of his long-running tournament, Falcon's Flight. The mood was sombre, and his absence on the course was noticeable. Not wanting to ruin the party, he lived to see the final scores come through on Sunday, only to say his final goodbyes a day later.
Having had time to process the loss, and host a beautiful and well-attended celebration of life at his property in May, the community, along with Rudy's family, dedicated themselves to seeing Rudy's vision through for 2023, making this year's CDGT-Limber Disc Golf Presents Falcon's Flight 14 Supported by Innova bigger and better than ever. An entire team of experienced tournament directors planned the event, and innumerable volunteers dotted the two Aspen Meadows courses keeping the play moving. A massive camping area, all new signage along with a new driving range and parking facility, all built by volunteer labour, welcomed the 200+ players. Food trucks and vendors lined the road, a putting course, a long-drive contest, competitive doubles and a cozy glow round all contributed to make a festival atmosphere of the A-Tier weekend. Rudy's vision for what the tournament could become has now been cemented in reality, through the efforts of everyone he inspired through his love of friends, family and the sport.
"I'm absolutely humbled by what transpired during Falcon's Flight 14. We always strive to be better than we were the previous year, but this year we took a giant leap. We elevated the experience in every way. The dedication and sacrifice of the planning committee and volunteers was touching. While not with us this year, Rudy's presence was felt all weekend. Many tears of joy and gratitude were shared by all. A truly magical weekend and a touching celebration of community, connection, and all things Rudy."  -TD Don Annett
But as Rudy always wanted, the weekend also brought high-level competition to his property outside Sundre, Alberta. 2021 and 2022 champions Ben Loggains and Casey Hanemayer found their way to the lead card in the final round, alongside Vancouver native and fan favourite Miguel Alvarado, and Lethbridge's Noah Higgins, for whom these courses served as home away from home growing up. All four players shot 1000+ rated final rounds in front of dozens of spectators, but Cranbrook's Ben Loggains was able to pull away with some absurd, daring, and creative shots to scratch his name into the Falcon trophy for a second time.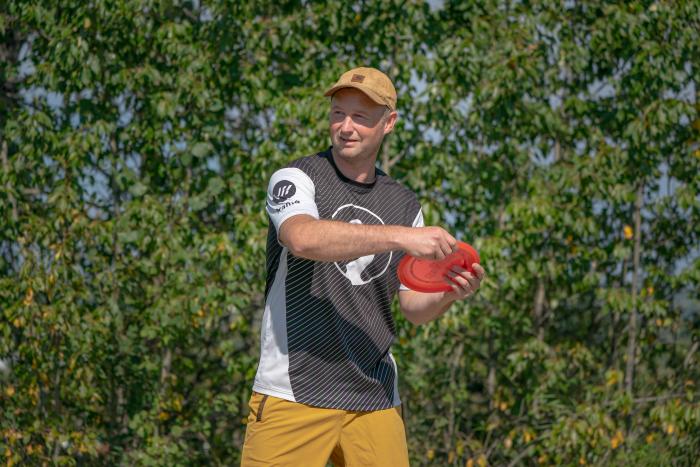 In a competitive FPO field, Victoria, BC's Gabrielle "Gabby" Lee put on a wire-to-wire masterclass with a 967-rated second round on the long and technical West course, crafting an insurmountable lead over Montana's Jessy Prado-Smith, who carded the only two eagles of the weekend. Amber Chiasson, Kristy Lee and Jordan Bernelot Moens all had their moments but couldn't touch the two leaders.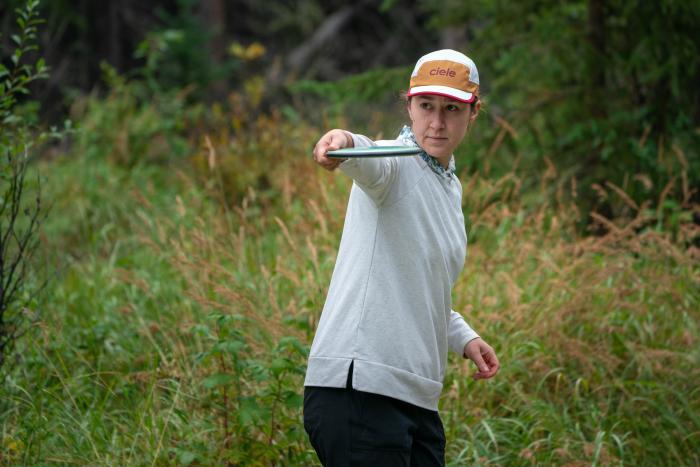 There were also exciting finishes in other divisions. The youth brought out some of the biggest crowds with PDGA Jr. World's participants Carver Whitford (MA1 winner) and Jackson Pease entertaining the crowd on the new hole 18 West, re-designed to make room for Rudy's chair, overlooking the best sunset views on the course, and serving as a backdrop and spectator area for the closing hole. The MP40 division came down to the final hole, with Elijah Isaac besting BC's Stewart McIsack by one stroke.