Allen, Wysocki Grab Emotional Wins
Allen, Wysocki Grab Emotional Wins
DGPT - Ledgestone Insurance Open Final Recap
Monday, August 17, 2020 - 10:59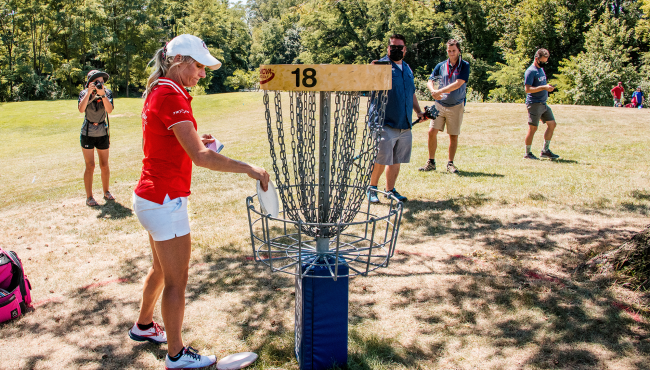 This one was different for the champions.
Four days of competition ended in Peoria, Illinois with emotions running high on the 18th green for 2020 Ledgestone Insurance victors Catrina Allen and Ricky Wysocki.
Moments after the 72nd hole was completed, both expressed how reaching this point – a Disc Golf Pro Tour elite tier title – signified the past year in their careers. Both had obstacles to overcome -- physically and mentally.
"It feels amazing," Wysocki told Disc Golf Network's Terry Miller, a large confident smile on his face. "I've been through a lot of obstacles over the past year, everyone knows with the Lyme disease. That was a huge setback in my career, but I think this is a sign of what is to come."
Wysocki continued: "I'm super excited to get this out there, get this win and move forward toward the rest of my career, to be the best Sockibomb I can be."
Allen has racked up wins over the past year but this one at this particular location was personal.
"I think this one means even more because I feel like my confidence was stolen at this tournament last year with some stuff that happened on the course that I feel shouldn't happen," Allen told Miller as emotion showed on her face. "It's a big, long story. This one is proof that no matter what happens, no matter who tries to tear you down that, it might take a year, but here I am. This one has an extra special meaning for me this week."
Both entered Sunday's finale with sizeable leads – Allen's at 11 and Wysocki's at seven – and both had five-time world champions looking to make a final run of their own on the same card.
The result for both was the same, a crystal trophy, a Pro Tour win and a big payout, but Sunday's journey to redemption had two different stories.
Allen entered with a double-digit lead after back-to-back 9-under rounds, the then-lowest scores of the weekend at Sunset Hills.
Then, on Sunday, Paige Pierce came out swinging and fired off a blistering 11-under par 50 – rated 1030, the eighth 1030-or-higher round of her career. While her lead shrunk to three strokes coming down the stretch, Allen stayed true to what got her there in the first place.
"Yes and no," Allen, now a five-time champion at Ledgestone, said to Miller after being asked about feeling pressure. "But I just kept telling myself to stick to my mental game, that I'm not in control of anything except for what I'm doing, to just stay in the moment and not get ahead of myself.
"I felt like I made good decisions. When you're leading this tournament, it feels like there are a lot of greens that are on the sides of hills. 
"So, I laid up a few putts and, like I said, just kept staying in the moment and staying confident in my game."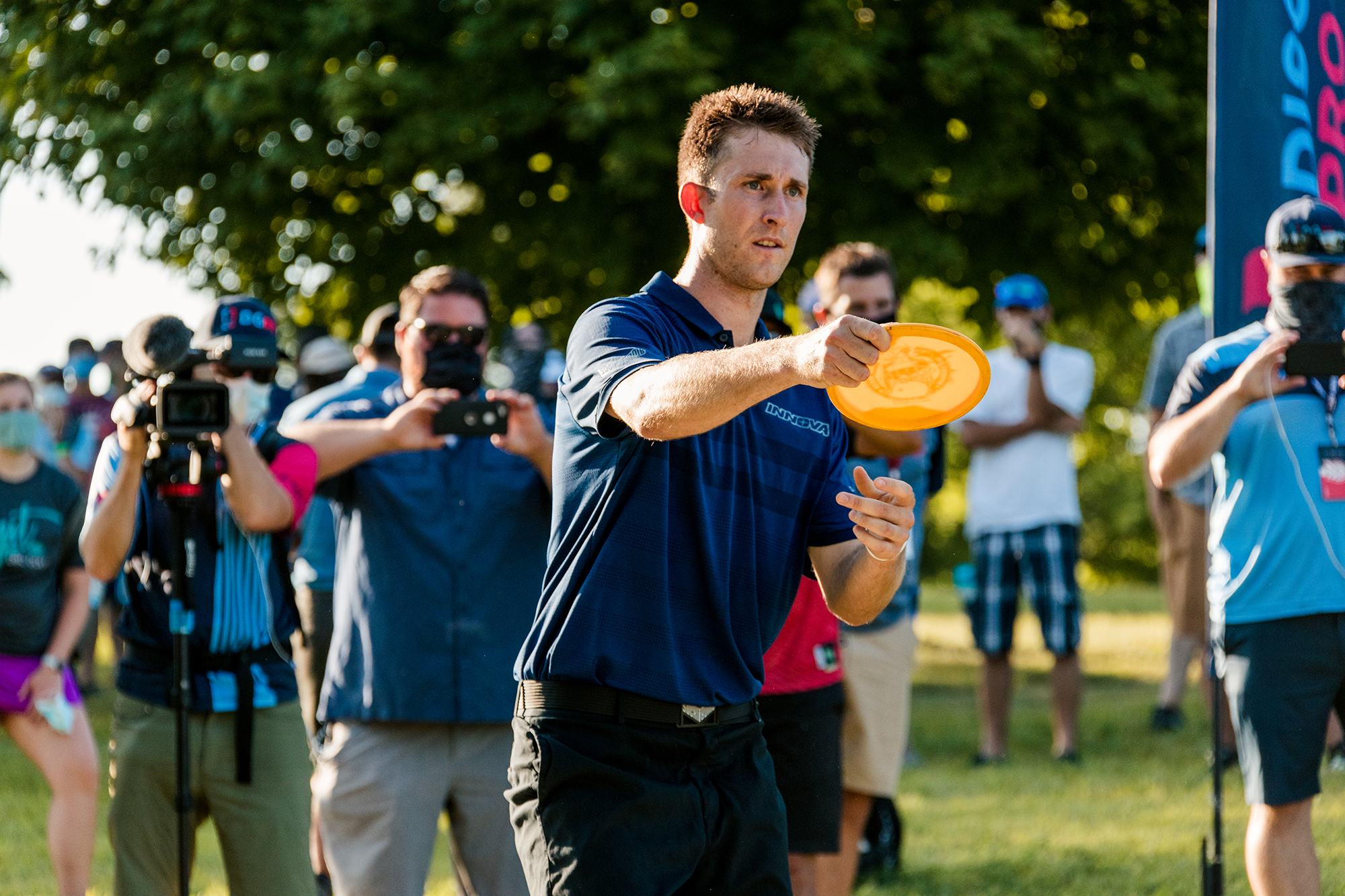 Wysocki, up seven sticks, had a similar situation with a five-time world champion but, in classic 'Sockibomb' fashion, removed any hope for anyone.
"There was absolutely no chance, I didn't care who it was, that I was going to lose by a little bit like I did at Worlds (in 2019 in Peoria)," Wysocki said. "That just wasn't an option for me. The ball was in my court and it didn't matter what everyone else did, if I played my game then it was going to be over and that's what I did."
Wysocki turned in a 1091-rated, 12-under par round. That was the second-hottest round of the day to a charging, chip-on-the-shoulder performance from Paul McBeth, who torched Lake Eureka to the tune of 13-under par in maybe the sneakiest 50 the course has seen. The 1098-rated day, which included three out-of-bounds strokes, was 56 ratings points higher than the average of his previous rounds, including the openers at Northwood.
Wysocki averaged 1068 golf over the weekend and stayed consistent, which was a big sign for him. He had back-to-back A-tier wins before a second-place finish at DGLO and a fourth place showing at Idlewild entering the weekend.
"I think this is something where I'm playing at a level that I can consistently play," Wysocki told Miller. "It's not like I'm bouncing back and forth, I've been consistent even when I'm not winning. I pride myself on that consistency. I feel like after Lyme, I'm back to where I need to be. I think that's the most important thing for me is the confidence in knowing that I'm at a spot where I can stay."
Wysocki, with the sun setting on Lake Eureka in the background, capping four days of disc golf on the end of a grind-it-out run of the Tour, then made a declaration moving forward.
"Sockibomb is back."
Sunday Dickerson Grabs Podium; Youth Is Served In FPO
Chris Dickerson knows one thing in tournament action: It's not over until it's over.
Dickerson continued his trend of dominating Sunday action in the final round, rattling off a 1084-rated 52 to jump six spots to a third-place finish. This season, Dickerson has finals rounds of 1080 (Idlewild, 2nd), 1080 (Great Lakes Open, 2nd), 1048 (Dynamic Discs Open, 8th) and 1075 (Tennessee State Championships, 1st).
The Limestone, Tennessee native started off 7-under par and, after two OB shots, was 8-under par through 13 holes en route to the double-digit at Lake Eureka club at 11-under.
Nikko Locastro jumped two spots to a fourth-place finish and Drew Gibson, Steve Rico and Austin Hannum also had sizeable leaps into the top 10.
On the FPO side, Heather Young capped her first DGPT podium finish with a bogey-free 6-under par. Young finished the weekend first in Circle 2 putts at 36% and first in scramble with a 67% clip.
Hailey King matched her highest DGPT finish with fourth place, matching her outing to Peoria a year ago. King was third in Circle 2 in regulation (71%) and first in birdies at 46%.
Valerie Mandujano tied for fifth, the highest DGPT finish for the Texan in four attempts, with Sarah Hokom.
By-The-Numbers
Wysocki led the tournament in Circle 1 in regulation (53%), Circle 2 in regulation (71%) and scramble (73%)
McBeth finished with 100% Circle 1 putting in the final two rounds and was 100% from Circle 2 in Round 4 (2-for-2)
Wysocki had one OB stroke in 72 holes (Hole 6, Lake Eureka)
McBeth had six OB strokes – five at Lake Eureka
Allen and Pierce tied in fairway hits (82%), parked percentage (18%) and in Circle 2 in regulation (76%)
Peirce had 11 OB strokes and was 22nd in OB rate at .153%. Allen was sixth at .083%.
Up Next
After four-straight weeks of events, including two Silver Series stops and seven Tour rounds in the past nine days, the DGPT continues at Smuggler's Notch Disc Golf Center for the Green Mountain Championship beginning Sept. 3 in Jeffersonville, Vermont.
(All stats courtesy UDiscLive)