Allen Surges To 7-Shot Lead; Barsby, Wysocki Lead Charge To Lake
Allen Surges To 7-Shot Lead; Barsby, Wysocki Lead Charge To Lake
DGPT - Ledgestone Insurance Open Day Two Recap
Saturday, August 15, 2020 - 00:36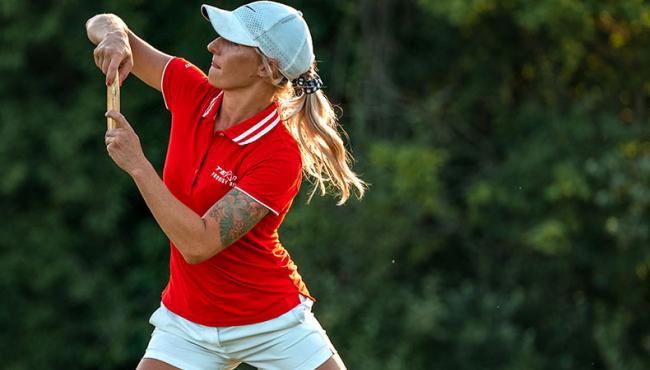 One shot, one hole at a time was Catrina Allen's simple and effective game plan heading into round two of the Ledgestone Insurance Open.
It worked out extremely well for Allen at Sunset Hills when things were going good, which happened often on Friday, and even in her lone blemish of the day.
Allen fired off a 1014-rated, 9-under round, besting the next-best round by three sticks on the way to building a seven-stroke lead heading into the weekend.
It was a six-stroke improvement for Allen from Thursday – her birthday round – to head into Saturday on a roll.
She rattled off seven-straight birdies in a nine-under, nine-hole stretch that included her second-straight eagle on hole six.
Even when things went sideways briefly on with an errant shot that sailed out of bounds on the par-four 15th, Allen played it smart, laying up to the mouth of the dogleg fairway instead of risking a high shot, which she briefly contemplated. Allen led the round in fairway hits (89%), parked percentage (33%) as well as Circle 1 and Circle 2 in regulation with an OB-free round.
Vanessa Van Dyken maintained her lead-card spot with a 2-under round and is second to Allen at five-under for the event.
Heather Young, using four putts from Circle 1, surged six spots into a tie for third at 4-under, alongside Paige Pierce.
Hailey King made the biggest leap of the day with a 12-spot jump to 4-under to land on the chase card.
Barsby, Wysocki Lead Charge To The Lake
Ricky Wysocki caught fire and took off in the finale at Northwood while Gregg Barsby kept it clean and held on.
They'll lead the charge to Lake Eureka this weekend.
The two exchanged scores over the first two events with Wysocki following his 6-under round on Thursday with the hot round of 9-under on Friday.
Barsby, meanwhile, escaped trouble throughout, continued his any-putt-can-drop style and was the last in the 184-player field to surrender a bogey to the tight woods of Northwood. It took 29 holes for Barsby before his first bogey, coming on the daunting 1050-foot, par-five 12th, which concluded its reign of terror with a 1.71 over-par average for the field.
He bounced back with a 60-foot birdie putt on 13, sparking a four-down finish.
Wysocki, from the chase card, went five-down through 11 before his lone blemish on, you guessed it, the 12th. He turned in a 5-for-5 finish for his 1072-rated 55.
"Nine-down, that's definitely a good round," Wysocki told Terry Miller of the Disc Golf Network. "I was average yesterday and cleaned it up today. On the last five, it's easy to get stagnant so you have to kick it into gear. This course is hard, and anything can happen if you don't get going."
Kevin Jones, who had the lone double-digit round of the two-day trek through the woods, was kept out of a three-way tie for first with a double bogey on 17. He heads into Saturday at 13-under, two ahead of Andrew Presnell, who led in Circle 1 in Regulation (33%) and was 80% in fairway hits.
The chase card will feature big risers in Alex Russell, whose 9-under spring-boarded him 26 spots to a tie for fifth at 9-under with Matthew Orum (17-spot jump) and Zach Arlinghaus, who jumped 24 spots.
Now, the dynamic of the tournament shifts as the field heads to Lake Eureka with its OBs and long, more wide-open shots.
"In the ropes," Barsby said of the shift to the lake. "I've had success there but I haven't popped off the round that I feel like I can yet."
Jones simply added: "On to the ropes."
Action resumes live on the Disc Golf Network with the FPO coverage beginning at 9:50 a.m. ET. MPO coverage is slated for a 4:05 p.m. ET start on DGN.