240 years after the Battle of Charlotte, Hornet's Nest still carries a sting.
240 years after the Battle of Charlotte, Hornet's Nest still carries a sting.
Disc Golf Pro Tour Championship Day 1 Recap
Friday, October 16, 2020 - 09:07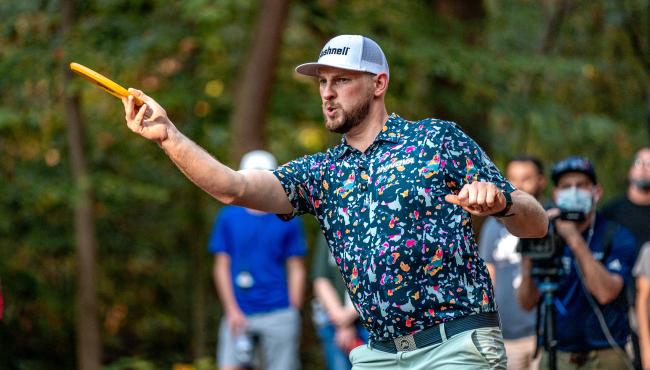 It has been a proud symbol of the City's fighting spirit ever since General Cornwallis bemoaned the "hornet's nest of rebellion" as he fled with his troops following the Battle of Charlotte in 1780.
On Thursday, as 16 of the top 32 MPO players on the Disc Golf Pro Tour took on Hornet's Nest Park for the first round of the 2020 Tour Championship, it became clear that, 240 years later, Charlotte can still carry a sting.
The course, which sits just 30 miles down the road from Winthrop University, remained damp following the torrential rain which overwhelmed the final round of the United States Disc Golf Championships just five days prior as players battled to claim one of four tickets into Friday's quarterfinal round.
It was telling that, of the four players who were to advance, not a single one birdied hole 1, which Disc Golf Network commentator, Nate Doss, called the most difficult par 3 opening hole on tour. At only 390 feet, it is, like many of the holes on the Hornet's Nest track, eminently reachable for today's big arms, but with a narrow, technical fairway, and punishing wooded rough on either side.
Co-leader after the opening round, Eric Oakley got off to a slow start—going one-over after two holes—before finding his range for a memorable stretch of play that included a 270-ft throw-in for Eagle on hole 5. The crafty veteran showed-off his versatility as he used all the shots in his bag to get to seven-under for the round, a marked contrast to Winthrop Gold, where the open fairways allow players to lean on their preferred wing as long as they can keep it in the ropes.
Matching Oakley's seven-under was Andrew Presnell, who posted the only bogey-free scorecard of the day. He made all of his C1x putts, had the day's only perfect scramble rate and reinforced the conventional wisdom that the key to success on this course is avoiding costly mistakes.
The real drama of the day came as Jeremy Koling, Thomas Gilbert, and Ezra Aderhold battled down the stretch for the remaining two spots. Aderhold nearly punched his ticket in heroic fashion with a jaw-dropping Eagle three on the 727-ft par-5 17th, but a fortunate break for Gilbert after his wayward drive on 18 cut through a dense cluster of trees to give him a relatively stress-free par and a spot in the quarterfinals.
Oakely, Presnell, Koling and Gilbert will be joined by the 9-15 seeds on Friday as they look to advance further towards the Championship's record-breaking purse.
12 of the top 16 players from the FPO field will also be in action on Friday as their three-round Championship event commences.
Live coverage begins at 9:25 a.m. EST for FPO and 2:35 p.m. EST for MPO, only on the Disc Golf Network.