Get Tuned Up For All of the Action in Nashville
Get Tuned Up For All of the Action in Nashville
How to Watch the PDGA National Tour Finale - Music City Open
Tuesday, September 21, 2021 - 10:51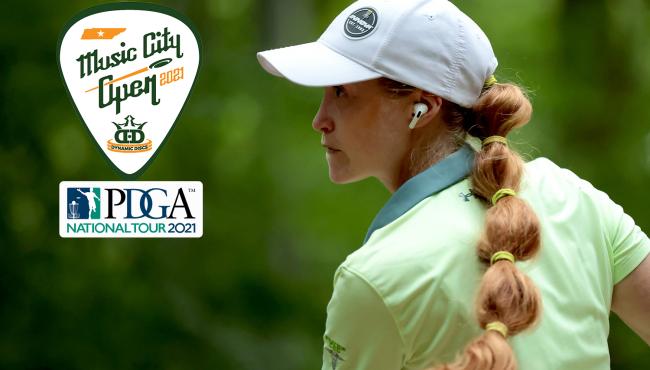 Not too far from historic Broadway in downtown Nashville, the 2021 PDGA National Tour comes to an exiting conclusion at the Music City Open beginning Thursday.
In a city full of action, there will be plenty to follow this weekend as the 2021 PDGA Elite Series comes to an end.
There's a tight race in both the MPO and FPO fields for the 2021 PDGA National Tour Point Series. As has been the case in 2021 on the NT, any player can grab their first Elite Series win, just like Hailey King, Adam Hammes and Connor O'Reilly have done so far this season.
The MCO is the 146th event on the National Tour since it began in 2003. In that span, just 50 different players have grabbed an elite title.
Who will close out the season strong in Nashville? Tune in to find out.
Here's everything else you need to know about how to follow the PDGA National Tour Finale - Music City Open:
Tee Time & Round Ratings
Official scores, tee times, and round ratings can be found at the official event page on PDGA.com.
Music City Open Designated as Phase 3 Event
The MCO, as well as the remaining PDGA Elite Series events for 2021, will be operating in Phase 3 of the COVID-19 Requirements and Best Practices for PDGA Elite Series Events.
Live Video Coverage 
Disc Golf Network | Subscribe 
The Disc Golf Network (DGN) is the new home of live disc golf. Built by the Disc Golf Pro Tour, the DGN is a subscription streaming and on-demand platform much like Netflix or Disney+. Covering the world's best players competing in the sport's most elite tournaments, a subscription includes post-produced coverage of select disc golf tournaments as well as exclusive disc golf shows, touring pro interview series, podcasts, and other segments only available on the Disc Golf Network. The DGN offers a PDGA Member discount of 50% to all active members bringing the cost down to $4.49/month.
Coverage starts daily at 12:30 p.m. CT with the feature/lead card teeing off at 12:45 p.m. CT. The FPO feature/lead card tees off at 2:30 p.m. ET.
Round One MPO Feature Card
Albert Tamm
Harper Thompson
Alden Harris
Ricky Wysocki
Round One FPO Feature Card
Catrina Allen
Holly Finley
Sarah Gilpin
Sara Sinclair
DGN Press Conference | Watch
Hear from some of the players before the action gets going during a press conference from 2-4 p.m. CT on Thursday, live on the DGPT's YouTube channel. Here is the tentative schedule for the press conference (all times CT):
2:00 p.m.: Chris Dickerson
2:10 p.m.: Catrina Allen
2:20 p.m.: Alden Harris
2:30 p.m.: Holly Finley
2:40 p.m.: Calvin Heimburg
2:50 p.m.: Paige Pierce
3:00 p.m.: Ricky Wysocki
3:10 p.m.: Hailey King
3:20 p.m.: Paul McBeth
3:30 p.m.: Heather Young
3:40 p.m.: Matt Orum
3:50 p.m.: Valerie Mandujano
4:00 p.m.: Shawn Sinclair
4:10 p.m.: Wil McKaskle
Instant Scoring
Stats on stats on stats. Keep an eye on UDisc Live all weekend for the in-the-moment moves from the tournament field.
Post Production Video Coverage 
Jomez Productions | Subscribe 
MPO Lead Card / MPO Feature Card
Väinö Mäkelä
Eric Oakley
Paul McBeth
Justin Bunnell
FPO Lead Card / FPO Feature Card
Macie Velediaz
Heather Young
Paige Pierce
Kona Panis
Gatekeeper Media | Subscribe 
MPO Chase Card / MPO Feature Card
Luukas Rokkanen
Nikko Locastro
Will Schusterick
Kevin Jones
MPO Second Chase Card / Feature Card
Adam Hammes
Matt Orum
Emerson Keith
Chris Dickerson
FPO Chase Card / Feature Card
Rebecca Cox
Valerie Mandujano
Missy Gannon
Sarah Hokom
Articles
Check back to PDGA.com daily for a recap of all of the action from the 2021 Elite Series.
PDGA Social Media