Pierce Builds on Commanding Memorial Lead
Pierce Builds on Commanding Memorial Lead
Allen, Weese move into second place
Friday, March 2, 2018 - 10:36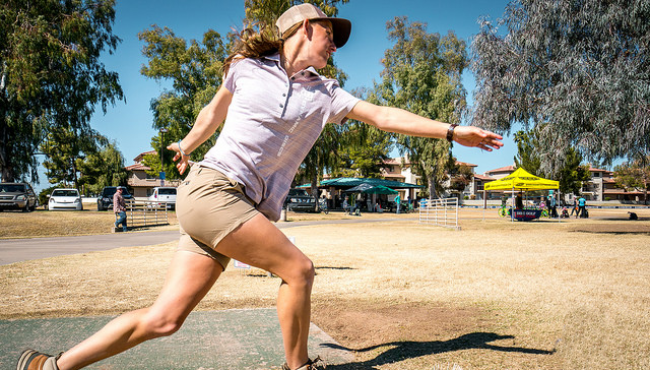 Different year, same story.
Paige Pierce dominated the 2017 Disc Golf Pro Tour circuit and is showing no signs of a let down for the 2018 season. Pierce now holds a seven-stroke lead after shooting a 6-under par 50 at Fountain Hills and will be in control going into the final day of the tournament. The Texas native's tournament total of 14-under par puts her ahead of Jessica Weese and Jennifer Allen, who both threw 4-under par 52s and sit at 7-under overall. Lisa Fajkus moved up one spot into third place after shooting a 5-under par 51 and is now at 5-under for the event.
While Pierce has led from the get-go, her putter has still been a bit off for the entire event. On Friday, she once again struggled out of the gate: Through the first 13 holes, Pierce's circle 1 putting percentage was only 68 percent and she was unable to knock down any of her three attempts from circle 2. Sitting 1-under par going into hole 14, Pierce needed to make a push to solidify her lead going into the final day.
On the 375-foot 14th, she put herself at the edge of circle 2. Using her patented jump putt, Pierce canned the 60-footer to gain the momentum she needed to finish her round strong. Pierce birdied the last five holes of the day, making all of her putts within circle 1 and connecting on a 38-footer on hole 17 to go perfect from circle 2, as well.

Weese, Jennifer Allen, and Fajkus each had solid days of their own in order to capture a lead card spot for Saturday's final. Allen was solid off the tee, hitting 78 percent of fairways en route to her 4-under performance. Weese and Fajkus were less successful off the tee but both put together impressive scrambling performances, notching rates of 89 and 88 percent, respectively. Fajkus also used a solid 95 percent circle 1 clip to shoot the second-best round of the day.
Sarah Hokom, who went into the day in a tie for second but struggled, shooting a 1-over par 57 to drop her to a 2-under par total and into fifth place. She is followed by Catrina Allen (-1), Kona Panis (E), and Madison Walker (+2).
The action wraps up Saturday, with the finale of the first DGPT event of the season taking place at the Vista Del Camino course. Tune in to UDisc Live for real-time stats and the Disc Golf Pro Tour for extensive coverage of the final day of The Memorial Championship.