Masters Cup - Day 2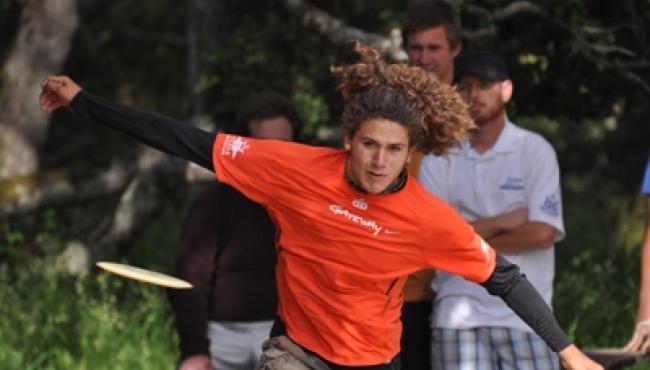 Nikko Locastro shot the low round of the day at the Masters Cup in Santa Cruz to grab the lead going into Sunday's final round.
Locastro carded a -6 on moving day to go along with his -2 opening round to put him at -8 and in the lead by a single throw over Nate Doss, Matt Orum, Greg Barsby, and Brad Williams, who all sit at -7. Ken Climo, who also turned in a -6 on the day to tie Locastro for the low round of the day, sits within striking distance at -6 along with former Masters Cup champion Steve Rico. Locastro will have his hands full on Sunday with such a talented group of players all within striking distance. It is anyones tournament at this point and the eventual winner could come anywhere from the top three cards.
In the Women's division, Liz Carr dropped back to third place with a +11 on the day to leave first round co-leader Carrie "Burl" Berlogar all alone in first place. Berlogar shot +9 on the day to hold a single throw lead over Valarie Jenkins, who turned in the low score of the day with a +6 to move into second. Liz Lopez (+21) will join Berlogar (+18), Jenkins (+19), and Carr (+20) in the lead group for the final round. Just as in the men's division, it is anyone's tournament tomorrow as only a single throw separates the top four women.
Patrick Brown bested Phil Arthur by a single throw in the Masters division to tie Arthur for the lead at -1 for the tournament. Brown's even par round of 78 was the low score for his division and sets up another close match for the finals. Jon Baldwin and Brad Hammock are tied for third at +2 and will be looking to make a move on the co-leaders with 27 holes remaining.
Scott Riley sits at +7 and leads the Grandmasters division by two throws over Hunt Hyde and Billy Lane who are tied for second at +9. Dr. Rick Voakes (+13) extended his single throw first round lead by three throws over Snapper Pierson (+17) in the Senior Grandmasters division. Look for these fiery competitors to duke it out on Sunday morning.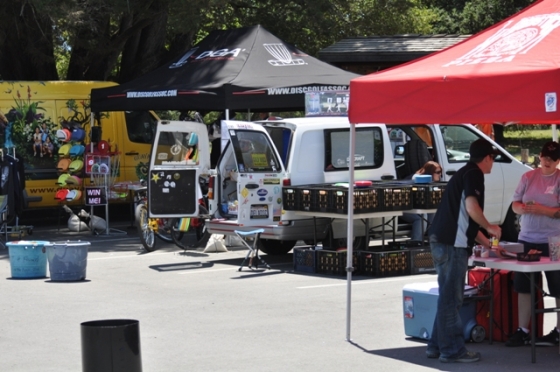 The weather conditions for Saturday's second round was a bit better than the first day with less frequent winds. The forecast for Sunday's final round calls for sunny skies with gusty winds developing later in the day. High 64F. NW winds at 10 to 20 mph, increasing to 20 to 30 mph. With nearly every division up for grabs, the wind could very well be the determining factor in every race. The Men's Open division leaders are scheduled to tee off at 12:18pm PST. Be sure to check in at PDGA.com for live scoring, including commentary and photos uploaded from the course just seconds after being taken. 
---