Maslowski Takes Performance Flight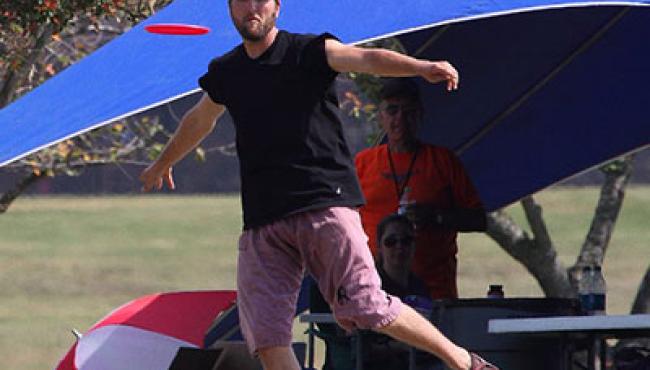 The Performance Flight saw some heated competition last week at the USDGC. Coming from behind, Taylor Maslowski demolished his projected 81 by 13 strokes on Saturday in a round that ended up being the best performance by anyone in the flight this week.
"I'm just thankful. It went really well. I was able to put one together," said Maslowski, of Concord, Mass., who ended up beating his projected by a total of 28 strokes.
Others finishing well included Kevin Tritten, of Charlotte, who took second place when he beat his projected 82 by a total of 22 strokes. Taking 3rd was Tommy Arianoutsos, of Markham, Ill., beating his by 21 strokes. Nick Hanson, of Sioux Falls, S.D., and Phillip-Tyler Belt, of Dacula, Ga., both ended up beating their projections by 18 strokes.
The 921-rated Maslowski took a four on hole 3 then went on a tear, beating or meeting his projected on all of the next holes except 18.
"I didn't realize it until we were way out by '888' that, wow, things are going pretty good," said Maslowski.
He was also one of four players in the flight to shoot below projected for all four rounds. ForSaturday, Maslowski said his plan was to play the course wisely, take his opportunities and try to survive the long holes around the Coliseum.
For the second straight year, Tritten finished high on the Performance leaderboard. Finishing second, he bested his third place from last year.
Tritten had high praise for Maslowski's precision.
"He was throwing it exactly how he wanted to throw it," said Tritten.
Known as 'Oak' to many in Charlotte, Tritten achieved his main goal of another Performance Flight invite after another top 10 finish. And, he is ready for more.
"I'll do this every year they let me do it," Tritten said.
Leader for the first two rounds, Belt was impressed with his first USDGC experience.
"It's all been fun for me. There's never a bad moment, really," Belt said.
Look to Belt to continue improving on the pro scene. Who knows, next year he might qualify for the Open Flight.
Maslowski, who made the trip to Rock Hill solo, said he's going to tell his friends to mark their calendars for next year's USDGC when he returns home to Massachusetts.
"I get to come back. I'm pumped," said Maslowski.
For a complete listing of the final scores of the Performance Flight, click here.
-Todd Harrell