Let the good times roll with lucky 7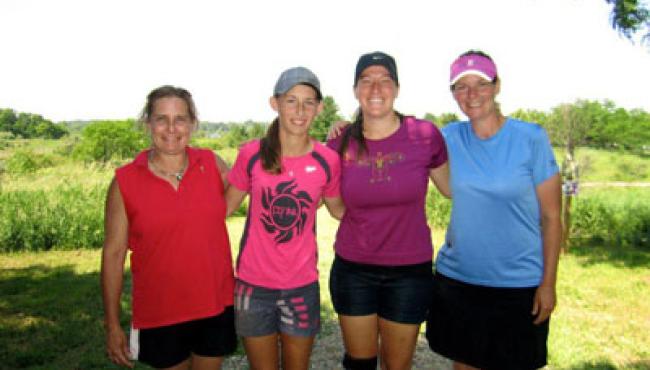 This year marks the 7th year for Disc Girls Gone Wild presented by McSports. DGGW gets bigger and better every year thanks to the hard work of the Trip C's Women's Disc Golf Club, the amazing and overwhelming support of Jerry Kaapke of McSports, and the dedication of JBird Discs who has helped with the tournament efforts and the growth of women's disc golf in the area for years. Also, the hard work of the incredible Tournament Directors: Keith Aten and Matt Rinker who help event founder and master-mind, Erin Oakley, keep it all together throughout the weekend, is a key element in the growth of this event. 
The generosity of the local vendors and players are what makes a disc golf event reach the heights the DGGW event has reached over the years. This year marks the first time ever all the tournament spots have filled. In fact it filled so early, Oakley added 6 extra holes to accommodate 24 additional players. This year's event is on track to be the largest ever in DGGW history and could possibly break the record for most female disc golfers at one event. With 96 women already signed up the DGGW is only 3 spots away from topping the 98 player record set by the Texas Women's Championship in 2010 (record based on PDGA sanctioned events). 
When Oakley started this event 7 years ago she did it because she loved the experience of going to the United States Women's Disc Golf Championships and the camaraderie of women disc golfers it brought together. Oakley says, "There is no other event like an all-women's event. We are all there to compete, yes, but also to just have a great time and reunite with one another since most of us don't get time to travel often."
The tournament will take place at Sleepy Hollow State Park in Laingsburg, Michigan. Sleepy Hollow was chosen as the permanent new home for DGGW because it provides a beautiful atmosphere, camping onsite and the course is challenging but fair. There is also a beach adjacent to the course which is perfect for cooling off between rounds. Lunch will be available on site for all the ladies thanks to TJ Meisterheim (our amazing trophy creator) and her mom. 
For more information on Disc Girls Gone Wild check out their event page on The Disc Golf Scene.