Japan Open Preview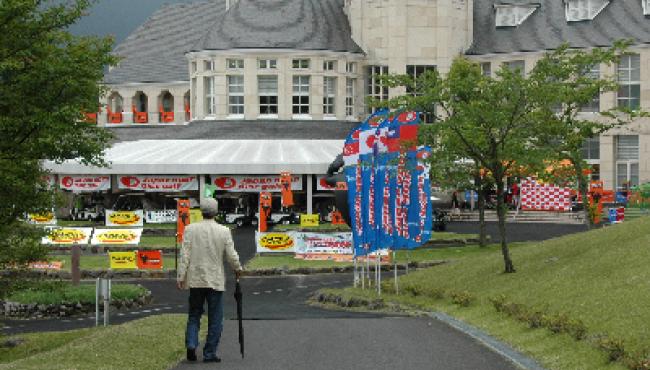 2010 Japan Open Set to Fly at Nasu Highlands Golf Club
With an international field of nearly 120 disc golfers from lands as diverse as Michigan and Mongolia, the 2010 Japan Open PDGA Major is set to take flight at the majestic mountain resort region of Nasu Highlands in Tochigi, Japan. 
Now entering its fourth decade, the Japan Open is an event like no other in our sport.  The competition, while fierce, merely provides a backdrop upon which an exchange of friendships, culture, and festivities occur.  Executive Director, and PDGA Hall of Fame member, Kozo Shimbo creates an event that leaves all his guests knowing our sport is in great hands here in Japan, and that disc golf is clearly on the rise around the world. 
Held on the bucolic golf stage of the Nasu Highlands Golf Club, the Japan Open overlays two 18-hole championship disc golf courses on the original Robert Trent Jones, Jr. design.  With dramatic elevation changes, exquisitely manicured fairways, and a peacefulness and tranquility that this mythic mountain resort provides, players could often be found pinching themselves to verify that all this is real.  Indeed, it is real and a privilege for all who make the 24 hour trek across as many as 13 time zones to be here.   
Defending Japan Open champion, David Feldberg, will be challenged with a strong international field of throwers, featuring Nikko Locastro, Avery Jenkins, Manabu Kajiyama, Jussi Meresmaa, Ken Climo, and others.  On the womenÕs side, Valarie Jenkins will defend her 2008 Japan Open title against familiar foes Carrie Berlogar and Des Reading, as well as some of the emerging talent coming from the Japanese women, who are elevating disc golf on the womenÕs side in their native land.
The opening ceremonies will occur Wednesday night here in Tochigi, in anticipation of the first rounds to be played Thursday.  Friday will also host preliminary rounds, with the semi-finals and final 9 to be held Saturday. 
You can enjoy a wide variety of media initiatives for the 2010 Japan Open by visiting http://www.japanopen.org