Heroes Among Us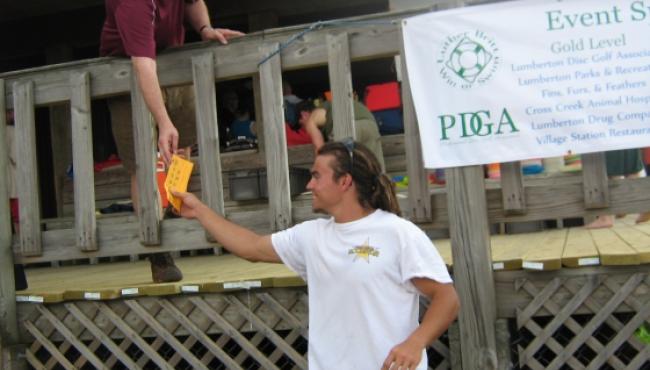 It felt like any other awards ceremony. Golfers were standing around telling stories about their final round; some sharing victories, some sharing defeats. Most were talking about how Brian Schweberger held off Terry Gallops in the Pro division for his 88th career PDGA win with a 1070 (unofficial) rated final round and course record of 41. Some were talking about how Justin Jernigan made up two strokes on his final two holes to split last cash. Some were talking about Michael Toomes dominating the advanced division earning his first PDGA victory with an eight throw win. By all accounts, the awards ceremony at the Luther Britt Win or Swim presented by Spike Hyzer, a PDGA B Tier event and first event on the Spike Hyzer Tour, really was like every other event.
However, the similarities quickly and drastically changed. As the ace pool throw off was occurring, some patrons in the park were taking advantage of a warm and beautiful May afternoon in Lumberton, NC. One of the benefits of Luther Britt Park, both for disc golfers and other park visitors, is the large lake found in the middle of the park. Disc golfers use the same lake that kids swim and fish in as an obstacle; the course has 12 holes that either throw along or over this lake.
About 200 feet off shore there is a floating dock. Laughter and ace runs from the disc golfers quickly halted as a group of kids on this dock started screaming for help; yelling to anyone who would listen that their friend was drowning. Out of the hundreds of park visitors in shouting distance of the boys, it was the disc golfers from the tournament who were the first ones to respond. Matt Wallbrown PDGA #42398, a lifeguard by trade, was the first in the water by jumping off the eight foot high deck the golfers were throwing from to the beach area below. Soon after, Adam Morris PDGA #39356 was right behind Wallbrown swimming towards the boys. John Beckwith PDGA #15027 and Melissa Memoli, a registered nurse, also didn't hesitate to jump in the water.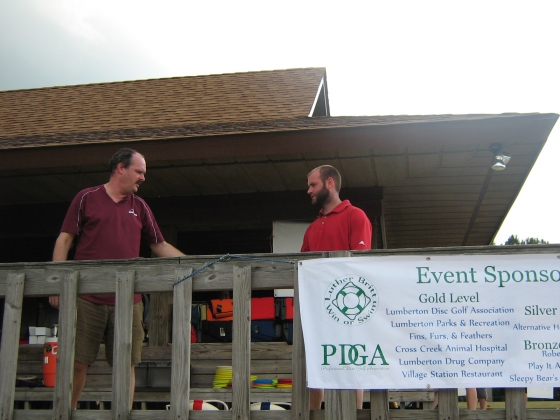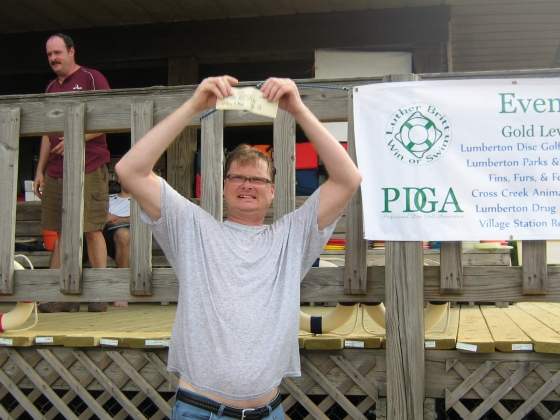 Both still soaking wet: (Left photo) Adam Morris (right); (Right photo) John Beckwith
Within a minute, Wallbrown reached the area the boys were. One quick dive down and he was able to see where the victim was laying unconscious on the bottom of the roughly 10 foot deep lake. A few seconds later Wallbrown emerged from the water with an arm around the boy and started pulling him to safety. As Wallbrown grew fatigued, Morris helped him and they were able to get the boy to a nearby island, home of the signature 17th hole. Beckwith stayed at the dock with the boys to ensure the situation didn't worsen and Memoli was waiting on shore to begin with life saving procedures.
One of the best sounds a disc golfer hears is the sound of their tee shot hitting the basket or the sound of their putting hitting chains. After only a few seconds of CPR from Memoli and Wallbrown, the sound of this boy coughing up all the water he took in was suddenly the best sound heard all weekend.  
When paramedics arrived, other disc golfers ran to the front of the park to instruct paramedics where they needed to go. Tournament Director and owner of Spike Hyzer, Chuck Connelly PDGA #22000, assisted the paramedics by running the stretcher across the park out to the island area. The boy, whose name could not be released due to being a minor, is doing fine we are told. If there had not been a disc golf tournament at Luther Britt Park on that fateful day, who knows if the boy would have survived this horrific accident.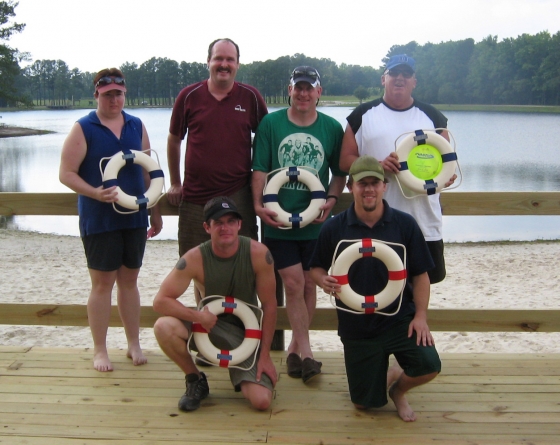 Melissa Memoli and tournament director Chuck Connelly with other divisional winners
The Luther Britt Win or Swim presented by Spike Hyzer and the sport of disc golf truly saved a life this past weekend. Along with the dozens of winners, all four heroes who helped save a life all finished well in their respective divisions. Wallbrown finished third in recreational, Morris placed fourth in intermediate, Beckwith earned $161 for second place in pro masters and Memoli was victorious in recreational women.
Disc golf truly has a new meaning to all the witnesses at Luther Britt Park on that Sunday afternoon. To those who play, disc golf has always had a special meaning. It's a release from everyday life, a way to hang out with friends, and a way to compete. It gives us a sense of accomplishment and pride with each perfect shot. We aren't sure if that boy or his family knew what those 18 yellow things with chains surrounding this lake were before that day. One thing is for sure...they know now... they are a symbol of his life.