Gateway Collegiate Classic Recap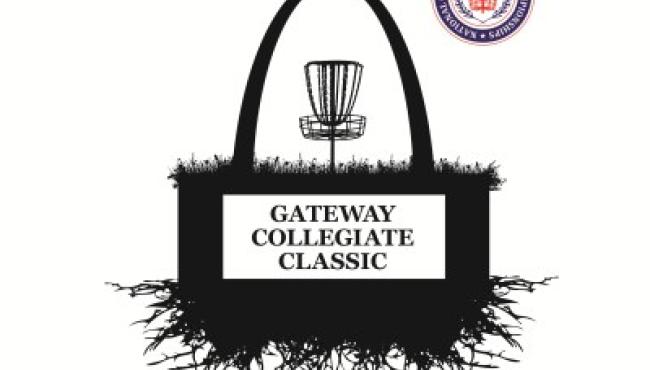 Held March 3rd and 4th and hosted by the St. Louis Disc Golf Club, the 1st Annual
Gateway Collegiate Classic was a resounding success! 
With 22 teams competing from schools as far-flung as Mississippi State, Wisconsin-Whitewater, and Alabama - and as "home grown" as Lindenwood University and the St. Louis Community Colleges - the Classic was the largest collegiate qualifier ever held.
At the end of the weekend there would be two bids awarded for the prestigious National Collegiate Disc Golf Championships (Apr. 12th – 15th in North Augusta, SC), but the fun began before Saturday's competition even started.  On Friday night, most teams took advantage of a truly "one of a kind" opportunity - an informal doubles event at the Crystal City Underground DGC, the St. Louis-area's unique subterranean disc golf experience.  Allowing the collegiate teams to meet-and-greet and network with each other in a no pressure, fun-filled environment with the 'locals,' more than 100 golfers headed below ground to throw some discs and soak in the sights.  The large turnout and positive feedback received make it likely for more collegiate events to be held at "The Cave" in the future, and for the "Friday Night Fling" to be on the schedule for next year's Gateway Collegiate Classic.
The competition throughout the weekend was strong and the eventual overall champions and NCDGC-bid winners (see results below) had to skillfully navigate two of the St. Louis-area's beautiful and challenging courses to emerge victorious, but what truly made the weekend successful was the coordination between the collegiate organizers and The St. Louis Disc Golf Club.  A possible model for how collegiate disc golf events can be organized in the future, the unprecedented teamwork between the River City Flyers and the collegiate competitors and organizers (particularly Club TD Steve Klieber, Ryan Black from the University of Arkansas, and TC Brown from Lindenwood University) allowed for a near-seamless experience for the event's participants, and a great addition to the Club's calendar.  From course layout and set-up to providing a staff of volunteers to man Tourney HQ and handle scoring, logistics, and merchandising throughout the weekend, the St. Louis Disc Golf Club's local knowledge and expertise paired with the enthusiasm and excitement of the participants to make the Gateway Collegiate Classic a success.  As collegiate disc golf continues to grow and expand, city and area clubs stepping up to take the reins for qualifier events should be seen as a "win/win" partnership for all involved.

A facet of the event that cannot be overstated, and one of the things that makes collegiate disc golf such an exciting format, is the camaraderie, school spirit, and class that were exhibited by all of those in attendance.  Sporting their team jerseys, joining in rousing cheers, and offering much needed moral support after a poor shot or a missed putt - if the Classic's competitors are the "future" of disc golf, we can all rest assured we're in good hands!

The St. Louis Disc Golf Club is excited to add the Gateway Collegiate Classic to its annual schedule, hopefully helping to grow the collegiate disc golf scene locally and throughout the region.  And, Missouri could be home to 2 qualifiers for next year's National Collegiate Disc Golf Championships: the spring event in St. Louis may be joined by a Kansas City-hosted event in the fall...keep your calendars open!
Ted Spies
-The St. Louis Disc Golf Club (3/7/12)
 
RESULTS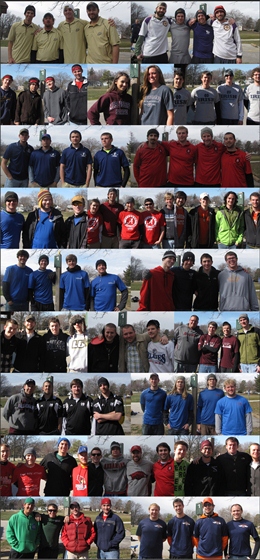 NCDGC Bid-Winners
Western Illinois
Murray State
Overall Finish
Purdue University  389  ($745)
Western Illinois  411  ($403)
Illinois  411  ($403)
Arkansas  412
Murray State  412
Ferris State  416
Mississippi St.  420
Kansas  421
Alabama-Huntsville  422
Alabama  426
SIUE  428
SIUC  430
Illinois State  435
Oklahoma State  438
STLCC  440
Alabama-Huntsville (B)  449
Arkansas (B)  469
Lindenwood  471
Notre Dame  481
UW-Whitewater (B)  484
Mississippi St. (B)  ---
Lindenwood (B)  ---
Individual Top 10 (Saturday Singles Scores)
Ross Kohrs Purdue 53 56 109
Case Jackson Illinois 56 59 115
Billy Plant Purdue 56 59 115
Josh Lowe Purdue 58 57 115
James Wall Arkansas 57 59 116
Brennan Billow Ferris State 60 56 116
Zach Johnson Murray State 61 55 116
Seth Beaman Alabama Huntsville 57 61 118
Jon Manuell Western Illinois 57 61 118
Ryan Black Arkansas 60 59 119

LINKS