Fun(d) Raising
Fun(d) Raising
IDGC Raises Over $12,000 for Charity in 2013
Friday, December 13, 2013 - 12:54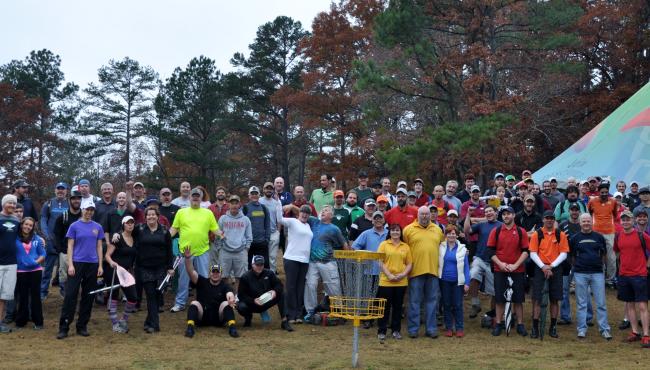 The International Disc Golf Center, located in beautiful Wildwood Park in Appling, GA., plays host to several different events throughout the season.  In addition to traditional singles disc golf tournaments, team events, educational events, women-only events, and ace races, the IDGC is well known for hosting a variety of charitable functions.  One of the biggest and most rewarding tournaments for the IDGC every year is the Pam B Childs Memorial (presented by Paul "Batman" Childs), which raises funds to be donated to the Ronald McDonald House Charity.  
The Ronald McDonald House is a "home-away-from-home" for families of seriously and critically ill or injured children receiving medical treatment at nearby hospitals.  Batman's family has used their services in the past when his grandson, Collin, was in the hospital for open heart surgery. The family is very grateful to RMDHC.  "It was a blessing to know you didn't have to worry, "states Batman about his experience with RMDHC. 
This year was by far the best turnout for the PBC Memorial; 84 players came to show their support, donate items on the RMDHC Wish List, and compete for the title of champion.  When all the contributions were tallied, an astounding $7,500 was raised for the worthy recipient.
Please consider donating an item on the Ronald McDonald House of Augusta's Wish List
Alternatively, you may send cash donations directly to the RMHC of Augusta
Ronald McDonald House Charities of Augusta 
938 Greene Street
Augusta, Ga 30901
Please put "PBC Memorial" in the memo section of check or send along a note.
Along with the PBC Memorial, the IDGC also held an Ice Bowl event in January which raised over $2,000 for Columbia County Cares Food Bank and the Golden Harvest Food Bank.  The Easter Seals Disc Golf Tournament in March raised funds and awareness for children with disabilities, the Boy Scout Blitz in October helped support the local troops, and the women's event, The Magnolia Open, held in breast cancer awareness month put its fundraising effort towards the fight against breast cancer.
All in all, the International Disc Golf Center raised over $12,000 for charity in 2013.  Next year promises to be bigger and better, as more charitable events will flood the calendar for 2014.  The first of the season will be the 2014 IDGC Ice Bowl, which will take place on January 25th.  To register, click here.  
As we approach the holiday season, please take a moment to consider those who are less fortunate than we are.  Thanks to all who participated, volunteered, donated and assisted in any way in 2013.  Happy Holidays!