Climo & Berlogar Win
Ken Climo played 52 holes of bogey free golf over the final two rounds of the Masters Cup to win the title in a playoff over Brad Williams.
Climo started the day on the second card two throws off second round leader Nikko Locastro and a single throw behind Nate Doss, Matt Orum, Greg Barsby, and Brad Williams who were all tied for second. Climo took a par 3 on the famous "top of the world" hole at DeLaveaga disc golf course to hold a slim one throw lead with only the lead card left to play the hole. Brad Williams of Austin Texas played great golf on the lead card all day and laced a beautiful drive on the final hole to within 10 feet of the basket in front of the large appreciative gallery. Williams calmly hit the putt setting up a playoff for the title. Climo threw first on hole 1 in the playoff and landed his drive within 55 feet of the basket for a long putt attempt. Williams, playing for his first NT title, looked a bit nervous and pulled his drive right missing the mandatory allowing Climo to lay up and drop in for the win.
Carrie "Burl" Berlogar held a one throw lead over Valarie Jenkins going into the final 26 holes and played strong golf on her home course to take the Women's title by a final five throw margin. Liz Lopez finished in third and Des Reading took fourth. Patrick Brown and Phil Arthur entered the final day tied for the lead in the Masters division with Brown winning by a final three throw margin over Arthur. Scott Riley held off Hunt Hyde and Billy Lane to win the Grandmasters division by three throws. Dr. Rick Voakes won his 100th singles tournament title by three throws over Snapper Pierson to take the Senior Grandmasters title.
PDGA Executive Director Brian Graham, who was in Santa Cruz serving as the PDGA representative and providing media coverage for the event, was surprised and humbled when his name was called as the recipient of the "Steady" Ed Headrick Memorial Disc Golf Trophy for contributions to the sport of disc golf.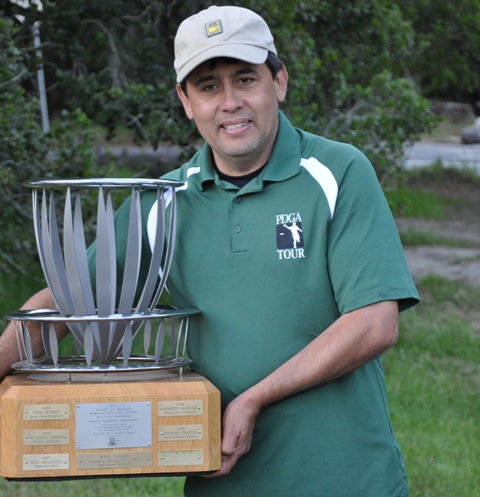 Dave Thomas and staff, along with presenting sponsor Disc Golf Association, did another fantastic job hosting the worlds best in Santa Cruz. The DeLaveaga course was possibly in the best tournament condition it has ever been in.
---