AW2010: Thursday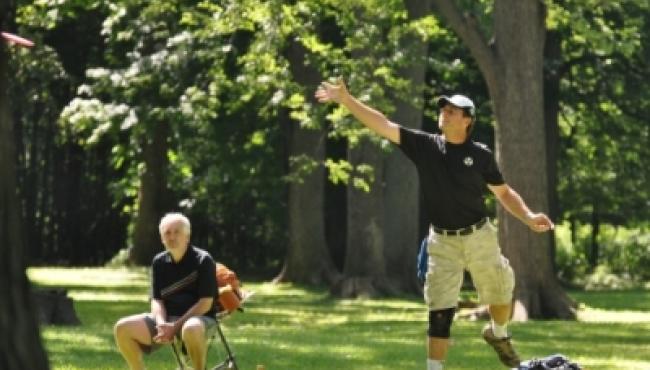 There's always going to be one of those days.
Your tee time is 11:30AM so you set your alarm for 9:00AM. You get dressed, start packing up the gear you need, and head out the door. This is when the light bulb comes on and you realize you were supposed to tee off at 8:00AM. Roderick Queen (FL) did just that. This incident was the talk of the staff and most likely fellow golfers, but it's not why you might think. Roderick's attitude was remarkable. He walked up almost casually to the leader board at Delaware and skimmed the board looking for his group. They started on 11 so they must be on about 18 or 1 by now. He was in no rush, met his group, finished the round, and turned in the scorecard scoring a 106. The TDs were so curious why he didn't just say "Oh, well, I might as well just forget it." But before they could ask the "why" question, Roderick said he wanted to play so badly tomorrow (Friday) so he knew he had to show up today. He never once acted frustrated or showed his disappointment. What a reminder to always make the best of what is dealt and never forget your love of the game above all else. Have fun today, Roderick!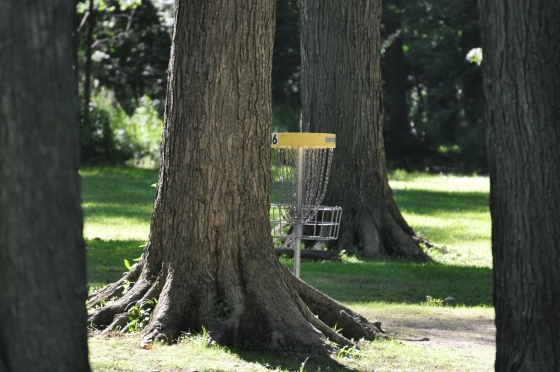 Advanced Men leader, David Wiggins, Jr (NC), kicked up a little dust on his opponents on Thursday. He has an extremely comfortable lead of 13 throws over this year's PDGA Points Winner, David Nelson (IL). Bill Cary (MN) is leading Masters but only by one throw. Will Larry Cooper (TX) catch him? A battle is going on in Advanced Grandmasters. Razor Ray Missey (VA) has a two throw lead over Steve Mawdsley (Canada), John Schengber (OH), and reigning Grandmaster World Champion, Paul Wright (WA); all are sitting at -29. Senior Grandmasters have three competitors in the red. Ron Engebretson (TX) leads with Pete May (GA) and Chuck Hornsby (GA) just 2 and 3 throws behind him. Legends' Robert Burton (OR) has held on to his lead and is now 6 throws ahead of Bill Ball (SC). Rebecca Frazer (IN) is the sole owner of the single digits going into Friday. Mom, Sandra (IN) is trying to sneak up on her but Rebecca just keeps pressing forward. It's a close match for Junior Boys 16 and under. Seppo Paju (Finland) still leads after Thursdays rounds but Andrew (NC) is closing in the gap and is just one throw shy of taking over the reins.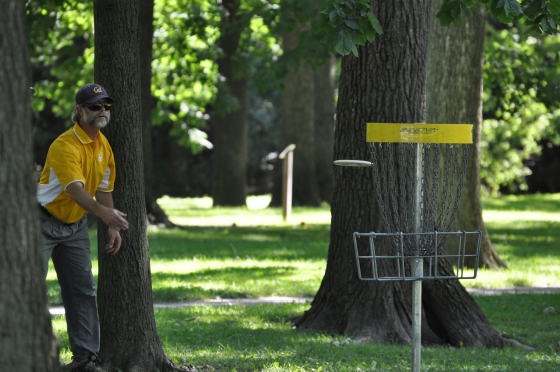 While visiting Bucyrus this afternoon there were two boys most likely under 16. They were all smiles about seeing disc golf. They had found a competitor's disc lying on the ground and no golfer in sight. Tournament central is at the top of a hill and these boys rode up the hill on their bikes and delivered the lost disc to the tournament directors. They were asking Jon Lyksett (the Marshall on hand) all about the sport and showing an eagerness to play. Jon proceeded to take them to a nearby baseball field in the park, gave them a disc and some pointers, and told them to practice throwing in the field. They were having a ball! When they saw a group of competitors walk up to Hole #18, they knew they wanted more advice on playing. They ran over to the group and began asking questions. Let's hope these youngsters pick up the sport they witnessed so many enjoying.

Friday's rounds will be intense as competitors try and jump ahead to make the cut for the semi-finals on Saturday. Continue watching the coverage on our Worlds Media Page.
---
Did You Know?
The last hand-hammered copper kettle makers in the United States are in Bucyrus, OH. The C. Picking Company offers tours from a 92 year old lady who is part of the Picking family. The wait list to receive a kettle is 5 years due to the demand.
Harpster, OH is home to one of 50 covered bridges in Ohio still in existance today. The Swartz Bridge is located about 15 miles from Marion, OH.
Coon Candies - located about 5 miles from the covered bridge has around 400 varieties of candy, mostly homemade by the Coon family. The family has been in the candy making business since 1917. Toffee is their biggest seller.