Are You Ready For The Disc Golf Experience?
Are You Ready For The Disc Golf Experience?
Monday, June 30, 2014 - 15:10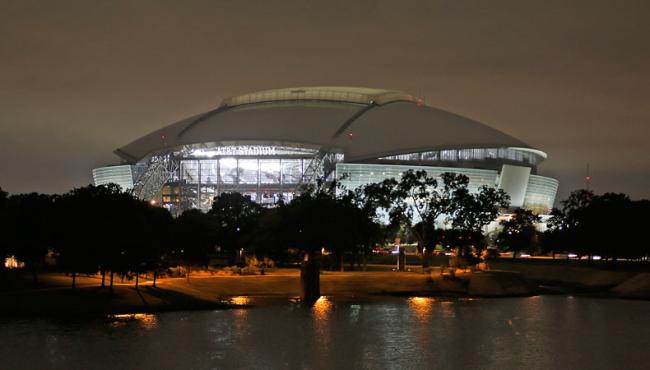 Emporia, KS – Disc Golf company Dynamic Discs will be holding an unprecedented event called The Disc Golf Experience at AT&T Stadium. This disc golf exhibition event will include ten holes that will be set up in the tunnels and on the field at AT&T Stadium.
 
Back in March of 2014, Dynamic Discs received an email from a representative at AT&T Stadium expressing interest in having a disc golf tournament in AT&T Stadium. This email was at first believed to be a hoax, but after speaking with the representative on the phone, it was apparent that this was, in fact, a real opportunity. It did not take Dynamic Discs long to realize that this would be a chance to get massive exposure for the sport.
 
A few months later, a small group from Dynamic Discs drove down to AT&T Stadium in Arlington, Texas to discuss details about the event. The group was taken on a tour of this amazing facility and were very impressed with the staff's hospitality and eagerness to make this unique event happen. After discussing all of the possibilities, working through what could and could not happen in the stadium, and taking in the shear awe of standing on the field, it was decided to move forward with the event.
 
The football turf was not in place during the first trip so a second trip was necessary to solidify the course setup. Eric McCabe #11674, 2010 PDGA Pro World Champion, was there to help plan the course as other members of Dynamic Discs had discs, a basket, cones, and a measuring wheel on hand to map out the course. The course will be set up with some baskets in the tunnels of the stadium and then other baskets will be on the field where players will be able to let the plastic fly. The original course was set up with nine holes, but Dynamic Discs recently received approval to add a 10th hole. This hole will be a special hole, but the only details available are that it will have a double mando.
 
The Disc Golf Experience at AT&T Stadium will be held on July 12th from 5:15pm – 11:00pm. There are three tiers available for people to choose from.
 
The Family Experience will allow visitors to take a self-guided tour of the Cowboys and Cheerleaders locker room, the Miller Lite Club, and the post-game interview room.
 
The Players' Pack Experience gets you the self-guided tour plus two commemorative discs.
 
The Full Experience is the best tier as it will allow you to take the self-guided tour, receive two commemorative discs, and throw those discs on the 10 hole course in the stadium.
 
There is a limit to how many tickets will be available so please sign up today by going to DynamicDiscs.com.