The Annual Exodus To AZ
The Annual Exodus To AZ
The Memorial Championships presented by DIscraft
Monday, February 23, 2015 - 16:29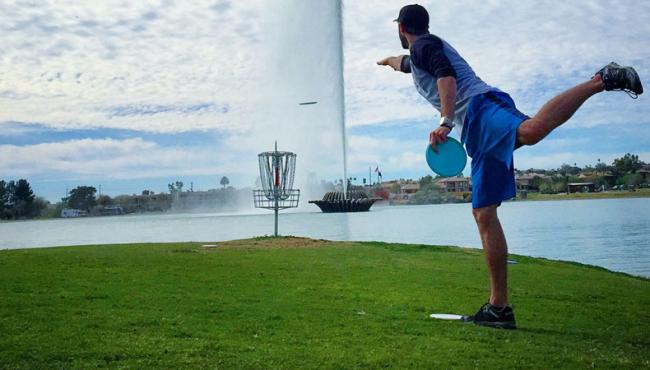 Cover photo of Cory Obermeyer #53973 putting at Fountain Hills by Eric McCabe #11674 on Instagram.
With almost the first two months of the year in the books, it's time to officially get excited for the 2015 PDGA Tour. We've already seen the first PDGA Major of the year, the 2015 Aussie Open, and the first A-tier of the year, the 2015 Gentlemen's Club Challenge, and dozens of B and C-tiers, come to close. At this point, the world is more than ready for the PDGA National Elite Series to kick off as well.
The start of the National Tour typically means, among many things, a trip to warm and sunny Arziona, with this year being no exception. The 2015 Memorial Championships presented by Discraft is once again the first stop on the National Tour, providing players from many parts of the world an escape from the dreaded cold and gray of winter.
In years past, The Memorial has been hosted on two courses: Vista Del Camino XL & Fountain Hills XL. As disc golf continues to grow, events of this stature are selling out faster and faster. In the case of The Memorial, it was much faster than expected. So fast in fact that the tournament staff decided to add an additional third course to the schedule, allowing hundreds of competitors that had virtually no chance of getting in to make the trek to the Southwest to compete.
The newest course addition to the event is Fiesta Lakes, a disc golf course built on a traditional golf course. As one of the newest courses in the area, the veteran competitiors that have been coming to this event for years now have a new challenge to face. The water and out-of-bounds lines of Vista and Fountain Hills are no longer the only concern.
With over 600 players and a first-ever third course on the schedule, it's no secret that all eyes will be on The Memorial this week. All divisions will start on Wednesday February 25th, spread out across the three courses. The final round for the Ams will take place on Friday and the final round for the pros will follow the day after at Fountain Hills.
SmashboxxTV will be live streaming all week, with an official filming schedule being set in the days to come. Live scoring and tweeting via PDGALive.com will be in full effect all week long as well. Coverage will be provided all week on PDGA.com and PDGALive.com. Stay tuned disc golfers! It's time to kick off the 2015 season!