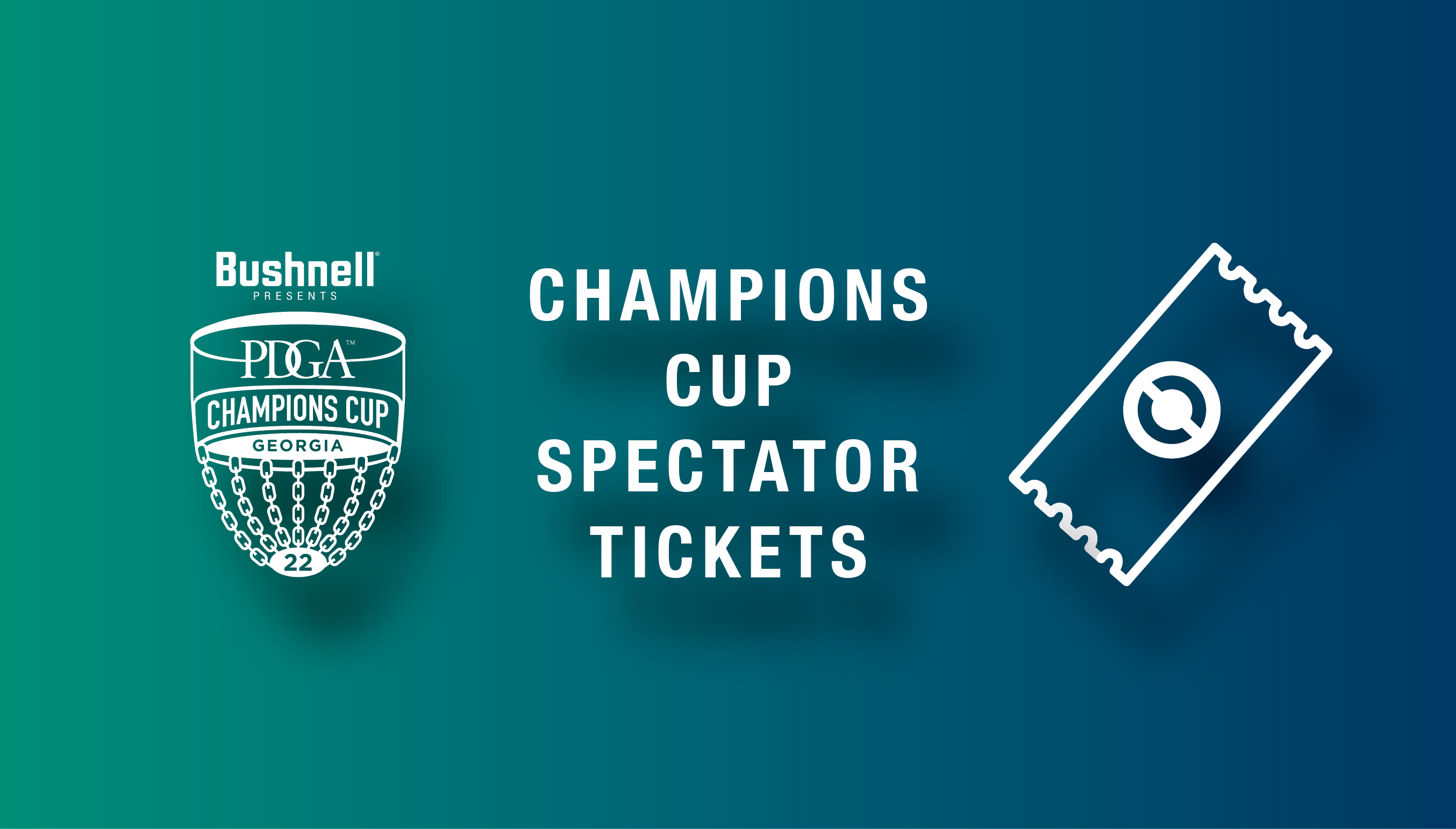 Tickets for the inaugural Champions Cup go on sale Thursday, January 13 at 7:30 p.m. ET.
The ticket sales schedule is as follows:
UPDATE: The total allotted VIP passes are sold out.  
January 13, 7:30 p.m. - All Week Long Tickets on sale SOLD OUT
February 1, 7:00 p.m. - VIP Day Pass Tickets on sale SOLD OUT
March 1, 7:00 p.m. - Bushnell Blvd Day Pass tickets on sale
April 1, 7:00 p.m. - Refund request cut off
April 12, 8:00 p.m. - All sales closed
Tickets are required for spectating the Champions Cup. Advanced purchase of tickets is required; no day-of ticket sales are planned.
Bushnell Boulevard and VIP Access
The Champion's Cup presenting sponsor, Bushnell Disc, is working closely with the PDGA to roll out the red carpet for competitors and spectators alike. The goal is to create a tournament atmosphere worthy of the Major distinction. 
The spectator ticket tiers fall into two categories: Bushnell Boulevard and VIP. 
Bushnell Boulevard incorporates access to plenty amenities, vending, and spectating options while at the Champions Cup, hosted at the International Disc Golf Center. Bushnell Boulevard pass holders will be able to view the disc golf action on select holes along "Bushnell Boulevard."  
VIP Access includes all the access benefits of the Bushnell Boulevard pass, plus the ability to follow your desired card throughout the entire course. These passes are limited!
View the Champions Cup spectator map >>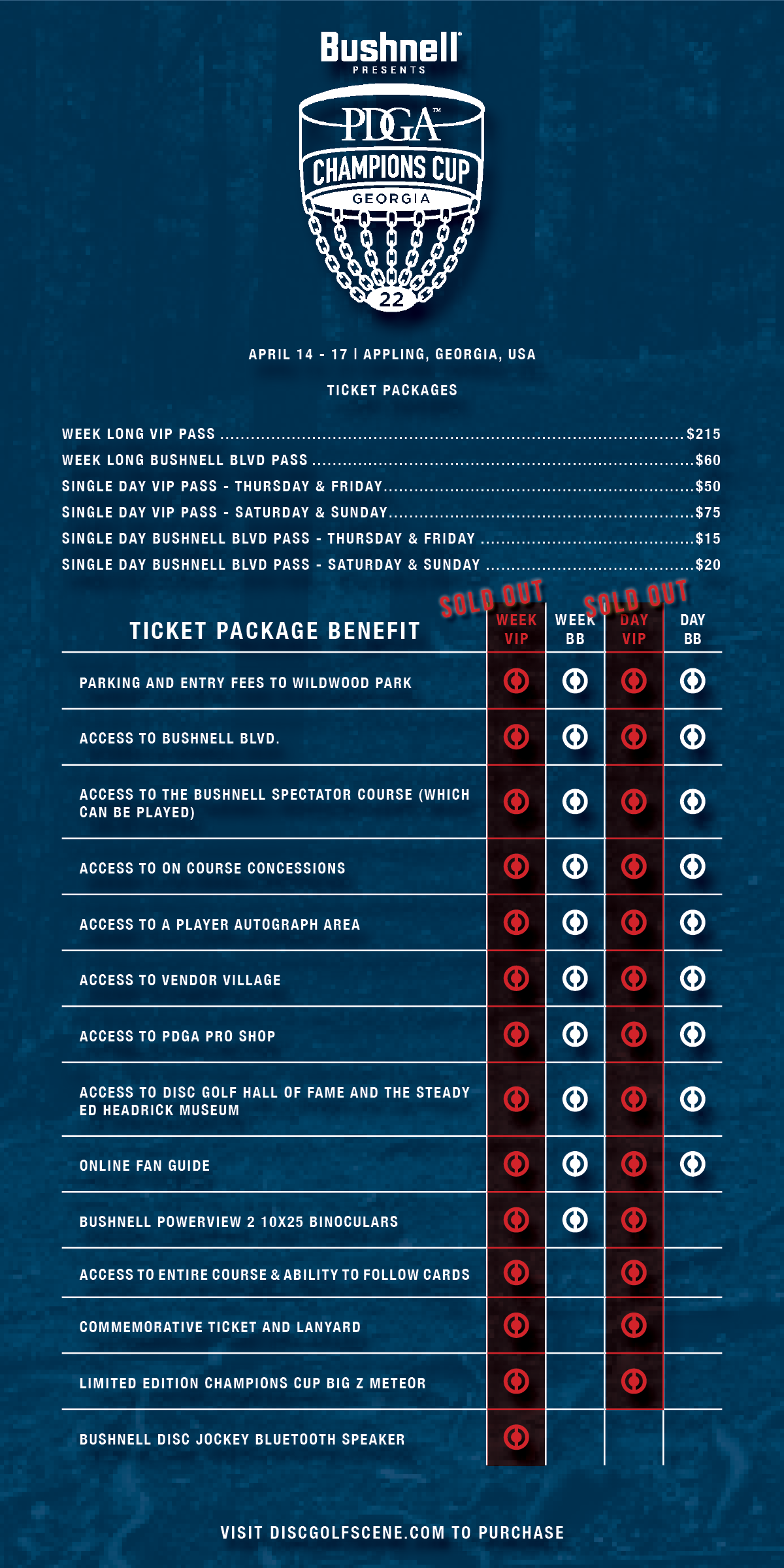 Below is a full breakdown of what each spectator ticket package includes:
All Passes Include:
Parking and Entry Fees to Wildwood Park
Access to Bushnell Blvd.
Access to the Bushnell Spectator Course (which can be played)
Access to On Course Concessions
Access to a Player Autograph Area
Access to Vendor Village
Access to PDGA Pro Shop
Access to Disc Golf Hall of Fame and the Steady Ed Headrick Museum
Online Fan Guide
Week Long Bushnell Blvd Pass includes:
All items mentioned in "all passes include"
Daily VIP Pass Includes:
All items mentioned in "all passes include"
Free child under 13 add on option.
Access to entire course and ability to follow cards
Commemorative Ticket and Lanyard
Bushnell Powerview 2 10X25 Binoculars
Week Long VIP Includes:
All items mentioned in "all passes include"
Free child under 13 add on option.
Access to entire course and ability to follow cards
Commemorative Ticket and Lanyard
Bushnell Powerview 2 10X25 Binoculars
Limited Edition Champions Cup Big Z Meteor
Visit the ticket page for further details and new updates >>
PDGA Announcements
updated

4 days ago

updated

4 days ago

updated

1 week ago

updated

5 days ago

updated

5 days ago