USA's Best Ams Ready to Take on Toboggan
USA's Best Ams Ready to Take on Toboggan
Thursday, June 2, 2016 - 22:10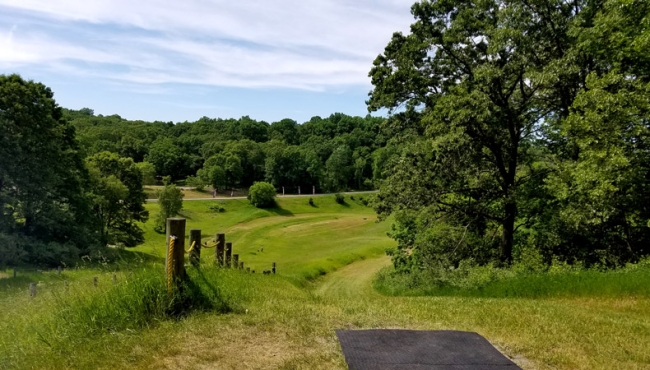 It must be the first weekend in June, because here we are, back at the renowned Toboggan DGC. Playing up, down, and across what is normally only used for toboggan sled runs in the cold winters of Michigan, there's no denying that this is one of the most, if not the most, unique courses in the Midwest. For the 130 best of the best amateur competitors that have earned the right to be here at the 2016 United States Amateur Disc Golf Championships (USADGC), the steep slopes should be the least of their worries.
Out of Bounds > Missing the Fairway
Let's talk invasive species. Specifically, Elaeagnus angustifolia, commonly known as the Russian Olive, a shrub that can grow 5-7 meters tall in even the barest of landscapes, as it is able to fix Nitrogen into its roots. When and where it does grow, or thrive in the case of Kensington Metropark, it's generally detrimental to the local ecosystem.
It is equally detrimental to disc golfers that miss the fairway. One bad toss can and likely will turn what should have been a par into a triple or quadruple bogey. Huron-Clinton Metroparks began systematically removing the invasive plant from the park in the fall of 2013, making the rough relatively clear for those lucky enough to have competed at the 2014 USADGC.
Insanely powerful backhand anhyzer flex drive up the hill of hole 13 from Marc Burnett. #USADGC pic.twitter.com/MmySLud8rG

— PDGA Live Scoring (@pdgalive) June 7, 2015
One year later at the 2015 USADGC, the punishment of landing in the rough had returned to severe, but it still wasn't quite as brutal as it had been in years past. Today, just over two years after the Russian Olive was all but completely annihilated, it appears to be back in full force.  Walking around before the players meeting this evening, there was more talk about how many discs were lost than about how many birdies and/or bogeys were taken.
To make a long story short, finishing at the top of the leaderboard this weekend means staying on the fairways. If that means backing off on your power, so be it. The Toboggan has virtually no OB to worry about. It doesn't need it. Miss the fairways on some of the holes out here…you'll wish there was an OB line that you crossed first.
Young Guns Return for a Second Chance
If you were following along with either the 2015 USADGC or 2015 Am Worlds, you might remember a particular commonality between the players leading the charge. They were all teenagers. Young teenagers at that. The four players that made up the lead card for the final round of the 2015 USADGC had an average age of 16.25 years old. The "old guy" on the card had just turned 19!
One of those players was Anthony Barela #44382, but you won't see him here this weekend. Not only did he win last year's USADGC, he followed it with a win at the 2015 PDGA Amateur & Junior Disc Golf World Championships a month later. Needless to say, he is playing pro now, is rated 1012, and oh yeah…he's 16 years old.
Many of the players Barela battled with last year have returned for another shot at the USADGC title. Barela edged out then 14 year old Izak McDonald #49631 at both the 2015 USADGC and Am Worlds, but unlike Barela, Izak has yet to go Pro and has returned to the Toboggan this weekend.
Wow. Just....wow. Izak McDonald with a super clutch eagle putt. #2015AmWorlds pic.twitter.com/kgifNkAL1q

— PDGA Live Scoring (@pdgalive) July 25, 2015
Current PDGA World Champion for the 16 & Under division DJ Baldwin #39066, who shot a lights out final round at the USADGC last year to jump from the third card to 4th place overall has returned as well. At 16 years old and rated 974, he is ready to add a USADGC win to his belt. "I'm gonna stick my gameplan, and get my 3s," said Baldwin. "I finished in 4th last year. I have to play better in my first round. I think I was just nervous. It was my first time playing Toboggan, my first year here. My nerves got to me. I'm just not going to think about that as much this year."
Marc Burnett #22546, who spent a lot of time on the lead card at the 2015 USADGC is back, this time with a new game plan. "I didn't get to play the entire course yet this year, but it definitely seems more grown out than last year," said Burnett. "The goal is to avoid the rough. I'm not going to use my big arm as much as last year, I'm goin more for control. It's all about placement out there. Put yourself in a good spot, get to the basket. That's it."
The list of incredibly talented players here at the USADGC goes on and on. But, as stated above, it isn't necessarily the highest rated or the most experienced players that will climb to the top of the ladder tomorrow by default. It will be those that come to peace with the idea of choosing control over power, as avoiding the rough will be the key to victory.
Live scores will be up and running all weekend on pdgalive.com, complimented by updates, pics, and videos via @pdgalive on Twitter. Follow the PDGA on Facebook and Twitter for the latest information, and check pdga.com/usadgc for tee times and results. See you on the Toboggan!