Am Worlds Competitors Ready for Day Two
Am Worlds Competitors Ready for Day Two
The Great Shuffle Awaits
Wednesday, July 19, 2017 - 11:46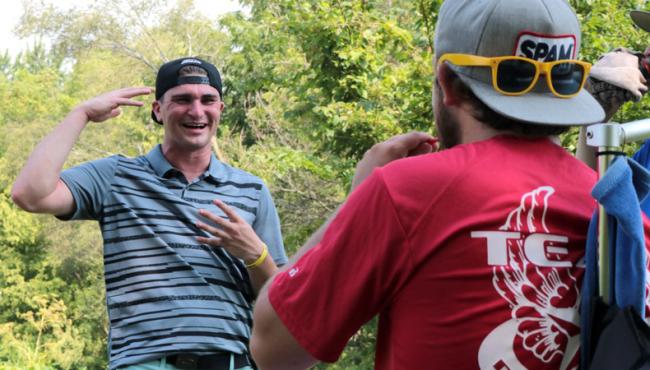 After a world-class Players Meeting on Monday night and 12 straight hours of disc golf on Tuesday, the 600+ competitors here in Quad Cities for the 2017 PDGA Amateur & Junior Disc Golf World Championships are already back on the courses this morning teeing off for either their second or third rounds.
Am Worlds is as much of an endurance competition as it is one for disc golf itself. With the opening day in the books, one powerful yet elegantly simple concept applies to both those that played well and those that know they could have played a lot better; there's a lot of golf left. And we mean, A LOT. By the time the dust settles this evening to mark the end of day two, there will still be three more days and several more rounds of golf remaining.
Trevon Crowe aces hole 15 at Richmond Hill #2017AmWorlds pic.twitter.com/x31hk8Egdg

— PDGA Live Scoring (@pdgalive) July 18, 2017
Iowa's Colin Poe and California's Christopher Keseloff teed off this morning at Eastern Avenue Park as the co-leaders in Advanced (A-Pool) after a brutal four and a half round at West Lake Park on Tuesday morning and afternoon. Minnesota's Alec Anderson and North Carolina's AJ Carey joined them on the lead card just one and two off the lead, respectively.
If the names Poe and Anderson sound familiar, it's because they're the same two names that have played on the lead card together multiple times this year including the final round of the 2017 United States Amateur Disc Golf Championships just a few weeks ago in Milford, Michigan. Sharing a similar "the most fun wins" type attitude, the two of them put on a show that is always fun to watch.
2016 Points Leader for Advanced Women Lauren Butler of Elk River, Minnesota jumped out to an early lead in the Advanced Women's division, ousting Colorado's Missy Gannon and Iowa's Becca Sobolik by one after their one and only round on Tuesday at Middle Park. With a slew of women on their heels, they'll take on Camden Park 1 for back-to-back rounds this morning and afternoon; a short but technical course that should create a bit of a scoring spread by the day's end.
The Great Shuffle Is Coming
The Advanced division is far and away the largest at the event, where 240 players representing 39% of the entire competition's field are split between the A, B, C, & D Pools. Much like the Advanced Masters M & N Pools as well as the Advanced Grandmasters G & H Pools, the Advanced competitors were assigned to their pool based on their PDGA Player Rating. To put it simply; the higher the Player Rating the lower the letter.
After today's round or rounds are complete, the Advanced, Advanced Masters, and Advanced Grandmasters divisions will fall victim to what has come to be known as the Great Shuffle. This process of reordering and reassigning pools can only be done after all competitors have played the same total number of holes on the same courses.
Once the Great Shuffle has taken place, pool assignments for the aforementioned divisions will be listed with two letters – the first being their original pool and the second being the pool they moved to (or remained in). A player listed as BA-Pool, for example would be someone that, because of their Player Rating, played the first two days in the original B-Pool, but played well enough to move into the A-Pool. Keep in mind that a single pool contains a maximum of 72 players meaning an A-Pool assignment after the Great Shuffle puts that competitor in 72nd place or better.
Current Leaders
There's a lot of golf left, it's true, but that doesn't mean there aren't a lot of players that deserve to be recognized for emerging as the leaders of their respective divisions after the opening day of the 2017 PDGA Amateur & Junior Disc Golf World Championships.
Division
Name
PDGA #
Par
Score (total)
Advanced
Colin Poe
Christopher Keseloff
74005
91498
-7
78
Advanced Women
Lauren Butler
65489
+5
61
Advanced Masters
Roy Quilantan
70269
-6
50
Advanced Masters Women
Kimberly Giannola
76910
+4
60
Advanced Grandmasters
James Elkins
31524
-13
104
Advanced Grandmasters Women
Lorena Dostal
69794
+9
65
Advanced Senior Grandmasters
Paul Wright
32290
-18
92
Advanced Senior Grandmasters Women
Patti Joseph
55149
+21
77
Advanced Legends
Rob Lee
13218
+2
63
Junior I Boys 18 & Under
Laurenz Schaurhofer
77497
-20
91
Junior I Girls 18 & Under
Alexis Mandujano
62880
-3
58
Junior II Boys 15 & Under
Silas Schultz
79047
-13
105
Junior II Girls 15 & Under
Cynthia Ricciotti
75029
+3
64
Junior III Boys 12 & Under
Gannon Buhr
75412
-6
49
Junior III Girls 12 & Under
Hope C. Brown
62397
+14
125
Junior IV Boys 10 & Under
Nathaniel DeLisle
87305
+8
119
Junior IV Girls 10 & Under
Virginia Polkinghorne
76009
+62
173
Junior V Boys 8 & Under
Wyatt Mahoney
89460
+15
76
Junior V Girls 8 & Under
Ava Meyer
83000
+60
121
Junior VI Boys 6 & Under
Kaidin Bell
86201
+49
110