Get A 'Clue': McLuen Learns From Past To Take Early Masters Worlds Lead
Get A 'Clue': McLuen Learns From Past To Take Early Masters Worlds Lead
Giannola headlines FP40+ division
Wednesday, August 15, 2018 - 10:49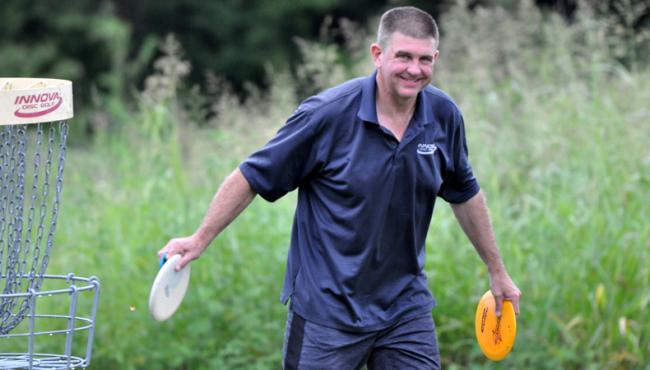 If you didn't miss a putt the entire round at the 2018 PDGA Pro Masters World Championships, you'd be as happy as Mike Moser, too. As with any tournament, some of the competitors finished their opening round on Tuesday with a smile, and some didn't. But, unlike most events, we still have three more preliminary rounds to go -- not to mention the semifinals and finals on Saturday.
Finishing just before the rain really started coming down in Kansas City, Moser ended the day with a bogey-free, 12-under-par 50 at Bad Rock Creek, locking him into a tie for second place with Brian Schweberger, who finished his round hours earlier. However, it was another bogey-free player who sits at the top of the leaderboard in the Masters 40+ division: Iowa's Justin "Clue" McLuen.
Clue is a well-known name in the Midwest disc golf scene, and he's recently started to become well-known to the fans watching from home as a top contender. In the last year, he's quickly gone from running a masters-only PDGA Major to now making the lead card at a masters-only Major -- twice. Less than nine months went by between when McLuen served as the tournament director of the 2017 Tim Selinkse U.S. Masters in his hometown of Des Moines and when he teed off on the lead card of the 2018 Tim Selinske U.S. Masters in Crown Point, Indiana. And he is doing his best to use that experience to his advantage.
"When I made the lead card in Crown Point, I kind of celebrated too early," Clue recalled. "I thought I had already had a successful tournament with two rounds to go. I learned from that experience, and I know I have to stay focused. There's still a lot of golf to play."
He's right. There is. The Masters 40+ and Masters 50+ divisions will take on the legendary landscape of Waterworks Park for their Wednesday round, a course that can make or break the best of the best. On Sunday, Masters 50+ leader Patrick Brown said Waterworks was the one place weather could be a factor this week. 
"I'm not worried about either of the two courses we have to play, but I think Waterworks is the one where we'll see the biggest scoring spreads if rain comes into play," Brown said. "There are a lot of steep slopes and angled fairways. A lot of places where bad footing gets a lot worse in the rain."
From Am to Masters Women's Leader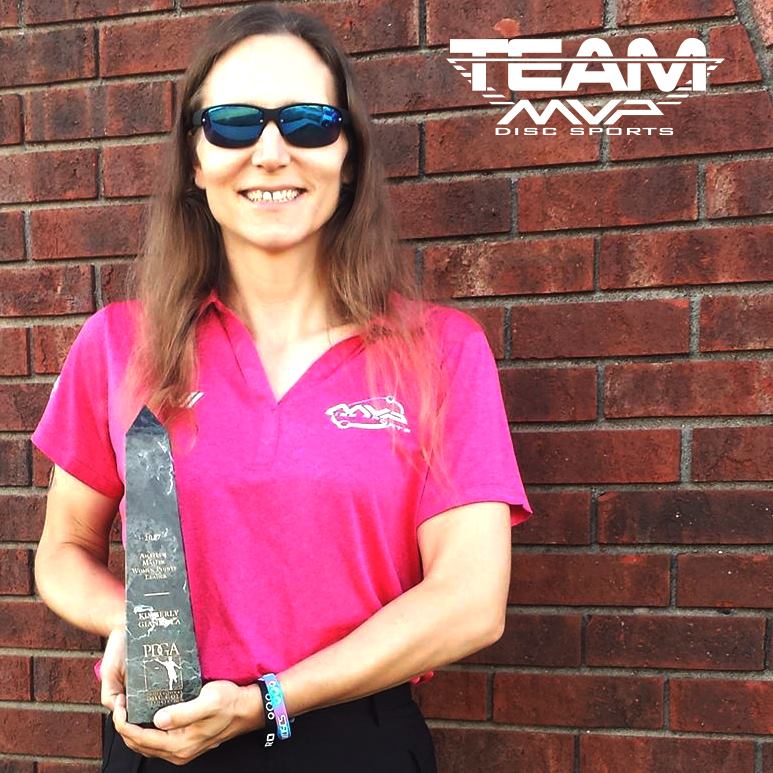 On the other side of the city, the rest of the divisions were carving up Rosedale Park, one of the oldest and most historic courses in Kansas City, as it was installed in 1984. Perhaps the biggest surprise to come out of the action at Rosedale was from the Masters Women 40+ division, where self-proclaimed "mostly local" Kimberly Giannola finished four ahead of Courtney McCoy as the overall leader.
Giannola lives an hour north of Kansas City in Saint Joseph, Missouri, but makes it over to Kansas City to play as often as she can, favoring the Kansas City Disc Golf Divas leagues. "The women in the league are amazing and a big part of the reason I got into the sport," Giannola said.
Giannola's disc golf career has been picking up speed quickly over the last 18 months. Cut to January 2017 and she's a committed amateur player with a rating of 827. A year later she's the 2017 PDGA Amateur Masters Women's points champion at 857. Now rated at 870 and officially classified as a professional after accepting cash at the 2017 Tim Selinkse U.S. Masters, the transition from amateur to professional has been a trying one.

"The journey has been a little rough," said Giannola. "I am on the cusp, ratings-wise, of being unable to play FA1 as a professional, and opportunities to play deep divisions in FPO or FP40 are often scarce unless you're willing to travel. Ultimately, it came down to whether or not I wanted to keep declining payouts while I was testing the waters in the professional divisions, and whether or not I wanted to play against tougher competition in order to become a better golfer."
A better golfer, indeed. Giannola will be joined by McCoy, Andrea Eaton, and Jennifer Morgan for their second round, playing this time at the pristine Heritage Park.  
2018 Masters World Championships