The Race for Double Digits
The Race for Double Digits
Voakes, Greenwell look to be next 10X World Champion
Saturday, August 18, 2018 - 02:17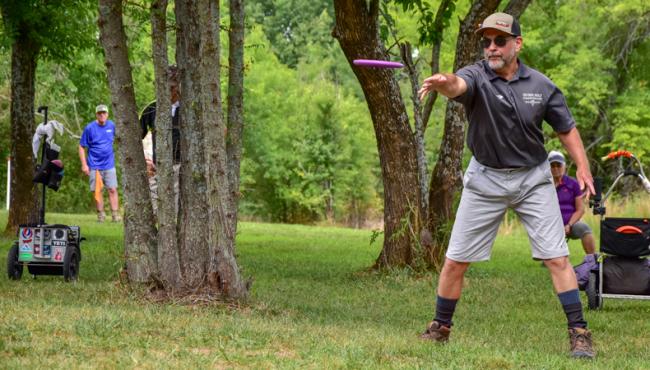 An accomplishment beyond imagination for virtually anyone on the planet – 10 world championship titles as a professional disc golfer – is now within reach for not one, but two different Disc Golf Hall of Fame members and nine-time world champions, Dr. Rick Voakes and David L Greenwell. If either of them were to do so, they'd be just the fourth in PDGA history, joining the likes of Ken Climo (15X), Peter Shive (13X), and Ralph Williamson (10X). And if that isn't exciting enough on its own, they are both teeing off on the Masters 60+ lead card for the semifinal round of the 2018 PDGA Professional Disc Golf World Championships on Saturday morning at the one and only Water Works Park in Kansas City, Missouri.
After four preliminary rounds, Voakes now sits alone at the top of the leaderboard, but it isn't Greenwell directly on his heels, it's Kenny "Boo-Rad" Lee, who shot the hot round at Heritage Park to finish just one behind Voakes, four ahead of Greenwell, and five ahead of both Mike Cloyes and Randy Beers. If these names sound familiar, it's because Greenwell, Lee, and Voakes all competed in the 2017 Pro Masters World Championships (Masters 60+) Final 9 alongside yet another Disc Golf Hall of Fame member, Johnny Sias, a Final 9 in which Greenwell would eventually win by one over Lee to earn his ninth world title.
With a full semifinal round at Water Works on Saturday morning, Voakes' narrow lead of just one stroke over Lee and a few more over Greenwell, Cloyes and Beers, means he has little to no room for mistakes if he wants to maintain his lead heading into the Final 9 (also at Water Works). With three competitors fighting for their first world title and two for their 10th, it will be interesting to see how it all pans out, to say the least.
Tavish Carduff & Pete May Crowned at Heritage Park

For divisions not large enough to necessitate a semifinal or final round, champions are crowned after the discs hit the chains on the last hole of the preliminary rounds. That was the case on Friday morning for both the Masters Women 50+ and the Masters 75+ divisions, where Kansas City local Tavish Carduff earned her first world title and Pete May earned his fourth.
Both Carduff and May ran away with their victories, winning by 29 and 36 respectively.
Feldberg Shakes Off Rough Start
With only the semis and finals to go, Dave Feldberg now leads the Masters 40+ division by two. Links to hole-by-hole scores, full results, and tee times at https://t.co/zzgUrbBDgG. See you all tomorrow right back here at Water Works Park! #2018MastersWorlds #discgolf #KCMO pic.twitter.com/TQEzerD5fa

— PDGA Live Scoring (@pdgalive) August 17, 2018
"I don't know how I'm winning," said Feldberg after hitting a steep uphill birdie putt from 35 feet on hole 18 at Water Works to finish the round. "I was getting killed out there, on the front [nine] especially. I had a birdie putt hit [the basket] and roll down the hill on one for a bogey. Same thing on hole five. I was all over the place."
Fortunately for Feldberg, who started the round one ahead of Brian Schweberger, four ahead of JohnE McCray, and five ahead of Barry Schultz, Water Works is well-known for that kind of thing happening to…well…everyone on the card, pretty much all the time. The rollaway curse happened to Feldberg again on hole 15, and despite hitting what looked to be a perfect putt to save par, his disc managed to pop out of the basket for a tap-in four, what would be his third and last bogey of his six-under-par round of 50. While Schweberger finished one worse than Feldberg at 51, McCray and Schultz finished one better at 49, bringing their total scores to about as close as possible as the same foursome prepares to take on the same course for the semifinal round on Saturday morning.
Giannola Widens Lead to Four
Of the four competitors in the Masters Women 40+ division, only the top two after Friday morning's round at Heritage would make the cut for the finals (no semifinals). From the opening round and beyond, those two spots have belonged to Kimberly Giannola and Courtney McCoy, and they were not about to let that change at Heritage Park.
After losing four strokes to McCoy on the previous round, Giannola gained two of them back at Heritage for their last preliminary round to finish four ahead of McCoy overall. With only a Final 9 remaining at Water Works, McCoy will need to play perfect golf to be the up-and-coming Giannola, a Masters Women competitor that only started competing at the p[rofessional level earlier this year.
Semifinals will tee off via a shotgun start for all applicable divisions bright and early at 8:00 a.m. on Saturday morning at Waterworks with the first round of finals starting at approximately 12:30 p.m. on the Final 9 layout. See the links below for more info and make sure to tune into pdgalive.com tomorrow for live scoring, updates, pics, and videos as the 2018 PDGA Professional Masters Disc Golf World Championships comes to an end in Kanass City.
2018 Masters World Championships