Repeats Sweep 2017 Masters Worlds Finals
Repeats Sweep 2017 Masters Worlds Finals
Sunday, August 20, 2017 - 12:30
They say that some things get better with age. Not all adages hold true in today's world, but this one certainly did at the inaugural Pro Masters Disc Golf World Championships in Grand Rapids, Michigan. All six of the competitors that took home a world title after five exhausting days of disc golf are fitting examples of getting better with age, as none of them were being crowned World Champions for the first time.
In many cases, those that emerged as the winners after the Final 9 showdowns on Saturday weren't being crowned for the second time, either. The list of names competing at the Masters Worlds felt like a disc golf VIP list of sorts, chock-full of Disc Golf Hall of Fame inductees and historical figures of our young game; legends, if you will.
Elaine King – The Queen of Disc Golf
Perhaps the most fitting example is that of the 2017 Professional Women's Masters World Champion, the seemingly endlessly incredible, Elaine King #3090. Elaine dominated the Open Women's division in the 90s, earning the title of Women's World Champion in 91', 92', 93', 94', and 97', not to mention the title of Female Player of the Year in 90', 93', 94', and 97'.
Those accomplishments on top of dozens of wins and countless hours of volunteer work to grow the sport, including a tenure as the PDGA Commissioner during a critical transition period are just part of what earned her a spot in the Disc Golf Hall of Fame in 1997.
In the 20 years between 1997 and today, not much has changed for Elaine. In 2005 and 2007, Elaine went on to become the US Women's Champion and did it again in 2012, where she also earned the title of 2012 Senior Player of the Year. 2015 saw Elaine becoming a 2X US Masters Women's Champion and now here we are in 2017, 26 years after winning her first world title, adding yet another to the list.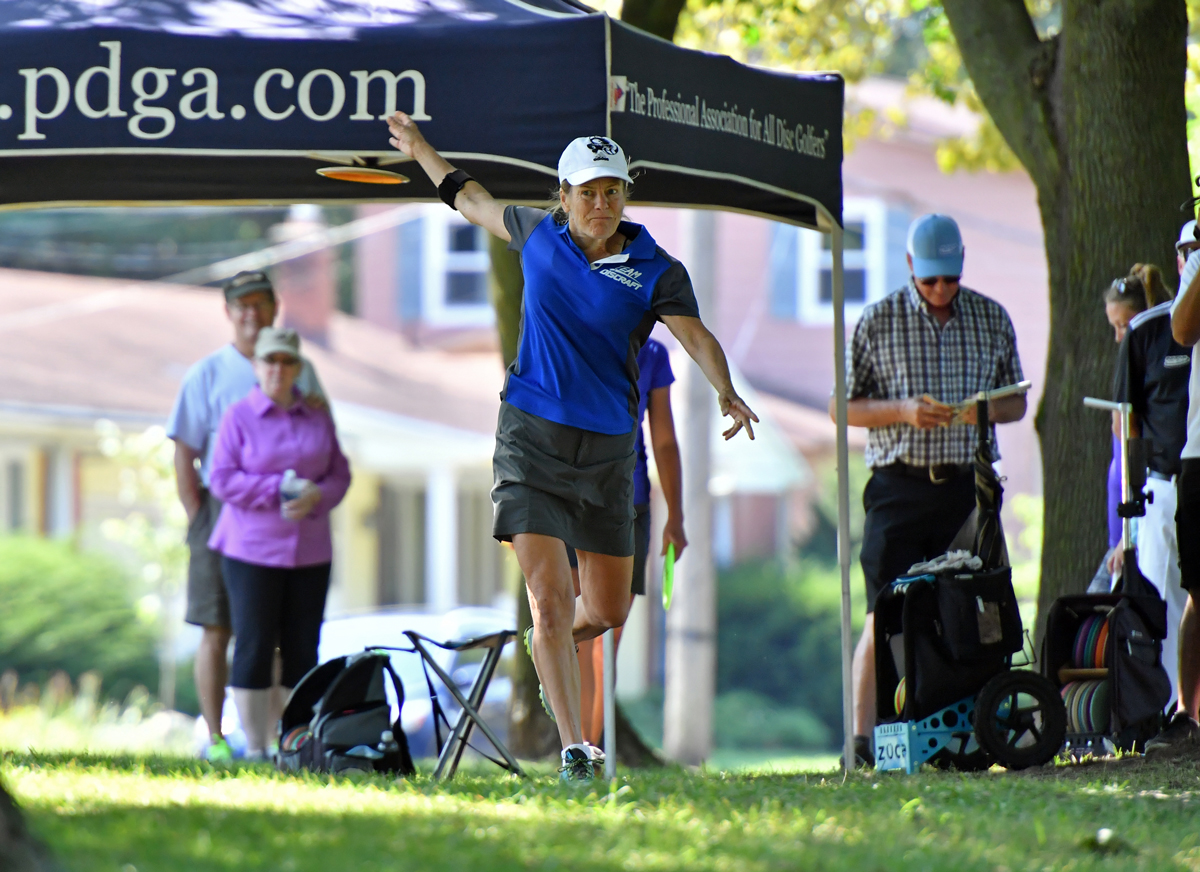 Perhaps the only thing that outshines her dominance as a competitor is her unmatched professionalism, sportsmanship, and genuinely friendly and kind demeanor. Simply being around Elaine is enough to brighten your day, even if she is kicking your butt on the course. We've lost track of how many times her fellow competitors have spent most of their own acceptance speeches at the award ceremonies talking about how grateful they were to have had the chance to compete alongside her, including a long list of compliments this year by Des Reading, whose list of world and US titles and awards is equally impressive.
Elaine teed off for the Final 9 with a lead of two over Lesli Todd, joined by fellow Disc Golf Hall of Fame member Des Reading, and Courtney McCoy, both of whom were a few back from Lesli. Elaine's lead was brought down to just one after a missed putt on the opening hole of the Final 9, but she eventually made her putt on the 9th to win by three after a dramatic series of holes leading up to it.
Pete May & Susan Stephens Win Back-To-Back World Titles
Earlier in the afternoon, Pete May #12700 cruised his way to an easy finish to win the Senior Legends division, after four rounds and a Final 9 left him with a margin of victory of 27 strokes. His closest competition was Michigan's own Donald Stephens #12889, who made it clear in his acceptance speech that despite not getting the win, he had an amazing time playing with Pete and their fellow competitors Jim Palmeri #23 and Richard Frederick #25648.
Pete's record as a professional now includes three world titles, with this year making him a Senior Legends World Champion for the second year in a row and the third being his victory in the Legends division at the 2012 Pro Worlds in Charlotte, North Carolina.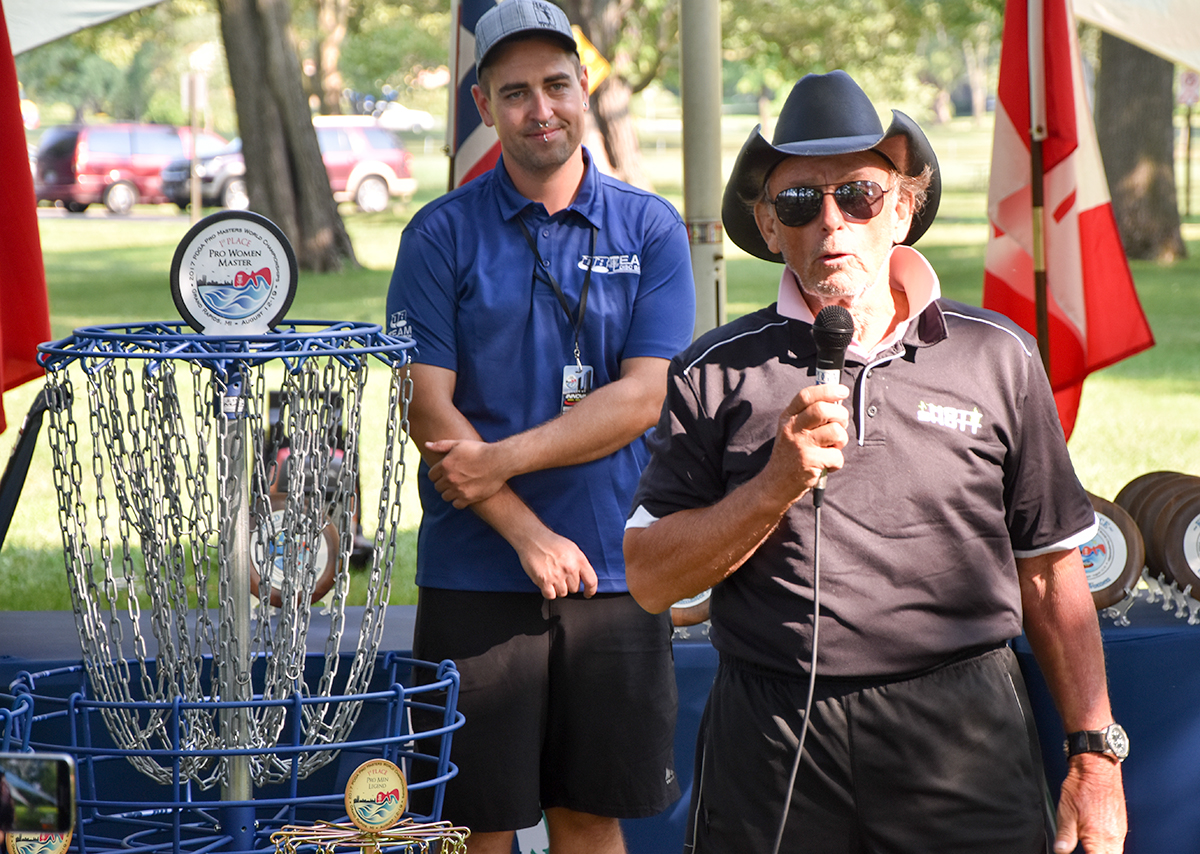 Not long after Pete May tapped in for his win, the Grandmasters Women came around the bend of the Final 9's 8th hole, where another Michigan disc golfer, Susan Stephens #10977, daughter of the aforementioned Donald Stephens, had slowly but surely pulled away from the field, chased closely throughout the week by Florida's Pam Reineke #6439 & Sandy Gast #6440. It was only after their 5th round that Susan's lead had moved into the double-digit range with Sandy and Pam 12 and 13 strokes behind, respectively. Heading into the Final 9 with a lead of 15 over Pam, Susan didn't have too much to worry about.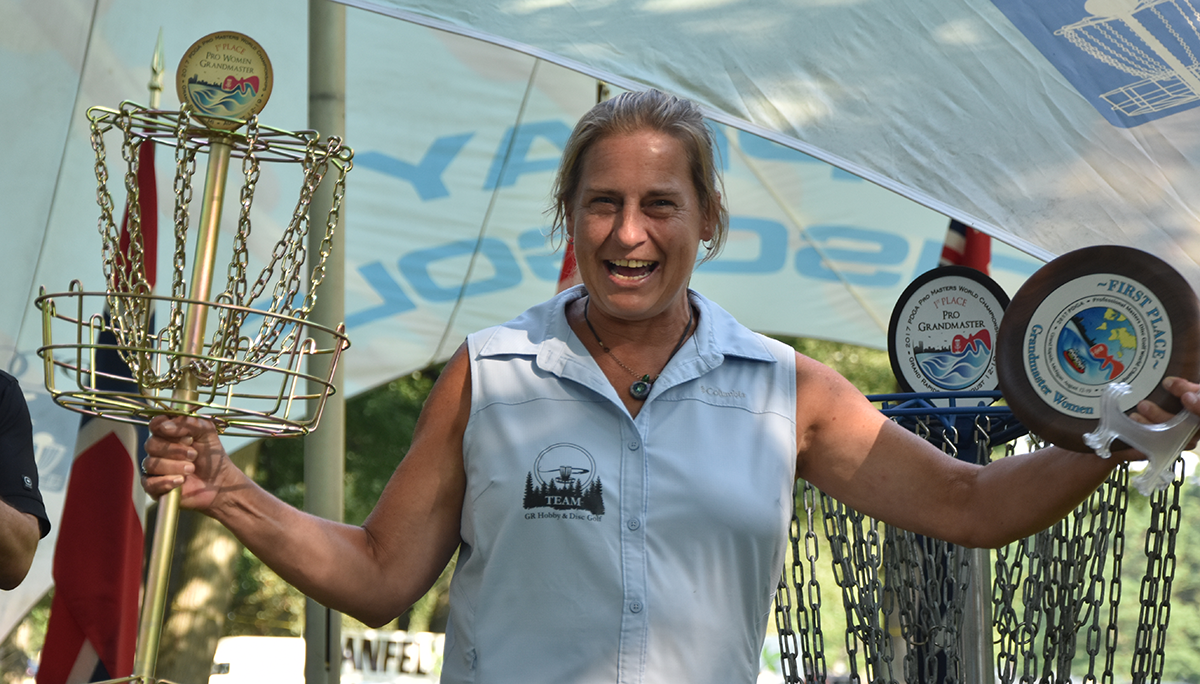 Susan Stephens now has three world titles as a professional that include the back-to-back wins now in the Grandmasters Women's division, plus her Masters Women's World Champion title from 2012 in Charlotte. Perhaps the most interesting note about Susan's win in Grand Rapids at Riverside Park is that she did so on the 20th anniversary of her Advanced Women's World Championship win at the 1997 Amateur Disc Golf World Championships, which also took place in Grand Rapids…at Riverside Park!
David L. Greenwell – The Legacy Continues
If you've never seen or heard of Disc Golf Hall of Fame member Dave Greenwell, you've probably never been to any of the PDGA Professional Disc World Championships that took place between 1981-2017. That is to say that, you've probably never been to any of the PDGA Pro World Championships, period. Dave, well, he has. In fact, he's the only PDGA member that has competed in every single one of them, which now includes both the 2017 PDGA Pro World Championships earlier this year (where he competed in the Open division) and the Pro Masters World Championships, where he competed in the Senior Grandmasters division looking to three-peat.
Well, three-peat he did, but it certainly wasn't easy. The Senior Grandmasters division turned out to be the closest of them all, where a week-long battle between Dave and California's Kenny "Boo-Rad" Lee #14204 ensued, with Disc Golf Hall of Fame member Johnny Sias #1700 and another Disc Golf Hall of Fame member, Dr. Rick Voakes #2632, eventually joining them for the Final 9 showdown.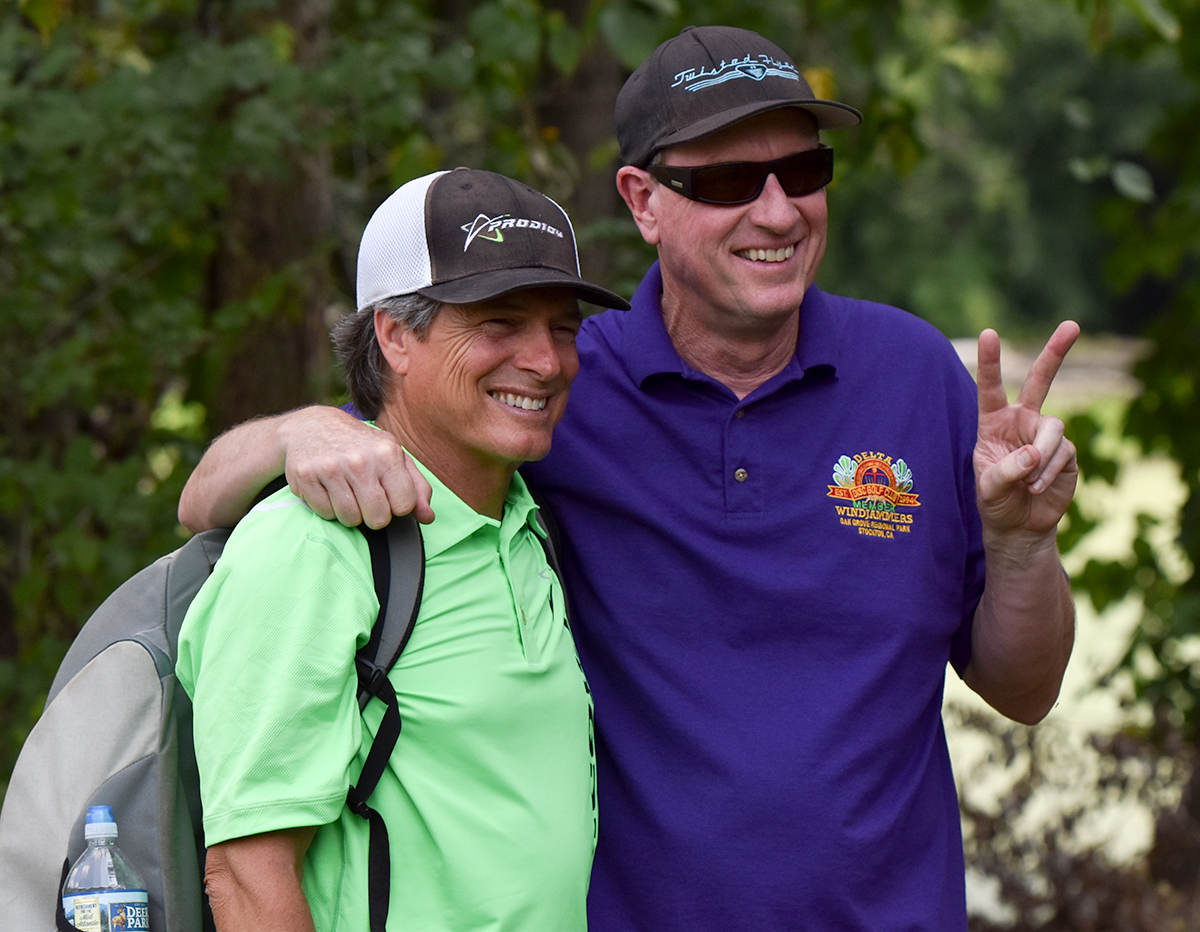 After six full rounds and a semifinal round of golf, Dave and Kenny were still tied up, each with 405 strokes and only nine holes to go. It was the 4th hole where Dave finally gained a stroke on Kenny, snagging the par against Kenny's bogey. As they made their way around the rest of the monstrous layout, it was clear that this was going to be one of those battles that would come down to the very last putt.
Still ahead by one on the tee of the 9th, a 700's par 4, Dave left a roller drive well short while Kenny smashed a driver down the center of the fairway. Dave was looking to save par at best but Kenny could have a chance to force a playoff with the right approach.
With the best intentions, Kenny threw another powerful driver up the fairway. Perhaps it was caused by the slight headwind, but the disc flipped up and flew a bit farther out to the right side than Kenny would have wanted, leaving himself with an 80-foot chance to save birdie, pin high. He gave it his best run but missed just a few inches too high and deep.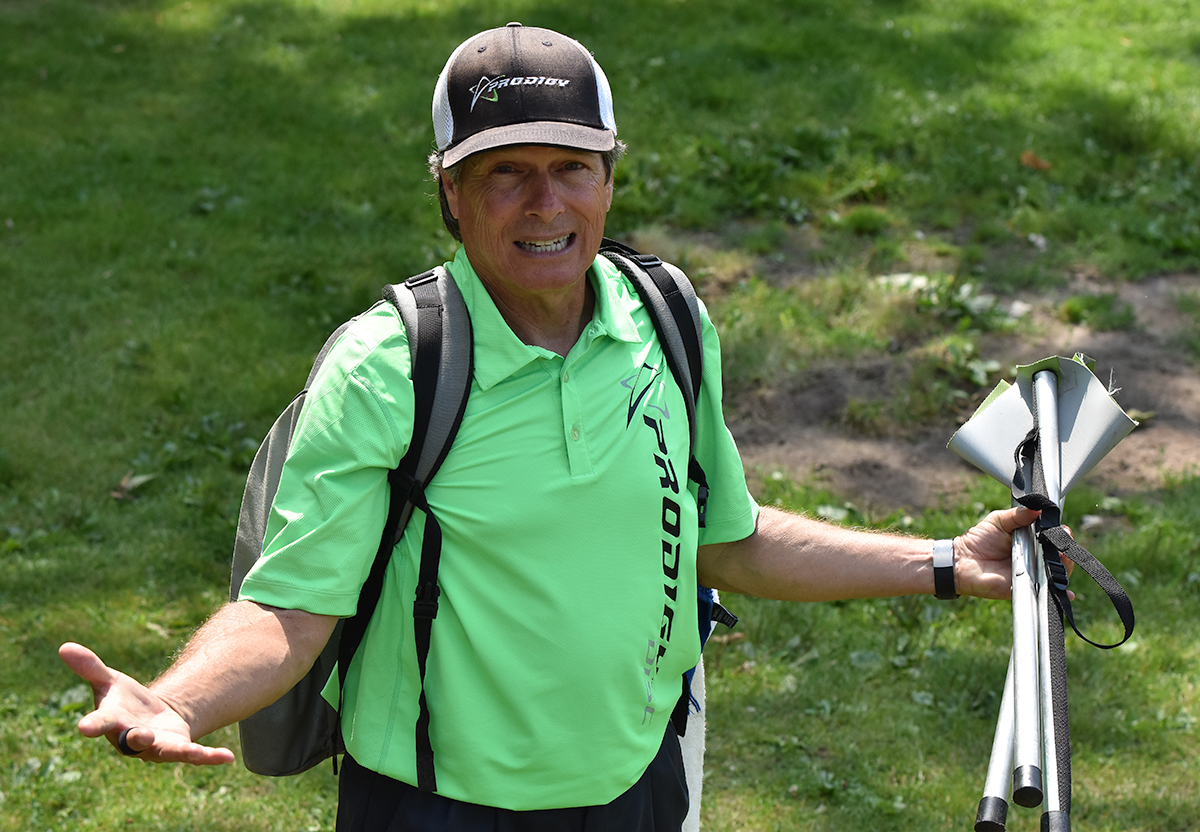 After Dave tapped in for the win he seemed a bit stunned in a way, stating that he didn't feel like he was putting or throwing well enough to win. Whether he felt like he earned it or not, he got the win and became the Professional Senior Grandmasters Champion for the third year in a row.
Dave is now a 9X World Champion (2X Masters, 4X Grandmasters, 3X Senior Grandmasters), a feat matched only by his fellow competitor Dr. Rick Voakes, who finished in 4th place this year alongside Dave during the Finals.
Furthermore, there are only three PDGA members in history with more than nine world titles and they are Ralph Williamson #10 with 10, Peter Shive #7240 with 13, and Ken Climo #4297 with 15.
Ron Convers Repeats in Grandmasters
Oklahoma's Ron Convers #9648 is as much a joy to be around as he is a competitive and world-class disc golfer. Sporting his trademark hat, Ron moved into the lead after a nearly flawless back half of Round 3 at Black Falcon, where he finished with six birdies on the last holes eight holes, and never looked back. As the week progressed, Ron managed to hold onto his lead despite efforts by the likes of Disc Golf Hall of Fame member Jim Oates #3351, Alabama's Tim Keith #17661 and Eric Rainey #41947, all of which joined him for the Final 9.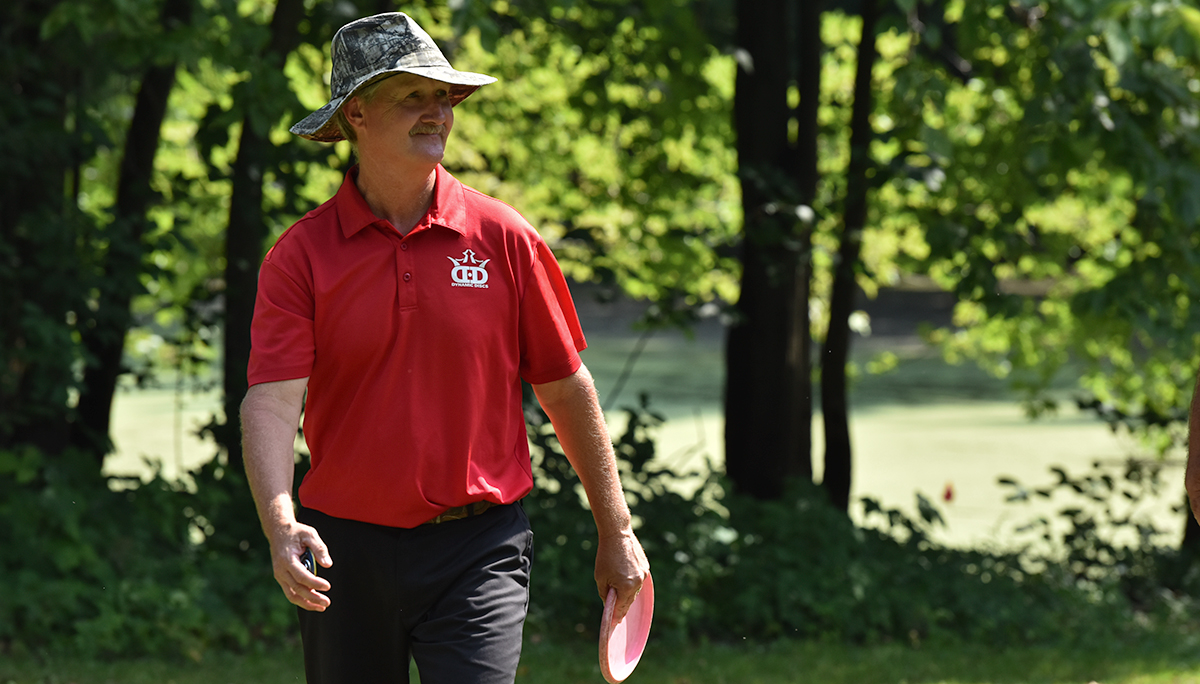 With a large gallery behind them, Ron teed off as the leader for the Finals, four ahead of Eric and five ahead of Tim, with Jim a few more strokes behind. If Eric or Tim were going to make a move, it would have to happen quickly. When Eric lost a stroke to the field with a par on hole 2, meaning both he and Tim were now five off the lead with only seven holes to go, it was hard to imagine that a comeback was possible.
Ron pushed on and the gallery followed as he made his way down the fairway of hole 9 with nothing left but a simple putt for par. Ron tapped out to become the Professional Grandmasters World Champion for the second year in a row, with a four-stroke, worry-free victory at Riverside Park.
2X + 2X = 4X Barry Schultz
With PDGA Player Ratings of 1024, both Barry Schultz #6840 and JohnE McCray #9852 were definitely on the list of players to look for at the top of or near the top of the leaderboard before the event started, but in an exciting and unpredictable turn of events, both of them spent most of the week doing everything in their power to keep up with California's Robert Bainbridge #22110.
Robert led the Masters division outright for the first two rounds but struggled in Round 3 allowing for JohnE to take his spot at the top while Barry pulled within three of Robert to jump up to the lead card. But Robert wasn't done fighting and Barry wasn't done moving up, as the end of Round 4 saw Robert back at the top and Schultz in 2nd place, still three strokes shy of Robert, and one ahead of JohnE.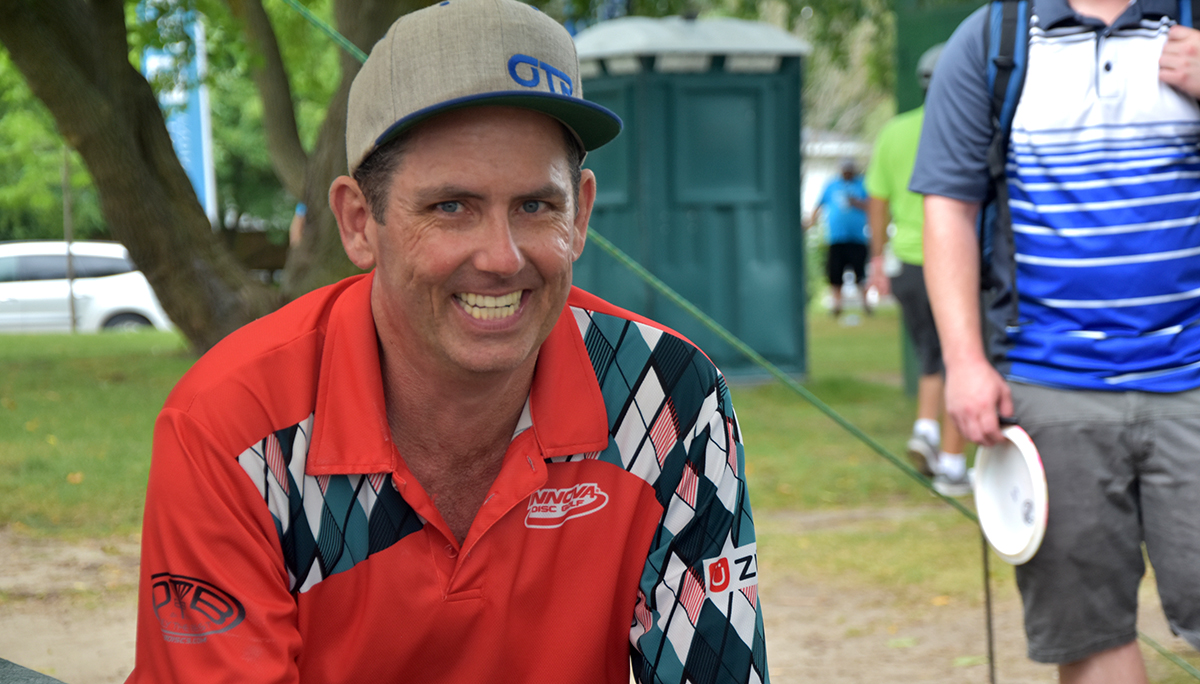 As the saga continued, it was Barry and Robert that pulled away from the field, creating a two-part battle in the division; one for the lead and one for the 3rd and 4th place spots. JohnE, Cam Todd #12827, Dave Feldberg #12626, Mike Moser #5557, Larry Gardner #22706, Shasta Criss #28597, Patrick Brown #25713, and many others were all in contention as they headed into the semifinals on Saturday morning.
The semifinals are where the story started to write itself. Both Barry Schultz and Dave Feldberg shot bogey-free 10 under par rounds at Fallasburg Park, while Robert struggled with a few bogeys that cemented Barry's name at the top of the leaderboard with a three-stroke cushion. Dave's round did much of the same for the 3rd place position, leaving a fight to the finish for whoever was going to make the last spot for the Final 9 group.
As the scores were counted up, rumors of a playoff filled the air. Rumors aren't always true, but this time it was, as JohnE and Mike Moser were going to a sudden-death playoff to see who would get the fourth spot on the Final 9 card. The hype ended quickly though, as McCray missed a putt on the first hole of the playoff to give Moser the win.
Disc Golf Hall of Fame member Barry Schultz, the 2003 and 2004 Professional Disc Golf World Champion (Open division) and 2013 Professional Masters Disc Golf World Champion, knows how to play under the pressure of the spotlight. In fact, he loves it.   
In the nine holes of the Finals, Barry not only held his lead of three but doubled it, playing flawlessly in front of the crowd to finish with a score of 26 (-8) on the Final 9. He simply couldn't miss. On the green of the 9th, the other three men went ahead and tapped out to let Barry finish last, despite Barry having a 30+ foot putt remaining for birdie.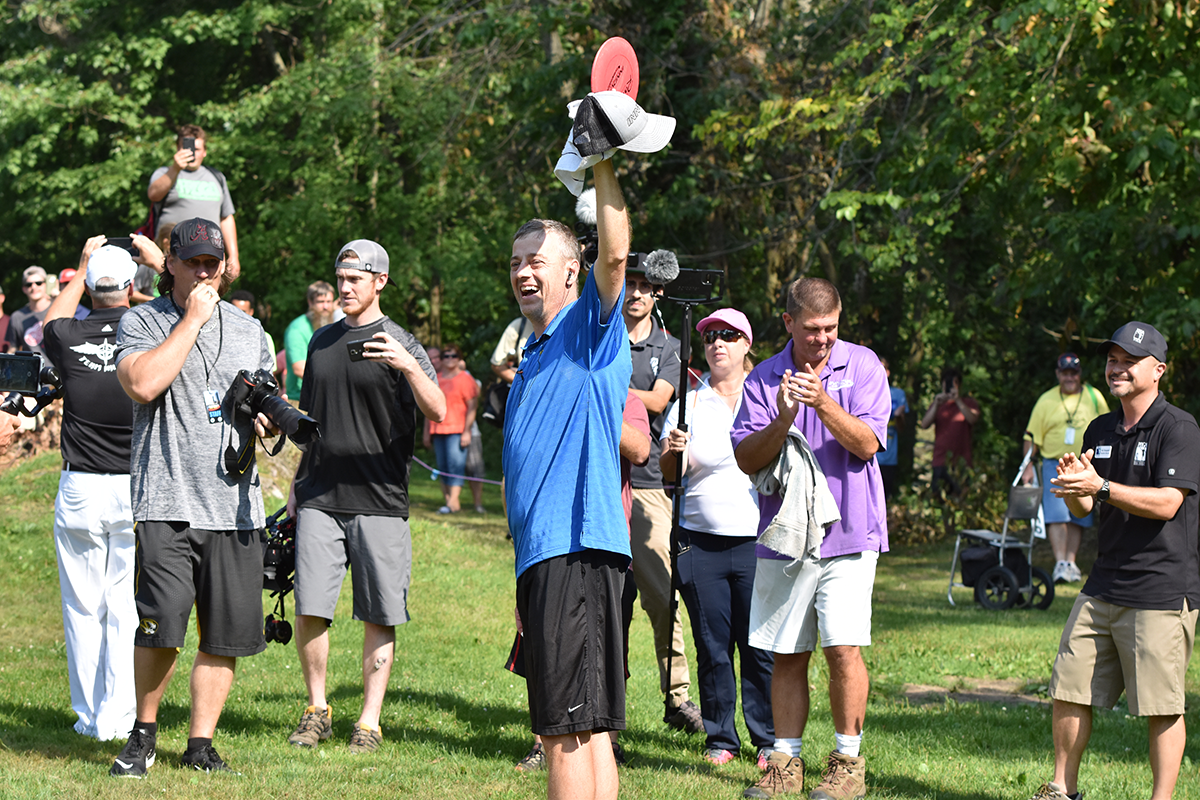 Boom! It wouldn't have mattered if he missed it, but it sure made the last putt of the entire event that much more exciting. Barry raised his hands to the sky in celebration as the crowd cheered, thanking them all graciously for being there to watch him and the others all week long.
It would take another entire article to thank all of the people that deserve to be thanked for making this very long week such a wonderful experience. We cannot thank the people in involved enough. From the staff to the volunteers, the city of Grand Rapids, the Western Michigan Sports Commission, the local news channels, Innova Champion Discs, New Holland Brewery, Disc Baron, all of the sponsors, etc. The list goes on and on. 
2017 Masters World Championships