Am Worlds Field Shuffled, Three Rounds Remain Before Cuts for Semis
Am Worlds Field Shuffled, Three Rounds Remain Before Cuts for Semis
Thursday, July 20, 2017 - 11:41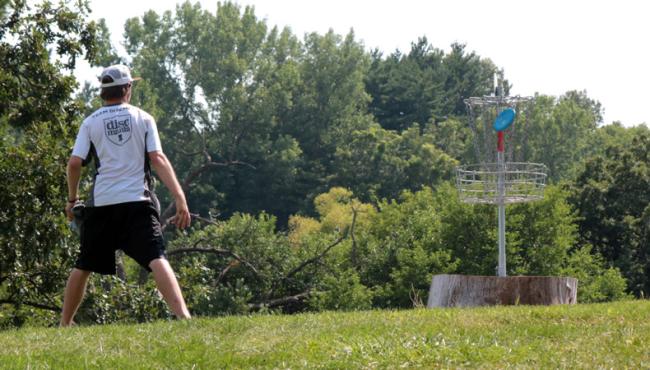 With two days and three rounds worth of disc golf scores officially published, the sometimes-dreaded tradition of the Great Shuffle took place here at the 2017 PDGA Amateur & Junior Disc Golf World Championships. 24 competitors that began in the Advanced division's B-Pool jumped up into the A-Pool due to the shuffle and the same can be said for six men in the Advanced Masters division (moved from N-Pool to M-Pool) and another six in Advanced Grandmasters (moved from H-Pool to G-Pool).
That being said, there are still two more full days and three more rounds of disc golf to be played before cuts will be made for the semis and/or the finals (smaller divisions go straight to finals, no sems). With temperatures soaring into the mid-90s and humidity at full strength from now until the last putt hits the chains on Saturday, there's still plenty of time and plenty of ways for the competitors to make big moves.
In the largest division, Advanced, Iowa's Colin Poe teed off for his morning round tied for the lead with California's Christopher Keseloff, but would eventually pull away from the field by the end of the day. The biggest push in the Advanced division on Wednesday came from NorCal's Thomas Tomaselli, who shot a lights-out round at Richmond Hill in the afternoon, carding 15 birdies and three pars to finish with a 1039-rated score of 41.
Poe tees off for his first of two rounds at Camden Park 2 today as the lead, two ahead of North Carolina's AJ Carey and Minnesota's Alec Anderson, joined by Alex Berg of Minnesota who is just one stroke further back and tied with both Tomaselli and British Columbia's Stewart McIsack. The dozen or so players behind them are still very much in striking range will be heading into the tightly packed woods and hills of Camden Park 2 today looking to make moves of their own.
Another Iowa disc golfer, Becca Sobolik, now leads the Advanced Women's division after two solid rounds at Camden Park 1 on Wednesday, with her morning round of three under par (seven birdies, four bogeys) giving her the boost she needed to take the lead spot from then leader, Minnesota's Lauren Butler.
Wisconsin's Hailey King came in strong during the afternoon with the hot round score of 51, four under par, to make a big move that landed her in 3rd place overall as they head into round 4 at Richmond Hill Park on Thursday.  The second place spot belongs to Colorado's Missy Gannon once again, a spot she has held since the opening round on Tuesday.
The race for the women is a close one, with Gannon one off the lead and King one back from Gannon. Iowa's Sarah Gilpin & Kerri Haught are tied for the 4th place position, meaning they are just four strokes off the lead as well.
Perhaps the real story of the day came from two competitors in the junior divisions. 15-year-old David O'Meara threw an unbelievable bogey-free 15 under par round of 46 yesterday to close out his day at Credit Island, unofficially rated 1049. And the story gets even better! 12-year-old Gannon Buhr did much of the same, shooting a 10 under par round of 46 at Prospect Park in the afternoon, unofficially rated 1019! These kids are incredible!
There are close battles going on in many of the 20 divisions here at 2017 Am Worlds. Advanced Masters, Advanced Grandmasters, Advanced Senior Grandmasters, Junior I Boys, Junior II Girls…the list goes on and on. See the table below for a quick glance at who is leading each of the divisions and stay tuned for more action from the 2017 PDGA Amateur & Junior Disc Golf World Championships!
2017 Am & Jr Worlds Division Leaders - Day Two
Division
Name
PDGA #
Par
Score (total)
Advanced
Colin Poe
74005
-27
169
Advanced Women
Becca Sobolik
87409
+2
168
Advanced Masters
Noah Zeller
61969
-9
165
Advanced Masters Women
Kimberly Giannola
76910
+13
186
Advanced Grandmasters
James Elkins
Michael Kobella
Billy Ray Osborn
31524
77622
40995
-12
161
Advanced Grandmasters Women
Lorena Dostal
69794
+19
191
Advanced Senior Grandmasters
Paul Wright
32290
-21
150
Advanced Senior Grandmasters Women
Patti Joseph
55149
+49
221
Advanced Legends
Rob Lee
13218
+8
125
Junior I Boys 18 & Under
Casey White
81739
-19
177
Junior I Girls 18 & Under
Alexis Mandujano
62880
-6
166
Junior II Boys 15 & Under
David O'Meara
66276
-27
154
Junior II Girls 15 & Under
Cynthia Ricciotti
75029
+8
180
Junior III Boys 12 & Under
Gannon Buhr
75412
-22
145
Junior III Girls 12 & Under
Hope C. Brown
62397
+11
183
Junior IV Boys 10 & Under
Kolby Sanchez
86512
+17
189
Junior IV Girls 10 & Under
Virginia Polkinghorne
76009
+91
263
Junior V Boys 8 & Under
Wyatt Mahoney
89460
+36
153
Junior V Girls 8 & Under
Ava Meyer
83000
+111
228
Junior VI Boys 6 & Under
Kaidin Bell
86201
+84
201
2017 Am & Jr World Championships